Football Flavor Friday: News From Around The World Of College Football Pt. 4 (92 Days Away!)
Instead of a photo of the thumbnail (I hope you didn't come here just for the cheerleaders!), here is a better, much sexier photo of Barry Switzer ripping a heater on the sideline:
Similar to all major sports, a bunch of noteworthy news happens each week in college football, but it's not noteworthy enough to write a full blog on it. No need to fill up the home page with blogs about the CFB bowl schedule being released. That's what this weekly post will be for, some would call it a blog of misfits.
Clemson 5-Star QB Hunter Johnson transfering:
This was expected. Hunter Johnson is too damn good to sit behind Trevor Lawrence and Kelly Bryant for the rest of his career. Rumor has it that he will be transferring to B1G Country, deciding between Purdue and Northwestern. He'll have to sit out this upcoming season, but will be in either of those schools QB competitions come next spring.
5-Star QB transferring trend:
All of these QBs transferring have individual, unique stories. Hunter Johnson was stepped over by Trevor Lawrence/Kelly Bryant. Shea Patterson had the Hugh Freeze situation. Jacob Eason got Wally Pipped by Jake Fromm. Kyler Murray got the hell out of College Station as fast as he could. Blake Barnett was benched for Jalen Hurts after looking like a deer in headlights against USC.
Is the 5-star QB trend transferring bad for college football? I'd say no. These are kids we are dealing with after all. No decision you make at 18 should be permanent. It just goes to show landing a 5-star QB does not equate to guaranteed success in 3-4 years. I'd still rather land a 5-star QB than anything lower, though.
Lane is hosting all the big boys down in Boca:
I love this. I can just imagine Lane and the OSU, Texas, Michigan, and Oregon boys hitting the town in Boca.
Somebody got the Oklahoma punter's signature tattooed on their ass:
I've seen smarter moves, however, this is 100% #ForTheBrand.
Harbaugh will be taking the boys to South Africa:
Detroit Free Press-Speaking with WTKA-AM (1050) in Ann Arbor on Monday morning, Harbaugh said the team has found its destination for next year's foreign trip.

"We're going to (South) Africa," he said. "We're going to Johannesburg and Cape Town and we're going to do a safari. How about that? How about a safari?

"I'm looking forward to it."
Still waiting for Harbaugh to take the boys to Indianapolis.
Sorry, that was mean.
Kansas fired their AD this week, bad news for coach David Beaty?
This was a long time coming in Kansas. Fans have been waiting for this day: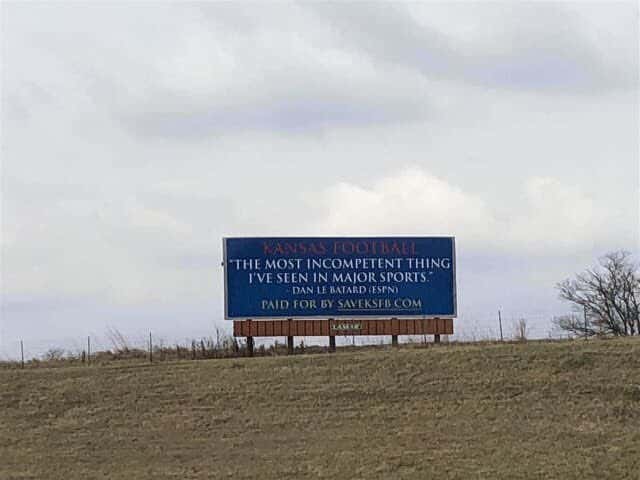 Zenger was behind hiring Charlie Weis and these accomplishments:
Losing 46 STRAIGHT road games. 12-72 since 2011. Since 2011: 3-60 in Big 12 play. 3 AND 60!!!!!!! During their 2007 season, Kansas had 12 wins. Since Zenger took over as AD in 2011, Kansas has a total of 12 wins. TWELVE!
Kansas football has been so bad that it almost killed a man this year:
What does the firing mean for Kansas current coach David Beaty? Let's just say his seat just got A LOT hotter. Zenger is the guy who brought Beaty in, so barring a massive turnaround in 2018, the new AD will find a new coach. Reports out of Lawrence are if Kansas starts 1-2 (vs. Nichols State, @ Central Michigan, vs. Rutgers), Beaty will be fired.
I have been quiet mean to Kansas and Zenger here. It would be unfair of me to not mention his greatest accomplishment as Kansas AD:
This is just bananas: 
Florida-USF back on:
Florida Gators-The Gators and Bulls have agreed to a play in Gainesville in 2022 and 2025 and at Raymond James Stadium in Tampa in 2023.

UF and USF have met only once before, when the Gators defeated the Bulls 38-14 in the second week of the 2010 season.
I very much like in-state out of conference games. They are always more fun and give a little extra spice to the underdog aspect. 50%+ of the USF roster is salty they weren't recruited to play at Florida. They are going to try to show that coaching staff they made a mistake in games like this.
2022 will be the first time Charlie Strong returns to The Swamp if he is still at USF. Also featured on the schedule in 2022 for USF: Texas and Louisville. Lots of memories on the horizon for Charlie Strong.
Bad Boys will now report to Raymond James:
A good move imo. Baseball fields aren't meant to have football games be played on them.
Anyways, the game will still be glorious. It's the BAD BOY MOWERS GASPARILLA BOWL, how could it not be?
FSU Left Tackle Josh Ball suspended: 
Florida State Rivals-Florida State offensive lineman Josh Ball, who started the last nine games of his redshirt freshman season at left tackle, has been suspended from FSU following a ruling by a university judicial panel, Warchant.com has learned.

Ball was expected to start on the Seminoles' offensive line again in 2018, but there has been speculation about his future in recent months following allegations that he was violent toward an ex-girlfriend and others.

It was not clear Tuesday morning the length of the suspension or whether Ball has any recourse to appeal the university decision. FSU's athletics department has not responded to a request for comment.
More will come out about this, but Willie Taggart losing his left tackle in year one with Deondre Francois returning from an ACL tear is less than ideal.
Kentucky player moving some serious weight:
Lexington Herald-Leader- Marcus Walker… was arrested at 4:40 a.m. Thursday by Lexington Police. He was allegedly trafficking in about 5 pounds of marijuana and 4 grams of cocaine, his arrest citation said. He was also charged with possessing drug paraphernalia.

A large amount of cash was also found when Lexington Police executed its search warrant at a home on Unity Drive, police said.
His defense in court should be that the NCAA's rules forced him to sell weed to make money. So crazy that it might work.
Walker missing any time for Kentucky will have minimal effect on the team. He played in 21 games the past two seasons and will be a redshirt junior in the fall. Losing depth hurts, but it doesn't look like Walker was going to be a starter for the Wildcats.
How many days until CFB?!?!?!
If you look at the title of this blog, you'll see I mention that there are 92 days until CFB is back. To some, however, there are more than 92 days:
ESPN and the college football playoff are WRONG. If you look at the scoreboard, you will see there are games on August 25th:
Hate on Hawai'i @ Colorado State and Wyoming @ New Mexico State all you want, but there's going to be a spread and a total on those two bad boys, so in my book that means college football is back.
Speaking of spreads and totals, a lot of those were released this week!!!!
BetOnline has released their week one spreads and oh my god, I'm getting a boner just looking at it:
Of note:
Purdue -4.5 @ Northwestern
Oklahoma -23 vs. FAU
Ole Miss -1.5 @ Texas Tech
West Virginia -7 vs. Tennessee
Notre Dame -2 vs. Michigan
Alabama -25.5 vs. Louisville
Miami -3 vs. LSU
FSU -5.5 vs. Virginia Tech
Game of the year lines were also released:
Early moves:
Notable games:
OSU -1.5 @ Penn State
Michigan -3.5 vs. Penn State
Alabama -7 vs. Auburn
OSU -9 vs. Michigan
Clemson -10 @ Florida State
As I've mentioned in other FFF pieces, lots of gambling related items will be released during the summer as we inch closer to the season. I plan on really putting together an awesome preview of the upcoming season so we can all enjoy college football a little bit more and line our pockets with a little bit more cash.