Ed Werder Blows Up Sports Journalism Twitter After Accusing SI Female Writer Of Sexism
Sports Illustrated tweeted out today they were looking for a new sports writer:
To which Sports Illustrated writer Charlotte Wilder replied:
Wilder's tweet did NOT make Ed Werder happy:
When this tweet came across my timeline I gasped. If there was an @OldTakesExposed type account for predicting a ratioed tweet, this would have been a gift from God. If there was ever a tweet to get ratioed, it was this one.
Big J sports Twitter is a special place. I have a guilty pleasure of loving the very niche community, which is a bubble full of white, middle-aged men that are self-appointed public heroes even though they cover a topic as absurd as sports. Nobody has been right about topics outside of their expertise as much as sports journalists are right with their political takes. It's truly confounding. This topic, however, is within their sphere and the journalists with their blue check marks took to Twitter to let Ed Werder know that they DO NOT agree with him:
Thank god this guy is okay with women (and minorities!) applying to the same jobs he is looking at:
After being presented many good rebuttals in his mentions, Ed Werder could have decided to sign off and take the L. Instead, Werder went on the defense, aggressively: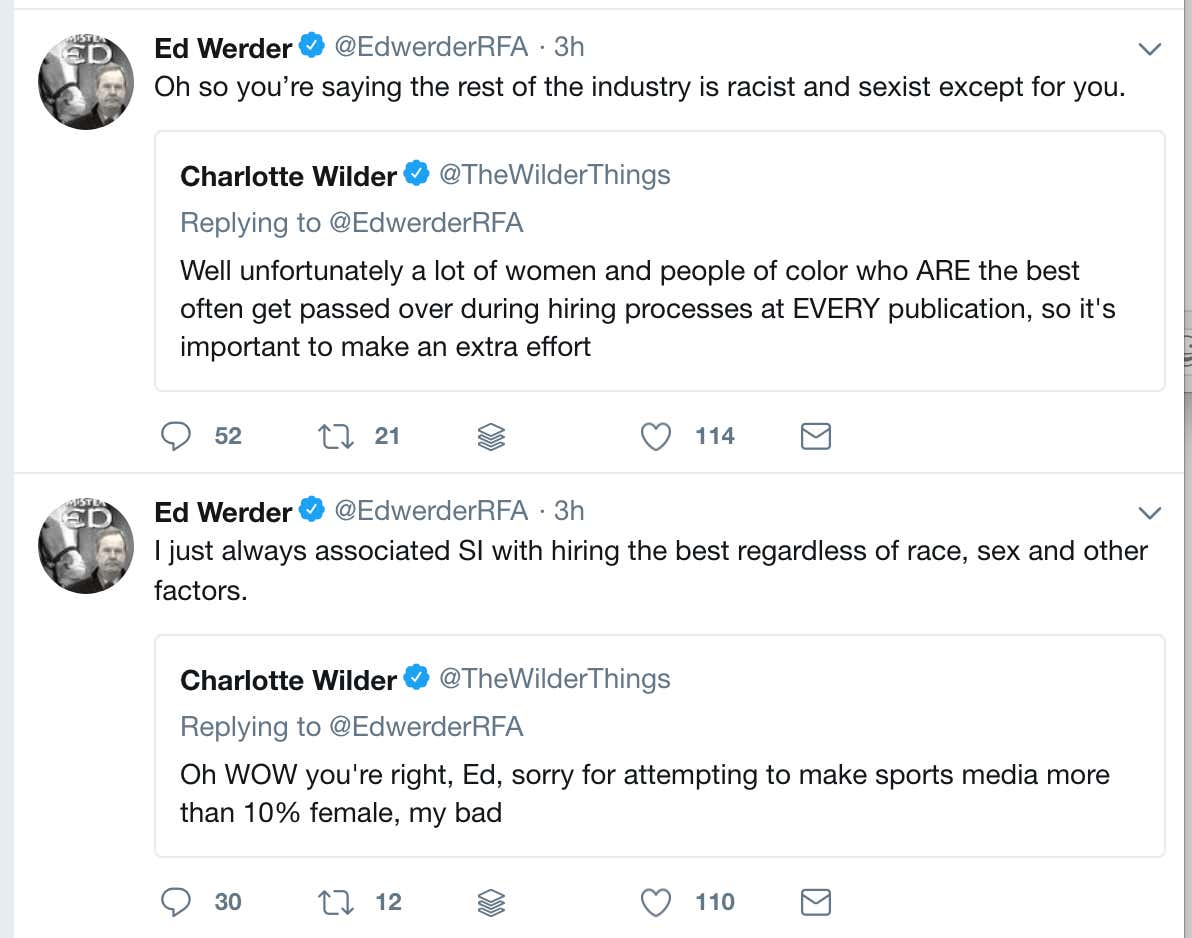 He even got in an "I'm doing this for the kids" response:
Werder was obviously not suggesting more women shouldn't get involved in the sports media world. Werder, let go by ESPN last year, wants to see new members of sports media hired based on their talent, hard work, etc.
Werder just went about expressing this opinion in a very, very bad way. It was 3rd-and-goal from the 12, and Werder called an RB pitch to the outside.
I may just be giving Werder way too much credit. In all honesty, I do have a soft spot for him after seeing these two consecutive tweets from him last year:
EDIT (5:12 PM): Britt McHenry and Sarah Spain have gotten involved and Britt called for a little Barstool Sports backup!