Lane Kiffin Continues World Conquest At FAU With New Concession Prices: $4 Beers And $2 Hot Dogs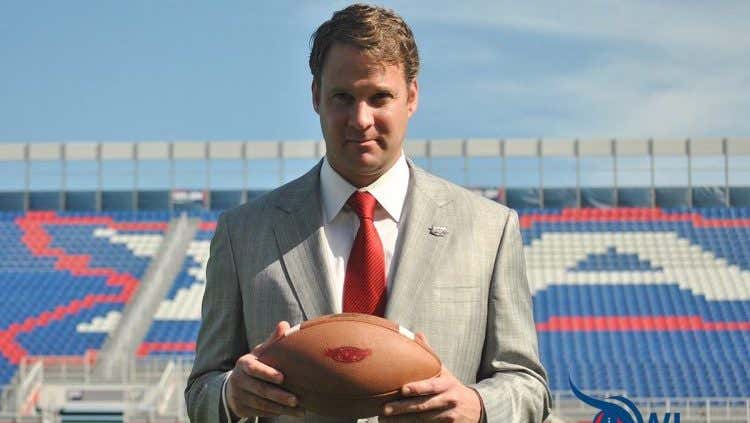 In a sports world full of overpriced concessions, Lane Kiffin, a man of the people, has worked to bring FAU fans what they want: cheap beer and hot dogs.
Compare that to other stadiums that will cost you $8+ for a beer. Included in that overpriced beer list is Miami. Why go watch Miami in an empty Hard Rock Stadium when you can go to #thefaU, have $4 beers, then go hit the Atlantic Avenue bars with Lane Kiffin in Delray Beach?!
Lane has truly had a hell of a year plus in Boca. C-USA champ, Boca Raton Bowl winner (formerly known as the Boca Raton Wet the Beak Ponzi Scheme Awareness Bowl), and completely revamping FAU football to #thefaU. His Owls come into the 2018 season as the favorite to defend their C-USA championship and have a win total of 9.
College football stadiums have been hesitant to offer alcohol sales. After the 2015 season, only 34 of 130 FBS teams served beer at their games:
However, there is big money in selling beer at games. Just look at the numbers Ohio State and Texas put up recently:
USA TODAY-Ohio State reportedly made over $1.1 million in alcohol sales in the 2016 season, its first season of selling alcohol in the stadium. UT Austin brought inover $3.3 million last fall from stadium sales, a 70% jump over the previous football season.
For some reason, the SEC doesn't want to tap into this market. I, personally, think it's a national travesty you can't buy alcohol at big-time football games, but some SEC AD's don't agree:
SI.com-"There's been some debate," Florida athletic director Scott Stricklin said. "I don't see us opening that up any time soon as a league."

The policy falls under the game management section of SEC legislation and can only be changed through a majority vote of the 14 SEC chancellors and presidents. Behind closed doors, a divide exists among these key decision-makers. In some cases, the divide occurs even outside of the room. Some presidents and athletic directors of the same school hold differing opinions on the subject. Generally, both groups are split in three ways: those who want the policy to remain as is; those who wish the conference would lift it, giving individual schools the autonomy to make alcohol sale decisions; and those who are undecided.
When the Lane Kiffin comeback tour is completed after he gets hired by an SEC team (cough, cough LSU cough, cough), you better bet he brings alcohol sales to the South with him.