Jimbo Fisher Is Not A Fan Of His Office Setup Because Kevin Sumlin Made It Like "A Damn Nightclub"
Texas A&M is under a massive overhaul thanks to the 75 Million Dollar Man Jimbo Fisher. That includes everything from the offense to the head coach's office:
Sports Day-In December, Texas A&M decided to make some major program renovations when it hired Florida State's Jimbo Fisher to be the Aggies' new football coach.

Well, it appears Fisher has some remodeling of his own that he wants to do, according to a report.

In a feature on Fisher in the summer edition of Dave Campbell's Texas Football, Fisher didn't sound too thrilled with the way his predecessor, Kevin Sumlin, kept his office.

"It's like a damn nightclub in here," Fisher told the magazine, which is on newsstands now. "This ain't gonna be my office."
Damn right, Sumlin. Jimbo is the captain now, the mayor of Aggieland and everything from the November losses to the damn nightclub ain't going to fly anymore. There's a new sheriff in town and he came in on a brand new horse with fresh new boots: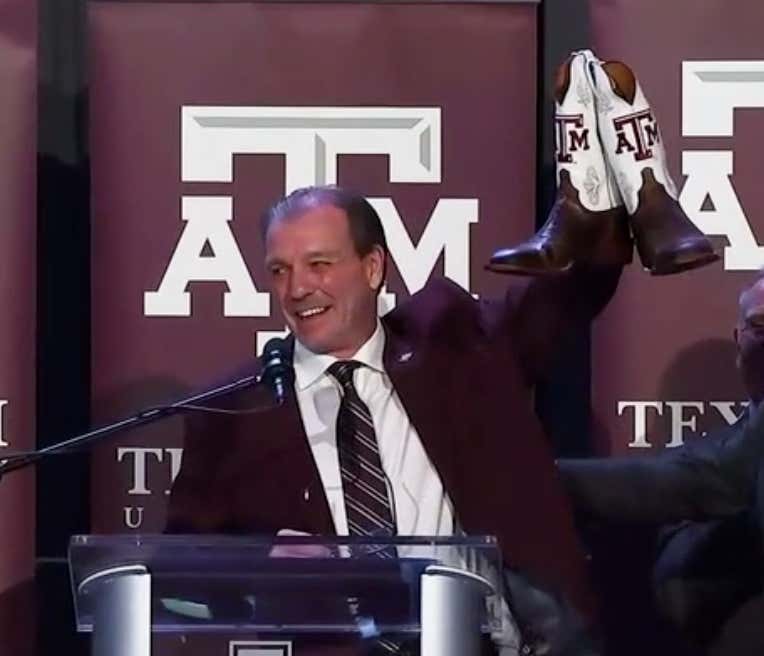 According to the story, Sumlin's old office had dark carpet and black walls, which doesn't seem to be a vibe Fisher enjoys.
Wait, that's it? That's the nightclub?! I'm not a big club goer, but this sounds like the worst nightclub ever. Maybe, just maybe, Jimbo Fisher doesn't know what nightclubs are like in 2018.
Since Fisher was hired to a $75 million deal, the richest contract ever given to a college football coach, his disdain for certain aspects of Sumlin's program has been apparent.

In the spring, Fisher immediately got rid of the music at practice(which was predominantly rap). He made those practices tougher and made the tight end a point of emphasis.
One of my favorite storylines in college football is when the hip, players coach is replaced by a football guy and he immediately gets rid of all the fun. Did you have video games in your locker room? Those are gone, time playing Fortnite should be spent watching film. Were you playing rap music during practice? That's gone too. Listening to Jay Wayne and Lil Z will not be happening in this regime. Got a problem with that? GET ON THE LINE. TIME FOR GASSERS.