8 Semesters, 8 Colleges: Which 8 Would You Pick?!
Last night, Quiggs (works on Snapchat show, has VERY funny Twitter @BigSeanQ) and I were talking over a hypothetical: if you could attend a new college every semester, for 8 semesters, which would be the perfect 8? Of course, you develop lifelong friendships by staying at the same college for 3-4 years, but throw that out the window. Assume that wouldn't be a problem and you have a solid group of friends at every college you go to. Now, you have to weigh all the other stuff that matters: weather, sports, party scene, academics, location, etc.
Here is the 8 I came up with.
Freshman Fall: Wisconsin (Madison)
You start off at a college that will have a contending football team, an awesome party atmosphere (2017's #1 school to party at), and you are in Madison during the fall.
Freshman Spring: North Carolina
Cross off experiencing Duke-North Carolina on Chapel Hill. The spring won't be too cold either. Hopefully, you will experience a March Madness run by the Tar Heels as well.
Sophmore Fall: Georgia
I don't really need to explain this one. There is nothing like Georgia in the fall. You, also, get to experience the world's largest outdoor cocktail party as a Georgia student:
Sophomore Spring: Arizona
You get the beautiful weather of Arizona and possibly get a March Madness run. Oh, and these guys aren't too bad at partying:
Junior Fall: Florida State
Just imagine experiencing this in person:
Take it away, Brent:
Junior Spring: University of Hawaii
Punt on going to a basketball contender for this semester. Take this as your semester "abroad" and enjoy your vacation at this beautiful campus just a few minutes from the beach: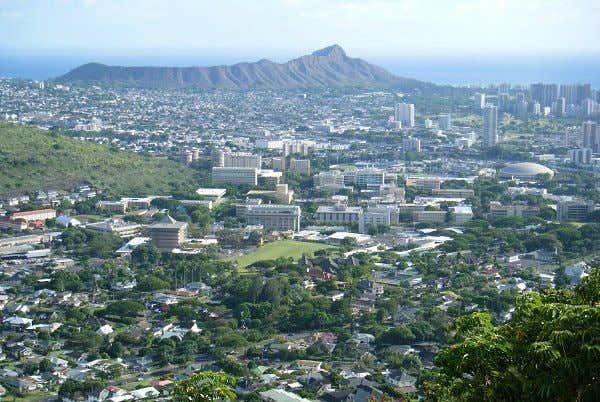 Senior Fall: Alabama
Leave the best for last. When I started this blog, I felt Alabama was sort of a cop-out, but in this hypothetical, how do you leave out experiencing an Alabama football season?
Senior Spring: Florida
You have a decent chance at a March Madness run. If you don't get it, who cares? You are at Florida…..you'll be alright.
Don't be afraid to tweet me your perfect 8 or just leave it down below in the comments.