One Rule For USF's New Stadium? Don't Have It Look Like UCF's "High School Stadium"
USF has played in Raymond James Stadium for two decades now. Although sharing an NFL facility with the Bucs is great, having a stadium that is too big and too far from their campus isn't the best situation. The goal for USF is to have a new, on-campus stadium by 2022:
WTSP-The University of South Florida could have a new football stadium open on-campus by 2022 but it shouldn't, according to the draft report of a feasibility study just completed by outside consultants.

The report, drafted by Convention, Sports, and Leisure International (CSL International) and obtained Monday by 10Investigates through a public records request, suggests USF should prioritize fundraising and planning for its new $40 million Football Center before embarking on the much larger task of funding a new stadium.

Alumni and students have fantasized about the possibility of a new on-campus football stadium for years. But the study reported USF fans opposed the kind of stadium the university could afford right now, likely a facility in the $120 million range, similar in quality to the stadium at FAU.
Building a new stadium is a challenge for any program, but with a limited budget, USF may be in Raymond James for longer than their fans may like. At least they don't play in a high school stadium, though:
The report completely dismissed a stadium similar to UCF's, which USF fans likened to "a high school stadium."
Laugh out loud funny.
USF may think they are slick for saying they don't want a stadium that looks like it's for a high school team, but I know one thing they won't have in that stadium, a national championship banner: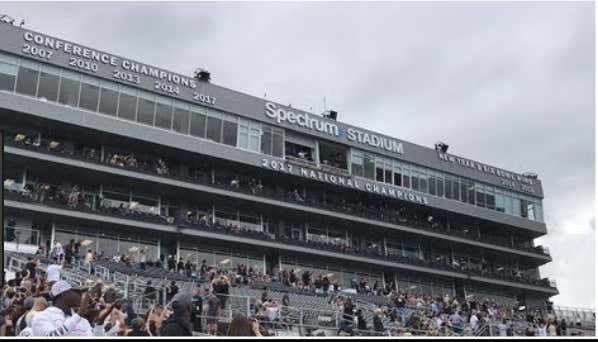 Think they have any national championship rings? Didn't think so:
No ConFLiCT trophy either…..
Facts are facts. Dispute them all you want.