Ohio State Fans Hold Rally For Urban Meyer Complete With Hilariously Awful Signs, Chants, And Papa John's Pizza
Ohio State fans have not disappointed throughout this entire Urban Meyer-Zach Smith scandal. The message boards have been juicy, the Twitter users with Ohio State logo icons have brought the conspiracies, and I haven't even gone down an Ohio State Facebook rabbit hole to see what the old folks are preaching. In a move I couldn't have even seen coming, a bunch of Ohio State fans got together to hold a "rally" for Urban Meyer outside of Ohio Stadium on Monday Afternoon. As they haven't disappointed on the interwebs, they didn't disappoint when the message boards came to real life:
This is a photo I will never forget. A ranking of the signs that made me audibly say "oh my god" the loudest:
#6:
#5.
You think this guy has a job? Looks like the guy who keeps showing up to your high school parties, even though he graduated 3 years ago.
#4.
The best part about these first three is the mentioning of ESPN, who was probably the last media outlet on the face of the earth to report on the Urban Meyer-Zach Smith news last week. In fact, the guy who investigated and reported on the story of the college football season was fired by ESPN over a year ago (lol, ESPN). Whatever fits your narrative, Buckeyes.
#3.
#2.
How did Sage Steele get into that Final Four? I will always love Ohio State fans hate for Mark May.
#1.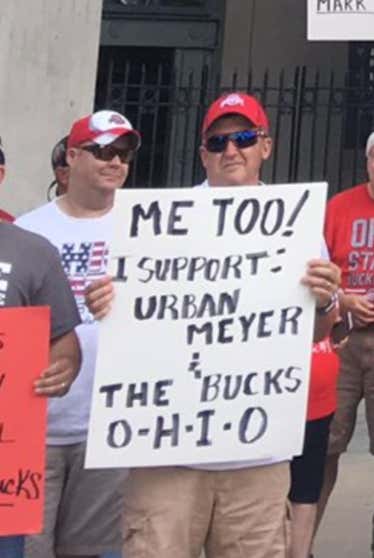 I mean look at that guys face. I get what this guy is getting at, but I'm not sure his joke makes sense. Whatever, I still laughed (and so did you). This guy was so prepared for the "rally" that his sign was double-sided!!!
Content, content, content!!
The signs weren't the only entertainment offered. Thanks to a fan known as "Tennessee Jeff," the rally turned real weird, real quick:
Tennessee Jeff, who has a bizarre name for an Ohio State fan, brought a clipboard complete with cheers and songs. Can you blame him? He had a job to do and goddamnit he did it. Failing to prepare is preparing to fail. Here is the Facebook of Tennessee Jeff:
Apparently, Tennessee Jeff set up this whole event:
He is grateful for the turnout:
Tennessee Jeff wasn't the only A-list star at the rally. Thanks to the good fortunes of the higher power above, Ezekiel Elliot's father showed up to give us his thoughts:
Ironic on every level imaginable (if you need a refresher on his son's record with domestic violence, use the ole Google machine).
To make this entire event even more hilarious, an "anonymous donor" sent over pizza from….wait for it…..Papa John's:
If you put Jerry Seinfeld, Chris Rock, Bill Burr, Stephen Colbert, and various other top comedy writers in a room together and asked them to script this "rally" any better, they couldn't have. It's impossible. Only the absurdity of college football and life produces what happened in Ohio yesterday. There was even an old lady with a walker and an old man in a wheelchair!
P.s. REMINDER: don't let a small group of fans dictate your opinion of an entire fan base. However, in this specific situation, if you are a fan of Michigan, go ahead and do that. Hate has no offseason.