Now That The Cheez-It Bowl Is Real, Here Are 9 Sponsored Bowls That Need To Happen
Today, the college football world was gifted a new bowl name:
Bowl Press Release-Cheez-It®, the number one selling cracker brand in the United States, will be the exclusive snacks partner, bringing delicious snacking experiences and flavor fun to the high-energy excitement of college football.

"For most fans, snacks are an important part of their football-watching experience, whether they are viewing at home or throwing a game day tailgate. The unique, cheesy and crunchy taste of Cheez-It® has earned a place in many fans' game day snack traditions," said Jeff Delonis, Marketing Director of Cheez-It®. "We're very excited to further extend our relationship with college football through the Cheez-It® Bowl to celebrate the state of Arizona and the athletes from the Big 12 and Pac-12."
The former Motel 6 Cactus Bowl, will now be known as the Cheez-It Bowl. They even brought a giant-sized Cheez-It box to the press conference: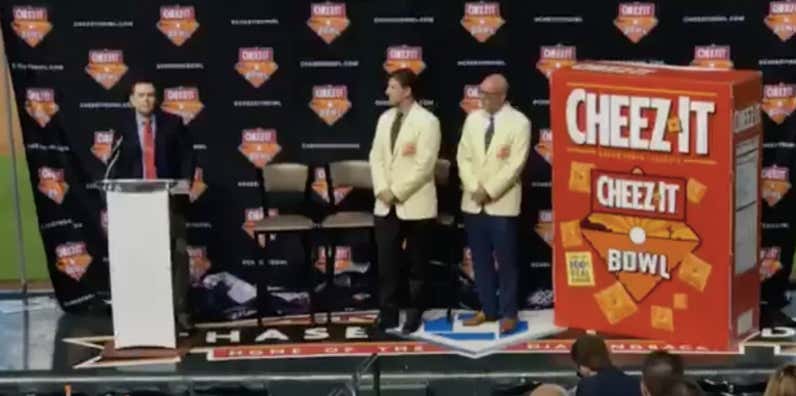 The Cheez-It Bowl will be played at Chase Field in Phoenix. That, of course, is the home of the Arizona Diamondbacks. In right-center field, there is a pool and hot tub:
If Cheez-It doesn't fill that bad boy up with Cheez-It's, that is an opportunity missed.
Cheez-It is now my favorite bowl sponsor. The absurdity of it is the epitome of college football. What are some other sponsors that would fit into college football's absurdity?
9. PornHub Bowl
Yes, complete with a live performance.
8. Waffle House Bowl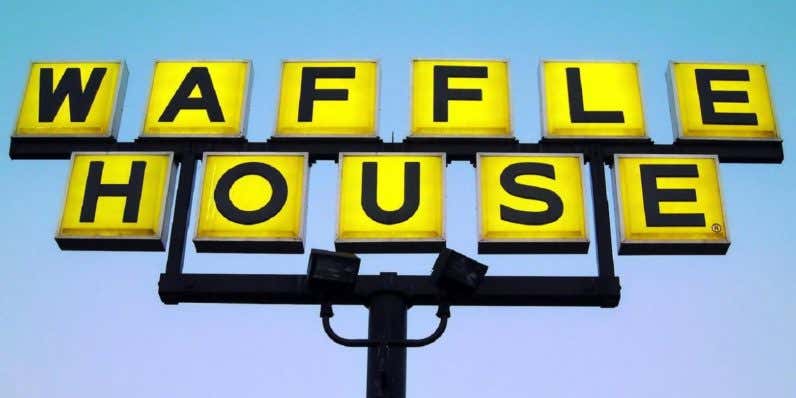 Make the goal posts spell out Waffle House. The winning fan base gets a waffle feast after the final whistle.
7. Sketchers Bowl
Make the players wear Sketchers cleats. Make them as ugly as possible. Any press is good press.
6. Maury Bowl
After each quarter, there is a "you are/you are not the father" segment:
That is must watch TV.
5. Your Facebook Friend, Who Didn't Graduate High School, Tries To Sell You Car Insurance Bowl
This goes hand and hand with the infamous The Boca Raton Wet The Beak Ponzi Scheme Awareness Bowl Presented by Pardon My Take Presented by Barstool Sports.
During each commercial break, one of your Facebook friends comes to the 50-yard-line and tries to sell the crowd new car insurance he is selling on Facebook that is totally not a Ponzi scheme.
4. Deadspin Bowl
You can only watch it on Facebook Live. Nobody knows about it. Only 200 people watch it. The game is two-touch. There is no winner or loser. Both teams will have fun.
3. Vice/Vox/Huffington Post/Slate Woke Bowl
Unlike the Deadspin bowl, there will be a winner, but it will be determined not on the field, but instead by who has the most #Woke roster.
2. Mesothelioma Commercial Bowl
Instead of bands playing their fight song after a touchdown, the "if you are a loved one…"  commercial just plays on a loop:
1. Alex Jones Conspiracy Bowl
Each drive is brought to you by a specific Alex Jones conspiracy. He will be the lone announcer on both TV and the in-stadium speaker system. He will not stop talking during the plays. Just three hours of talking about juice boxes:
Here's the kicker: In the fourth quarter of the game, every major technology company will shut down Alex Jones. There is a conspiracy within the conspiracy.
Boom. GALAXY BRAIN.