College Football Gambling Preview: Big 12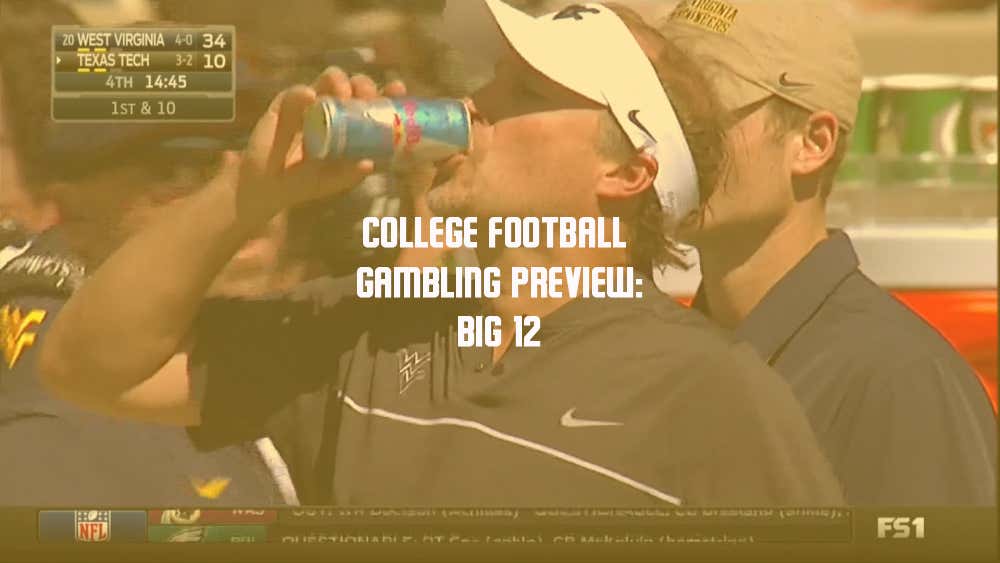 Top Gambling Plays:
Baylor Over 5.5 Wins (-140): 
I love me some Baylor this year. They return the 4th most production in the country with head coach Matt Rhule, who I'm a big fan of. Last year was a tough season, but seeing how hard they played in their final games shows me this team loves playing under Rhule.
QB Corey Brewer and WR Denzel Mims are one of the best QB-WR combos in this conference. In Brewer's 8 appearances in 2017, Brewer threw for 1,562 yards, 11 TDs, and just four INTs.
Defensive Coordinator Phil Snow's Temple defense truly took a step forward in his second year there. 2018 will be his second year at Baylor and his defense will be much more experienced than his 2017 unit.
Baylor starts with 5 winnable games in their first 6 (Duke, Kansas, UTSA, FCS (ACU), and Kansas State). After that, they'll need just 1 more win to get bowl eligible and cash this ticket. That can come against Iowa State, Texas Tech, or when they take on Oklahoma State at home.
Texas +300 To Win Big 12:
Count me in on Tom Herman in year two. Sam Ehlinger was named the starter yesterday and he'll have Lil'Jordan Humphries and Collin Johnson to toss the rock to in Tim Beck's offense. Tre Watson transfers in at RB from Cal and will take part in a great two-headed rushing attack with Daniel Young.
What intrigues me the most about this Texas team is the defense. Even though they allowed 51 points to Maryland in week 1 last year, Texas still finished 21st in S&P+ defense. Todd Orlando will have himself another top-20 unit this year. They do have to replace the likes of Poona Ford, Malik Jefferson, and DeShon Elliot, but there are 4-star and 5-star players littered across the defense. Four of last year's five defensive linemen, three of five LBs, and six of ten DBs return from a defense that held both Oklahoma and Oklahoma State under 30 points.
I see them taking on Oklahoma in the Big 12 Championship game. They'll have 8
Oklahoma +100 to win Big 12:
Fittingly, Kyler Murray was named the starting QB today:
In other news: water is wet.
Murray is a BIG reason why I am high on Oklahoma this year. Replacing Baker is impossible, but Murray is going to about as close as you could expect. The Top-10 MLB draft pick and former 5-star QB will have weapons all throughout the offense that ranked 1st in S&P+ last year. That includes RB Rodney Anderson, who is a top back in the country in my book, and WR's Ceedee Lamb and Marquise HOLLLYWOOOD Brown.
The defense is always the issue with Oklahoma, but the competence they showed late last season gives me hope for Mark Stoops unit. In their last 4 games, they allowed just 17.8 PPG and 5.1 yards per play. That kept up through the first half of the Rose Bowl (the second half? a completely different story). I believe the 2018 defense, which is littered with 4/5-star talent, will be good enough to win the Big 12. This unit doesn't have to be more than top-50 combined with the Sooners offense.
Oklahoma's schedule does lend me to believe they'll have another shot at attending the CFP. They'll be favored in every game if all goes to plan. Their schedule does feature road trips to TCU and West Virginia.
10. Kansas (3.5 (-230/+200), 100/1):
Ugh. Kansas, Kansas, Kansas. At least they gave us two of the greatest memories from the past two years: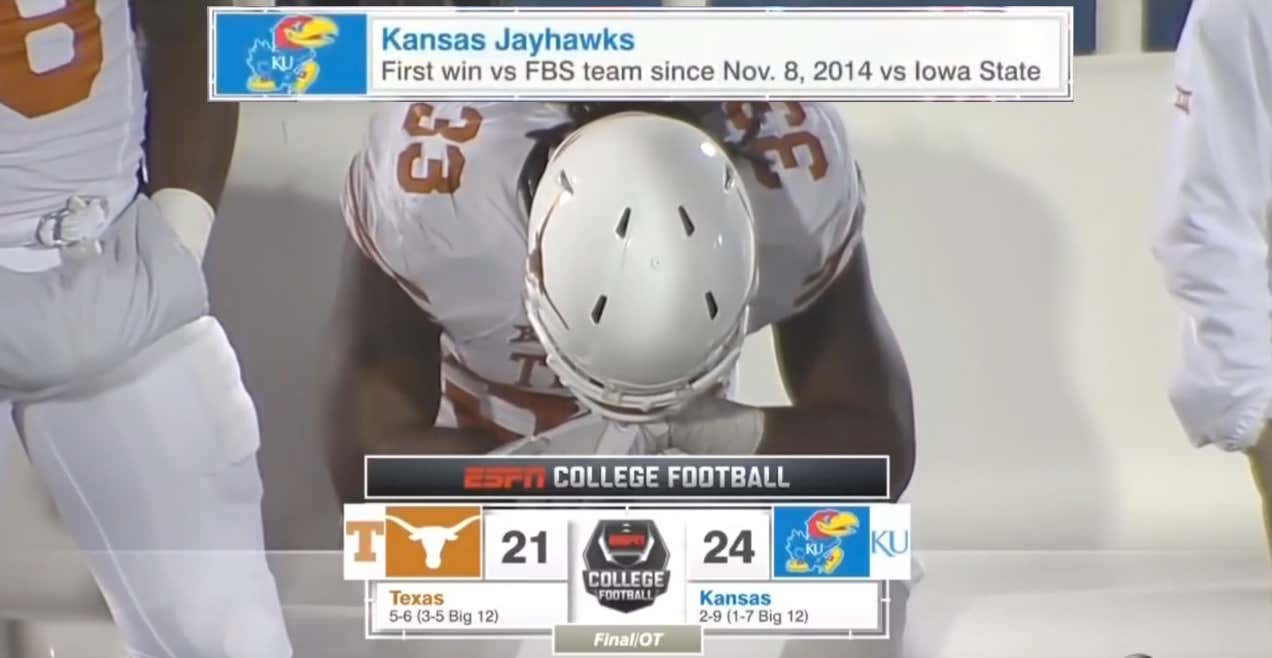 David Beaty's seat is hot with a new AD in town. The Jayhawks start off the season with Nichols State, @ Central Michigan, and Rutgers. I could see Beaty being gone by week 4 if he does not end that stretch 2-1.
This is David Beaty's best team since getting to town. The defense, led by LB Joe Dineen Jr. and NT Daniel Wise, will be decent. If they find a decent QB (returning QB's Peyton Bender and Carter Stanley are battling with JUCO transfer Miles Kendrick), RB Khalil Herbert and WR Steven Simms may produce a better offense than last years 127th ranked S&P+ unit.
Laying -230 on under 3.5 is a lot, so it's a no play for me. I'll pray for you if you think over 3.5 is a good bet.
9. Kansas State (6.5 (-115/-105), 25/1):
Putting Kansas State 9th in this conference may come back to hurt me. Betting against the wizard Bill Snyder is a dumb, dumb thing to do. I just take a look at their schedule and see tough games left and right. They have to travel to West Virginia, Baylor, Oklahoma, TCU, and Iowa State. On top of that, the Wildcats have to replace two coordinators.
There is a lot of talent on this team. Finishing 9th shows the strength of the Big 12 more than an indictment on them. Tackle Dalton Risner may be a first-round draft pick, either QB (Skylar Thompson/Alex Delton) will have RB Alex Barnes to contribute to a potentially top-40 offense. The defense has to replace their coordinator and five of their top havoc guys from last years unit have graduated/left.
Under 6.5 would be a good bet in my book. On top of those tough road games, they have to play Mississippi State on September 8th.
8. Baylor (5.5 (-140/+120), 50/1):
I went over my like of Baylor's 2018 squad in my best bets above. I love what Matt Rhule is doing in a tough situation after the Art Briles mess.
7. Texas Tech (6.5 (+130/-150), 33/1):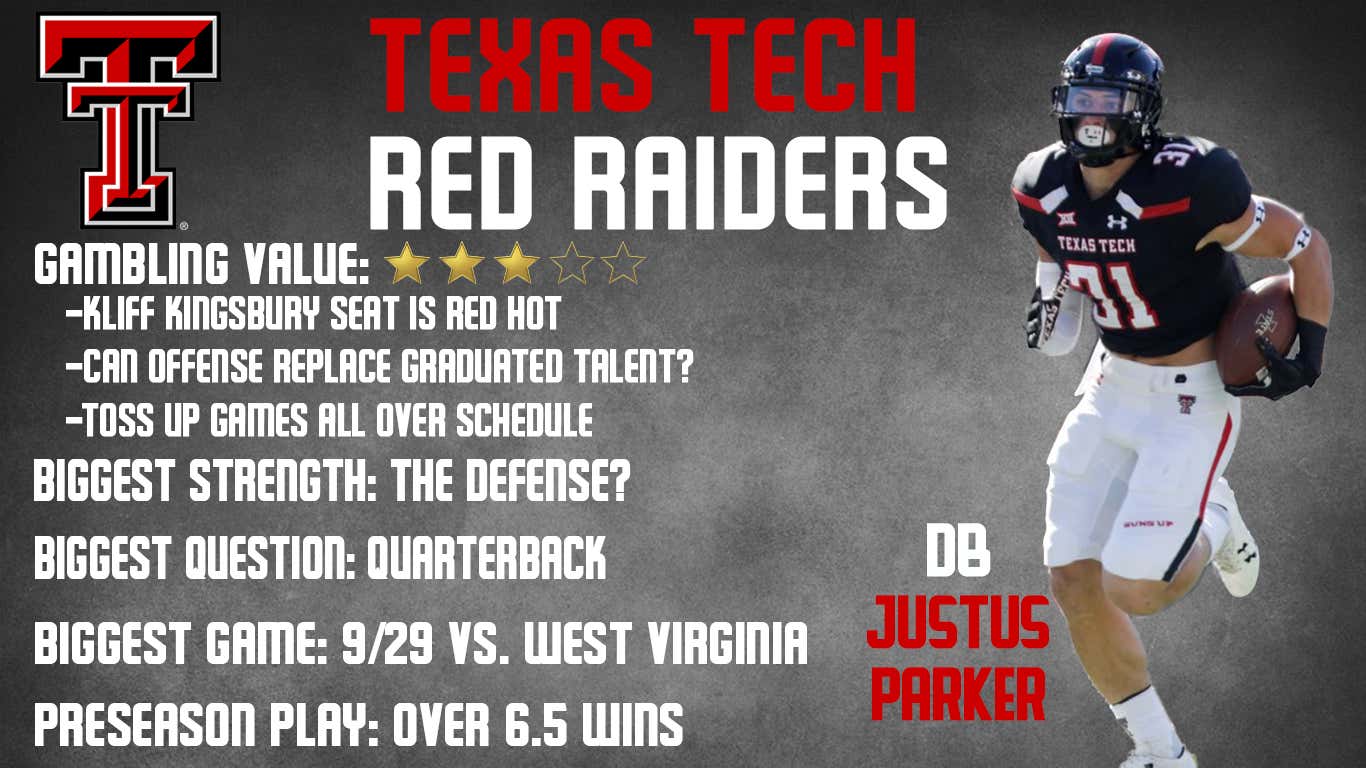 We already talked about David Beaty's hot seat, but he's not the only guy in the Big 12 that will be sitting uncomfortably if his season doesn't go to plan. Kliff Kingsbury has had a hell of a ride since coordinating Johnny Manziel's 2012 Heisman season. The good news for him? I think Texas Tech has the potential to surprise some folks this season (like he cares what I think).
The reason for that will be Texas Tech's defense. After ranking 126th in 2016 and 121st in 2015, Texas Tech improved to 88 in 2017. They return the 2nd most production of any defense in the nation. There is a potential for them to sneak into the top 50.
The problem? The offense graduated QB Nic Shimonek, RB Justin Stockton, and four of their top five receivers. Outside of his first season, Kingsbury's offenses at Texas Tech haven't ranked outside of the top-25, so it's hard to concern yourself too much over him figuring out this unit that returns the 3rd least production in the country.
I am high on Texas Tech this year. Taking over 6.5 wins is a good bet in my book. We'll learn a lot about this team week one when they take on Ole Miss.
6. Iowa State (6.5 (-120/+100), 20/1):
What Matt Campbell has done at Iowa State should not be overlooked. Last seasons victories against TCU and Oklahoma were phenomenal. Eight plus wins have only happened 6 times in the past 100 years in Iowa City.
Losing LB Joel Lanning and WR Allan Lazard will be tough, but QB Kyle Kempt and RB David Montgomery will still lead a great offense. Road games against Iowa, Texas, TCU, and Oklahoma State is bad news, plus Oklahoma will be coming to town looking for revenge.
I do not have a lean either way on the win total. If you put a gun to my head, I'd take under 6.5 wins, but I do not want to bet against Matt Campbell.
5. Oklahoma State (8 (-110/-110), 8/1): 
Oklahoma State returns the 10th least production in the entire country. Replacing Mason Rudolph and James Washington will be impossible. QB Taylor Cornelius (what a name) will take over the reigns and has RB Justice Hill to take the pressure off of him, but Mike Gundy's offense is under construction for the 2018 season.
On the defensive side of the ball, they will be breaking in DC Jim Knowles. The secondary is full of sophomores and the front six will have to find competent attacking pieces if they want to accomplish what Jim Knowles wants to do (comes from Duke where he depended on havoc).
Late trips to Oklahoma and TCU will be tough, along with a potential G5 upset from Boise State in week 3. I do not see them going over 8 wins. I'd even suggest taking under 7.5 wins. 2018 is going to be a tough year in Stillwater unless the superpowers of Mike Gundy's mullet comes through.
4. West Virginia (7.5 (+105/-125), 8/1): 
I want to like West Virginia more than I do. There starting 22 can stand up with almost anybody in the nation. Will Grier is a legit Heisman candidate and a WR core with Gary Jennings and David Sills may be one of the best in the nation.
West Virginia's issues come when you look at their tough schedule and consider their less than ideal depth issues. Outside of safety, if West Virginia has any injuries on defense, they will have massive issues. It's great when your starting 22 is phenomenal, but to be a great football team, you need to have much more than just those 22 players. Injuries happen. Suspensions happen. Sure, West Virginia may have the greatest luck in the world in 2018, but would you be willing to bet on that? I'm not.
Plus, take a look at their schedule. They have non-conference games against Tennessee and NC State. Their final four games are BRUTAL, especially if injuries are starting to add up: @ Texas, vs. TCU, @ Oklahoma State, vs. Oklahoma.
3. TCU (7.5 (-145/+125), 6/1):
Another year, another great team from Gary Patterson. Their defense was finally healthy last year and brings back a bunch of talent under DC Chad Glasgow. On top of returning talent, they picked up graduate transfer Jawuan Johnson was a massive pickup. Last season, TCU was 16th in defensive S&P+ and I'd expect a similar showing in 2018. The biggest question for the defense will be whether or not they can stop big plays, where they ranked 128th last season.
The offense should be fine if QB Shawn Robinson steps up. That's a big if. Robinson is getting a fair amount of hype in Fort Worth, but can he take TCU to a level that Kenny #TRILLLLL Hill couldn't?!
2. Texas (8.5 (-135/+120), 3/1):
For more on Texas, look at the best bets section above.
1. Oklahoma (10.5, (+135/-155), +100):
For more on Oklahoma, look at the best bets section above.
Previous: 
Upcoming: 
Tomorrow: Big 10
Friday: ACC
Monday: SEC
Tuesday: Win Totals
Wednesday: CFP, National Championship, Heisman Predictions