College Football Gambling Preview: Big 10
Top Gambling Plays:
Ohio State 10/1 To Win National Championship
Urban Meyer will be back in week 4 and let me tell you a little something about this Ohio State team: THEY ARE LOADED.
QB Dwayne Haskins will be better than JT Barrett. RB JK Dobbins and Mike Webber are back. The offensive line is one of the top lines in the nation and there are blue-chips littered throughout the WR core.
The defense is led by DE Chase Young and Nick Bosa, two potential top-5 picks. The rest of the defense does not cause too much worry, especially considering the talent and coaching staff (Greg Schiano and Alex Grinch).
10/1 is too much value to pass up on. This is the most talented team in the country outside of Alabama. There are 1st-rounders everywhere and the offense is only going to improve under Dwayne Haskins, who I'm thinking is going to be my Heisman pick. Urban is a shitty person, but a phenomenal football coach. I'd never bet on him off the football field, but on it? With a 10/1 payout? Give me that all day.
Wisconsin 25/1 To Win National Championship
Jonathan Taylor, a top-20 WR core, an underrated QB Alex Hornibrook, the best offensive line in the country, and a dominant LB core. You are telling me, I can get all of that on a 25/1 ticket? And they are in a weak division?
Games at Michigan and Penn State will be tough, but they'll still be able to drop one of those and have the ability to win the Big Ten Championship game at 11-1 and make the CFP. Having a 25/1 ticket throughout the season will allow various hedging spots as well.
Nebraska Under 6.5 Wins
This season will not be easy for the Cornhuskers. I am in on the Scott Frost hire, but can they get over the growing pains of a new, up-tempo offense and the 71st most returning production? It looks like a true freshman will start at QB and their projected starting RB announced his retirement today:
Let's take a look at their schedule:
Let's count Colorado, Akron, Troy, and Illinois as wins. Michigan State, Wisconsin, Ohio State, and Michigan as losses. That means they have to go 2-2 @ Iowa, Vs Minnesota, @ Northwestern, and vs Purdue. I don't see that happening.
Illinois Under 3.5 Wins:
Illinois returns the 78th most production from a team that ranked 118th in 2017. I'm not as low on Lovie Smith as others, but his 2018 team is not in good shape. This team is full of sophomores and any injuries will derail their 2018 even further. Look at this schedule:
Where are the wins to get to over 4 wins? Sure, give them Kent State and Western Illinois, but where are the 2 other wins? They play Maryland and Rutgers away. That's the only way they will get to 4 is if they steal those ones. I don't see it happening.
East
1. Ohio State (10.5 (+120/-140), +190)
For more on Ohio State, look above.
2. Michigan (8.5 (-200/+170), 3/1)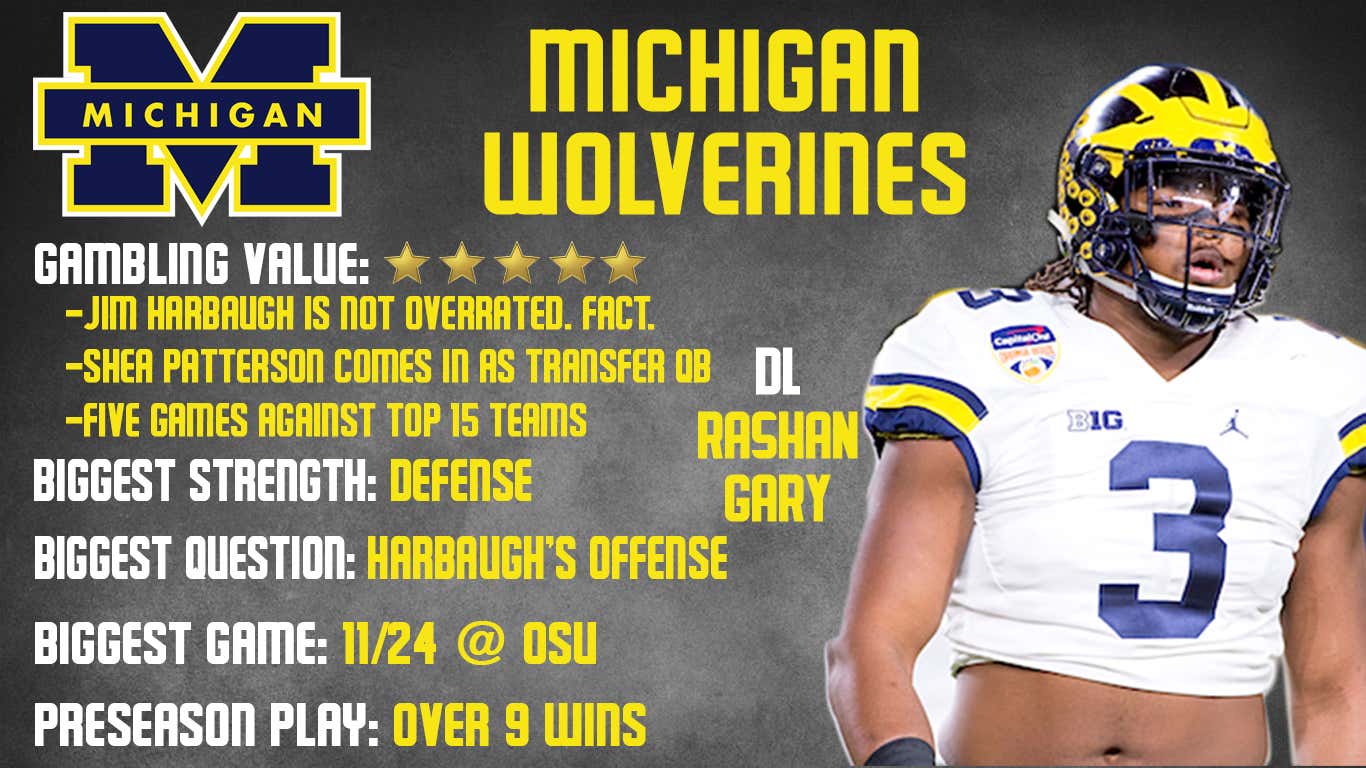 I have anxiety over how much I like Michigan this year. Count me a Shea Patterson believer. Harbaugh did very well in San Francisco with Kaepernick, and I see Patterson and Collin as very similar QB's. Karan Higdon and Chris Evans almost combined for 1,000 yards each in 2017 and will be running behind a line with six players that have starting experience. Tarik Black and Donovon Peoples-Jones return for injury on the outside, while slot guy Grant Perry and TE Sean McKeon will be great targets for Patterson up the middle.
I have zero worries for Michigan's defense. Don Brown is a wizard at DC and has transformed Khaleke Hudson into Jabrill Peppers 2.0. Rashan Gary and Chase Winovich combine to make one of the best defensive lines in the country, while MLB Devin Bush is a future 1st-rounder. The secondary with Tyree Kinnel and Lavert Hill will be dynamite. I don't see how this defense drops out of the top 5.
Playing Notre Dame on top of OSU, PSU, MSU, and Wisconsin means Michigan will have themselves a hell of a resume if they only drop one game by the end of the season. Imagine a 11-0 OSU against a 10-1 Michigan the final week of the season? INJECT IT INTO MY VEINS.
3. Penn State (9.5 (+100/-120), +750)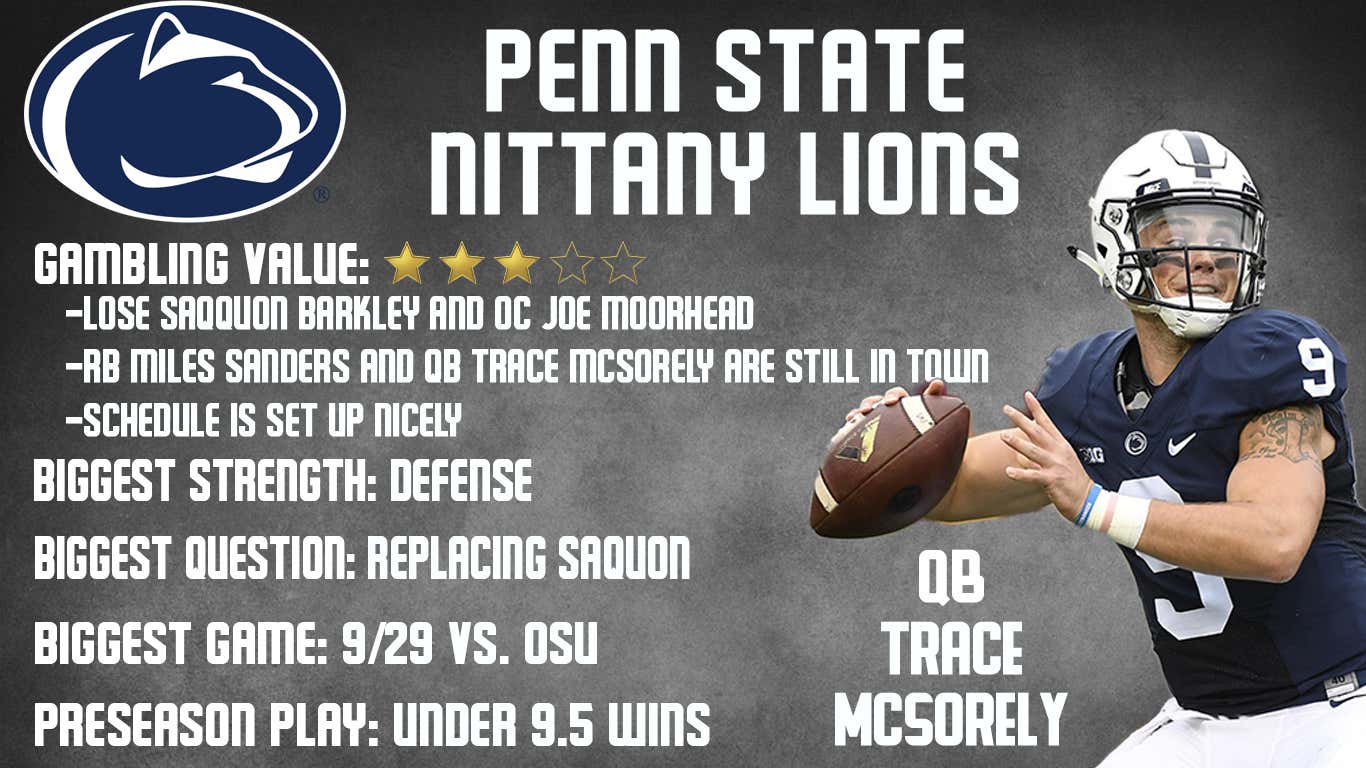 Saquon Barkley is gone and so is OC Joe Moorhead. Here's a take: Moorhead is the bigger loss of those two names. OC Rick Rahne had quite the audition in the Fiesta Bowl and has Trace McSorley to make the transition seamless. RB Miles Sanders is a former 5-star and will not be as elusive as Saquon, but with comparable straight-forward running ability behind a line that returns 5 guys with at least 9-games of starting experience, the loss of Saquon may not be as big as one may think.
Franklin got more defensive players involved in 2017 than any coach in the country. 31 players made at least five tackles and 19 made at least 13. That makes the defense that returns the 29th least production in America much more appealing. There are questions on the outside (DE, OLB, and CB), but up the middle, Penn State's defense is as good as ever. If they avoid injuries, the defense won't fall too far from their 12th ranking last fall.
The schedule is great. They catch Ohio State, Wisconsin, and Michigan State at home (Michigan on road). Playing four top-10 teams is not appetizing, but if they get hot, a CFP appearance and a Heisman (Traceeeee) isn't out of the question. I'll be looking to back Penn State throughout the season, but no preseason plays for me.
4. Michigan State (8.5 (-170/+150), 8/1)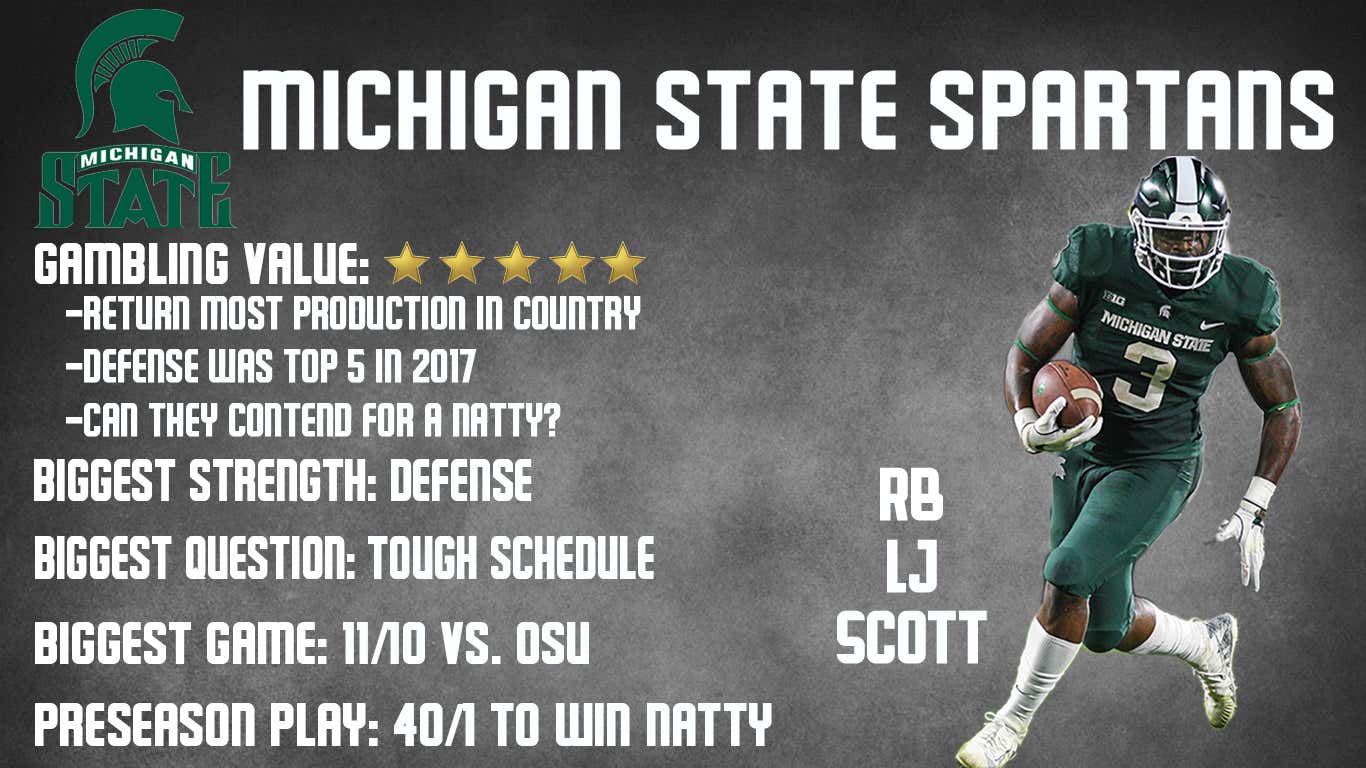 The Big Ten East is the best division in college football. Michigan State, a team I love for 2018, but still put 4th, proves that. Sparty returns the most production in the entire country from a team that finished 19th in S&P+. The defense is the main event for MSU, which ranked 5th last year and has the chance to be one of the best in the country. QB Brian Lewerke is phenomenal and is perfect with an elite WR core that features Felton Davis, Darrell Stewart Jr. and Cody White. The offensive line does lose all-conference center Brian Allen, but five guys with over 12 games of starting experience return. LJ Scott's YPC dropped from 5.4 to 4.5 in 2017, but he'll be running behind a beefy line.
The schedule is the issue with Michigan State. Games against PSU, Michigan, and OSU may cap them at 9 games. They do get Michigan and OSU at home. Playing PSU at Happy Valley makes me put them in 4th. Taking them 40/1 to win the national championship and hedging throughout the season is a wise move.
5. Indiana (5.5 (+100/-120), 200/1)
Tom Allen is in year two and if his offense rebounds after a disgusting 2017 season (98th), he may take Indiana back to a bowl. The problem with Indiana is they are capped around 8-9 wins every single year competing against MSU, PSU, UM, and OSU.
Will the offense rebound, though? I like Peyton Ramsey at QB and every lineman who started a game last year is back. The defense ranked 26th in 2017 and returns almost everything. Losing LB's Tegray Scales and Chris Covington hurt, but a pass rush with Allen Stallings IV and Nile Sykes and a good secondary means their defense won't regress too much.
An OOC with FIU, Virginia, and Ball State allows Indiana to start 3-0. After that, games against Maryland, Rutgers, and Purdue, will allow them a chance at bowl eligibility. I lean over.
6. Maryland (5.5 (+120/-140), 300/1)
The DJ Durkin situation is brutal on all fronts, but specifically for the 2018 Terps. By the start of Big Ten play last season, Maryland was on their third QB. Kasim Hill is healthy for 2018 and is a breakout candidate within new OC Matt Canada's offense (RIP Matt Canada LSU hype 2017-2017). Pair Hill's explosiveness with RB Ty Johnson (has rushed for 2,129 yards on 7.5 YPC in his career) and you have a top-tier offense.
The defense returns DE Jesse Aniebonam and brings in former 5-star Auburn transfer DE Byron Cowart. Combine that with returners in the back 7 and you have a decent defense that could be good enough to bring Maryland back to a bowl.
The Durkin situation is just too much for me to take any side with this team. The talent is there, but the off the field issues may derail this team. Plus, their special teams ranked dead last in S&P+ in 2017. I lean under.
7. Rutgers (3.5 (-145/+125), 500/1)
This is a big year for Chris Ash. As a head coach at a P5 program, you want to prove to the school/athletic program that you are heading in the right direction after year 3.
Things were looking decent for Rutgers heading into 2018. They brought in 4-star QB Artur Sitkowski, who was named the starter today. Ash's defense ranked 53rd in defensive S&P+ in 2017 and was looking at a potential top-40 unit in 2018. Maybe they could improve on their 4-win mark in 2017 and get to 5 or….gasp….bowl eligibility.
All that went down the shitter in typical Buttgers fashion over the offseason. Two potential defensive starters were kicked off the team in July and 8 (!!!!) others were charged with credit card fraud this week. That downgrades their defense, which consequently downgrades their team's outlook.
The in total is now at 3.5. I lean under. If you can get an under 4, I'd bit IMMEDIATELY. Going to be a long year in the birthplace of college football.
West
1. Wisconsin (10 (+105/-125), +240)
For more on Wisconsin, look to the top gambling plays above.
2. Iowa (7.5 (-125/+105), 25/1)
In 2017, the Hawkeyes ranked 23rd in passing S&P+ and may be able to take a step forward. Nate Stanley can make all the throws and doesn't make many mistakes. He gets two of his top three receivers back along with TE Noah Fant, a future first-round draft pick. They do lose Akrum Wadley, but they ranked 105th in rushing success rate last season, so that loss doesn't affect Iowa's offensive bottom line that much.
I wanted to take Iowa over 7.5 wins, but their defense does give me concern. They return just the 95th most production in the country from last year's unit. There are concerns throughout the defensive line, LB, and secondary. The defense did rank in the top-15 last year, but how far will they far this year? That's the question for the Hawkeyes.
3. Purdue (6.5 (+160/-185), 40/1)
I love Jeff Brohm:
What he has done to transform Purdue back to a good football program is remarkable, and it's only been a year! His offense should take another step forward in 2018 with QB Elijah Sindelar and the 32nd most returning production in America. The concern comes on the defense, which returns the 5th least production. Will it be good enough to keep Purdue in games?
An OOC schedule with Missouri and Boston College and games against Ohio State, Wisconsin, and Michigan State may cap the Boilermakers at 7-8 games. If you are a Purdue fan, don't worry too much about this season: the future is bright.
4. Northwestern (6.5 (+140/-160), 50/1)
What PJ Fitzgerald has built at Northwestern should not be overlooked. He is 87-65 in his first 12 years and coming off a 10-3 season. His team returns the 72nd most production for 2018 and a QB that is coming of a torn ACL in the Music City Bowl. Will Clayton Thorson be able to take that step forward to lead the Wildcats, while also losing RB Justin Jackson? His numbers against P5 competition left a lot to be desired (a passing rating under 105 compare that to 51-68, 4 TDs against Bowling Green and Nevada).
The rush defense ranked 20th last season and may be better this year. Their biggest question is in the secondary that was thinned out due to graduation. I'd lean under 6.5 wins, just too many questions for me.
5. Minnesota (5.5 (-125/+105), 100/1)
Year two with PJ Fleck….will the boat row a bit smoother? This week, it was announced that the Gophers will be starting a walk-on true freshman at QB.
He will be complemented with RB Rodney Smith, WR Tyler Johnson and a potentially great offensive line. The defense fell from 23rd to 46th last year, but return a bunch of youth and bring in a great recruiting class.
Minnesota will be involved in a lot of close games. Fresno State, Miami (OH), Maryland, Iowa, Nebraska, Indiana, Illinois, Purdue, and Northwestern will all feature lines no more than 7 points. Go 6-3 in those games, you have a phenomenal season. 2-7? The seat for Fleck starts to get a bit hotter. I'm still in on Fleck at Minnesota. He brought in a top-40 recruiting class this year and is hovering around top-30 for 2019. It may not be this year, but Minnesota will be a force very soon.
6. Nebraska (6.5 (-105/-115), 28/1)
For more on Nebraska, look to the top gambling plays above.
7. Illinois (3.5 (-140/+120), 500/1)
For more on Illinois, look to the top gambling plays above.