College Football Gambling Preview: ACC
Best Bets
Clemson 3/1 To Win National Championship
I. Love. Clemson. In. 2018.
This team has the chance to be an all-time great team. The defense returns Christian Wilkins and Austin Bryant on the defensive line, who may have been 1st round picks this past April. Those two plus Clein Ferell and Dexter Lawrence and you have four defensive linemen that may be drafted in the first 50 picks come April. Brent Venables back 7 is nothing to scoff at either. This defense is going to be the best in the country this season.
On offense, you have insurance salesmen Hunter Renfrow, WR Tee Higgins (the next great Clemson WR), and RB Travis Etienne has a chance to be one of the most explosive in the country with an offensive line that has NFL talent littered across it. The question will come at QB and Kelly Bryant was named the starter today, but I have a feeling that 5-star true freshman Trevor Lawrence will step in before ACC play and take Clemson to the next level.
They'll be favored in almost every game by over 14-points. The trip to Florida State will be tough, but I think they'll survive it. I won't ruin my official national championship play (will release it Thursday), but let's just say there is a lot of value in that +300 line I will be taking.
Syracuse Under 5.5 (-120)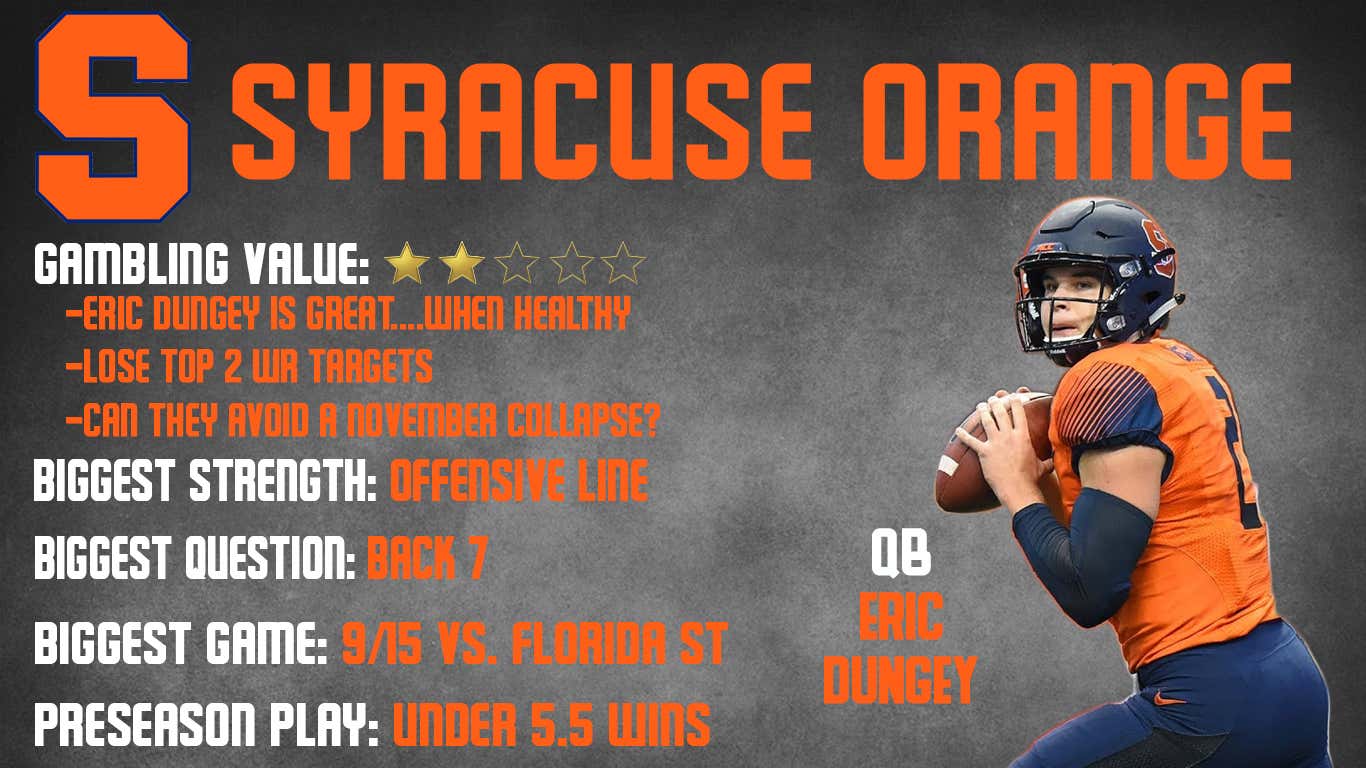 Syracuse in 2018 will revolve around Eric Dungey. The mobile QB takes Syracuse to the next level when he's in the lineup, but it seems like he's on the injury report more than any other QB in the nation. Dungey has had concussion issues his entire career and I don't see him getting through this season without an injury based on his history. He'll get no help from a run game that ranked in the bottom 20 last year. On top of that, the top 2 receivers from last years team are gone.
The defense ranked 99th last season and their strength from 2017, havoc from the 3 LBs, have graduated. Their safety unit also is full of questions. That's not great news for a defense that ranked 101st in S&P+ on passing downs.
The schedule is not easy. Their first game is @ Western Michigan, and could result in a loss. They also have another OOC against Notre Dame. Trips to Pittsburgh, BC, and Wake Forest won't be easy. Overall, their SOS is ranked 48th. Take the under.
Miami 50/1 To Win National Championship
Do I think Miami is going to win the national championship? No, but a team that returns top-50 production with a schedule that they'll be favored in every single game in, I can't pass up the 50/1 value.
The defense returns a bunch in the back 7, the replacements on the line are talented, and the offense features explosive options with WR Ahmmon Richards, RB Travis Homer, and WR Jeff Thomas. QB Malik Rosier was a good game manager until injuries ravaged the offense. His backup N'kosi Perry may be able to step up if Rosier goes down/isn't playing well enough.
Throughout the season, I'll pick spots to hedge with underdogs against the Canes. That will bring down the value to 40/1 or so heading into the ACC Championship Game against Clemson. We'll take a big hedge in that situation.
Let's take that 50/1 and enjoy being involved with the turnover chain:
Virginia Tech Under 8 Wins
Here is what Virginia Tech's defense loses in 2018.
NFL: Tim Settle, Tremaine Edmunds, Terrell Edmunds, Greg Stroman, Andrew Motuapuaka, Brandon Facyson
Fired: Co-DC Galen Scott
Injured/Suspended: Adonis Alexander, Jeremy Webb Jr., Mook Reynolds
The defense will still be led by Bud Foster, but it will feature A LOT of young talent. Combine that with an offense that averaged just 17 PPG in the last 5 games. I'm not high on QB Josh Jackson and RB Travon McMillian transferred as well.
I see this VT team ending with 7 wins in a rebuilding season.
Virginia Under 5 Wins
Back in July, Bronco Mendenhall said his team has just "27-ACC caliber players." To put it lightly, that is NOT good.
Virginia returns the 40th least production in the country. They have to rebuild a defensive line that was disruptive. They'll be starting a new JUCO at QB. His transition won't be easy with a run offense that ranked bottom-20 last year and a completely revamped offensive line.
His first three games against Richmond, @ Indiana, and Ohio are all losable. They'll be the least talented team once ACC play starts. Let's say they'll go 3-1 OOC (that's ambitious), they'd have to go 3-5 in the ACC to cash the over. I don't see that happening. It's going to be a LONG season in Virginia.
Atlantic
1. Clemson (11 (-120/-110), -185)
For more on Clemson, check out the best bets section above.
2. Florida State (8.5 (+130/-150), 7/1)
Willie Taggart's first Noles team is going to be exciting. Deondre Francois was named the starter today and combine him with breakout candidate Cam Akers at RB, you have a phenomenal backfield. If WR's Nyqwan Murray and Keith Gavin step up, the offense has top-30 ability.
The defense also has top-30 ability, but it is incredibly sophomore heavy. There is veteran presence with safety AJ Westbrook, CB Kyle Meyers, and LB Adonis Thomas. I like DC Harlon Barnett and think he will mold a great defense by the end of the season.
I think FSU will be in every game they play in this season. They catch Clemson at home and could completely change the CFP picture if they pull off an upset. I'm higher on FSU for 2019 and will be looking to place a national championship wager on them after this season.
3. Boston College (6.5 (-165/+140), 50/1)
AJ Dillon, AJ Dillon, AJ DILLON!
Dudes, Dudes, DUDES!!!!
I love Boston College's starting 22 this year. Steve Addazio's defense should be exciting with DE Zach Allen, LB Conor Strachan, DB Lukas Dennis and Hamp Cheevers. Addazio's offense finally took a step forward late in 2017 with AJ The God Dillon, QB Anthony Brown, WR Kobay White, TE Tommy Sweeney. All top 5 receivers return with an offensive line with a combined 138 starts.
The schedule is tough. OOC games against Purdue and Temple and trips to Virginia Tech and Florida State won't be easy. Catching Miami and Clemson at home is intriguing. Maybe we'll get value on them in those situations. I lean over 6.5 wins.
4. Wake Forest (6.5 (+120/-140), 50/1)
I wanted to take the over on Wake Forest, but the suspension of QB Kendall Hinton hurts my confidence in them. Hinton, replacing QB John Wolford, will miss the first three games against Tulane, Towson, and Boston College. They should be able to escape that 2-1, but the game against BC will be tough. When Hinton returns, he'll have WR Greg Dortch, one of the most exciting and underrated receivers in the country, to throw to. RB Matt Colburn came on at the end of 2017 as well.
The secondary should be a strength but replacing key LBs (Grant Dawson and Jaboree Williams) and DEs (Wendell Dunn and Duke Ejiofor) will be tough. If they can figure it out in the front seven, this defense should be a strength again.
I'll be high on Wake Forest later in the season. What Dave Clawson has built with the Deamon Deacons in his first four years will give us the ability to make money off of them once ACC play starts.
5. NC State (7.5 (+120/-140), )
NC State graduates four defensive linemen that will be playing on Sunday's this fall. Somehow that DL only ranking 44th in rushing S&P+ and 75th in adjusted sack rate, so even though on the surface the loss looks tough, it may not impact them that much. The DL will be reloading with DE Darian Roseboro and James Smith-Williams, but bigger depth questions will occur at LB and in the secondary.
The offense may take a step forward to offset the regression that happens with the defense. QB Ryan Finley is one of the best in ACC and RB Reggie Gallaspy will be a decent replacement for Jaylen Samuel/Nyheim Hines. WR Kelvin Harmon, Jakobi Meyer, and Stephen Louis will be effective options for Finley. The line does lose all-conference options at guard and tackle.
The win total of 7.5 has me leaning under. We'll know more about them after week 3 when they take on West Virginia at home.
6. Louisville (7 (+105/-125), 
Anytime you have to replace an all-time college QB there is going to be a tough transition period. Louisville's swing at that starts week 1 against Alabama. There are much worse replacements than Jawon Pass, a former 4-star QB, who fits the mold that Bobby Petrino likes with his gunslingers (Pass is bigger than Lamar). He will have a great WR trio of Jaylen Smith, Dez Fitzpatrick, and Seth Dawkins. Pass will have a nice offensive line in front of him that returns almost everything outside of all-conference LT Geron Christian.
The defense is going to struggle without Jawon Alexander, who led a secondary that also loses their top two safeties and another corner. The defense will rely on a bunch of transfers. That brings down my expectation for them for the 2018 season. Their schedule does set up nicely, with home games against NC State and Florida State, but do have to travel Clemson and Boston College.
7. Syracuse (5.5 (+100/-120), 100/1)
For more on Syracuse, check out the best bets section above.
Coastal
1. Miami (9.5 (-110/-110), +300)
For more on Miami, check out the best bets section above.
2. Virginia Tech (8 (-120/+110), 10/1)
For more on Virginia Tech, check out the best bets section above.
3. UNC (5.5 (-120/+105, 66/1)
My love for North Carolina took a hit when 13 of their players got suspended by the National Communist Athletic Association for selling shoes on eBay that they were gifted. I do love how North Carolina is spreading out those suspensions, specifically with DE Malik Carney who will play in week 1 against California, sit out the next three, conveniently come back for one against Miami, then sit out the next one against VT. That's some SEC shit.
I think North Carolina is going to be a very good team this year. They return the 30th most production in the country and will play in a bunch of one-possession games. 2017 was a nightmare with a 3-9 record, but the massive amount of injuries means 2018's experience. I expect to see them in a bowl game come December.
4. Duke (6 (-150/+130), 75/1)
David Cutcliffe is a wizard. He continues to put together a great team at a school that is usually waiting for basketball season. They do lose DC Jim Knowles, but the defense returns 7/8 lineman and their top 4 linebackers. Can they stay a top-40 defense without the havoc-inducing Knowles calling the plays? We'll see.
On offense, Daniel Jones is back and RB Brittian Brown turned it on late last season. If that unit can take a step forward, maybe get to a top-50 level, you'll have a very good Duke team. The question will be if they can do that with an offensive line that returns just 39 starts!
OOC trips to Baylor and Northwestern keeps me away from taking the over 6. I do like this Duke team if they can improve on offense and stay at the level they were at on defense. If they do, we'll look to take them in good spots throughout the season
5. Pittsburgh (5.5 (-110/-110), 75/1)
Pat Narduzzi is a madman.
His team was playing at a top-40 level by the end of the year in 2017. Nate Pickett showed signs of leading a good offense, by leading an almost upset of Virginia Tech and then upset of Miami. RB Darrin Hall emerged during that 3-2 finish, rushing for almost 500 yards with a 46.5% success rate. The issues with the offense is the brand new offensive line that replaces two starters.
The defense allowed 4.9 YPP over their final five games and returns it's top 6 linemen, top five LBs, and 6 defensive backs. The talent isn't great, but it will have a lot of experience.
An OOC schedule that features trips to UCF and Notre Dame along with a visit from Penn State may prevent this team from making a bowl. I expect them to be a top-40 team, though.
6. Georgia Tech (5.5 (-175/+155), 50/1)
Paul Johnson's employment will be an interesting storyline to keep an eye on throughout the 2018 season. A new AD is in town and if the season does not go well, they may decide to go in a different direction.
I, personally, hope they keep Paul Johnson, because the outlook for 2019 & 2020 is bright. He brings in Nate Woody from App State to be his new DC, one of the best hires of the offseason. His App State defenses loved to create havoc (tackles for loss, passes defensed, forced fumbles), but he'll take some time finding the right guys for this 2018 squad that loses 6/8 top havoc guys from last year.
TaQuon Marshall is a phenomenal rushing QB and has the perfect frame for the triple-option offense. Can he improve his passing ability? He completed just 37% of his passes last year! The good news for the offense will be the returning six linemen from last years team.
This is a young team, specifically on defense. If Paul Johnson sticks around, GT will be a dangerous team in 2019. Will he? We'll see. If he doesn't, I'd bet they go in a different direction than the triple-option offense and go under a complete rebuild.
7. Virginia (5 (+130/-150), 200/1)
For more on Virginia, check out the best bets section above.