Kansas Football (3-33 Over The Past 3 Seasons) Un-Ironically Posts Baby Jay The Mascot Posing In A Trash Can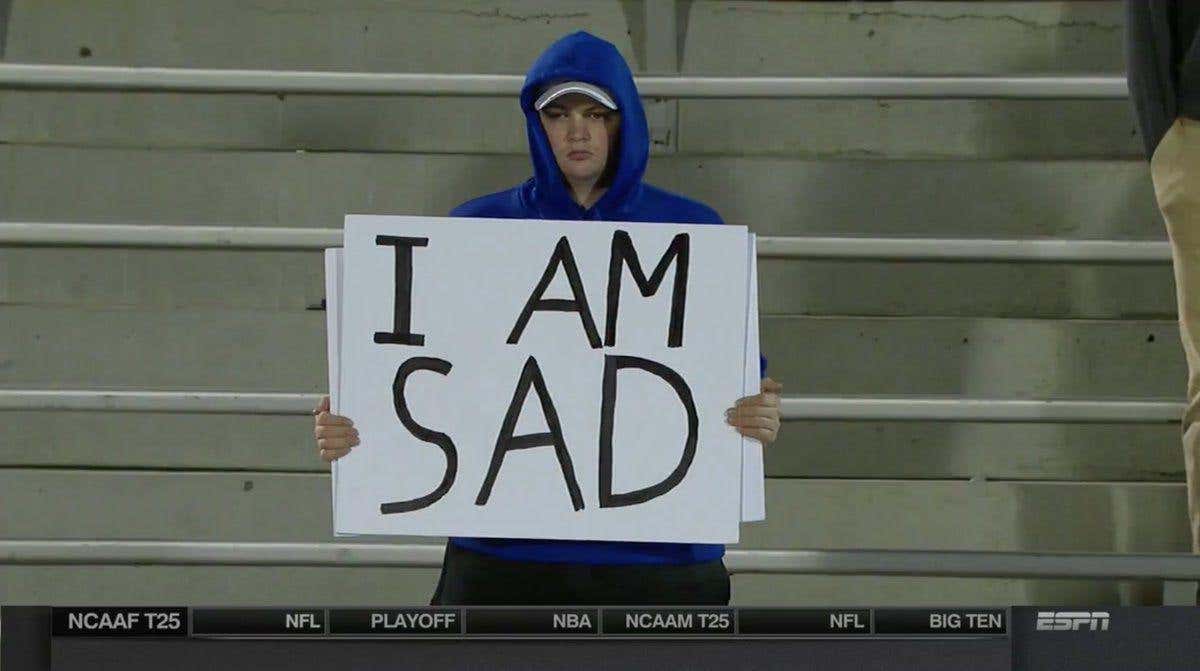 Ahhhhh, don't you love irony!
USA Today-So, maybe – just maybe – the official Twitter account for Kansas' mascot, Baby Jay, could've had better self awareness before sharing this photo. The Kansas mascot in a trash can (while on a football field) isn't the imagery that Beaty wants heading into Year 4.

But alas, that's what happened.
If you needed some confirmation over Kansas being a literal trash can, here are some #sabermetrics:
-Kansas has lost 46 STRAIGHT road games. It's been over 3000+ days since the last time Kansas won a football game on the road.
-Kansas is 12-72 since 2011.
-One of their coaches just quit to go work at an oil company. Being apart of Kansas football was so draining the guy just quit coaching football altogether.
-No, really, coaching Kansas football kills a man's soul:
-Since 2011, Kansas is 3-60 in Big 12 play. 3 AND 60!!!!!!!
Kansas' Baby Jay mascot is one of my favorite mascots in college football just because of its jersey alone:
Kansas should get rid of their other mascot and just ride with baby Jay because of how well he represents Kansas being 1/2 of a Big 12 program with their god awful football team.
2018 will be a big year for Kansas HC David Beaty. There is a new AD in town and if he doesn't go at least 3-9/4-8, they'll be going in a different direction. Maybe bring back Mark Mangino?!?