College Football Gambling Primer: Week 1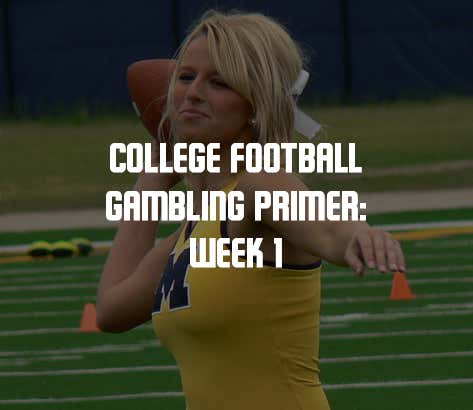 Week 1…….it's here!
Let's have some fun.
All lines were taken at 6:15 PM on Friday.
Barstool Civil War:
Old Row vs. Barstool. North vs. South. 5 picks every week. Civil War is back.
@OldRowJimmy: Wisconsin/WKU o52, Auburn -2.5, Wyoming +1, Penn State/App State o54, Akron/Nebraska o54
@OldRowKoozie: WMU +5.5, Northern Illinois +10.5, Texas -13, UCLA -15, Coastal Carolina +29.5
@JackMacCFB: Ole Miss +2, Hawaii/Navy Over 62, Michigan -1, FAU +20, Washington +2.5
We Ain't Come To Play School Games
Ole Miss vs. Texas Tech (-2, O/U 67), 12:00 PM, The Network That Shall Not Be Named
Bets: 59% on Texas Tech, 79% on over
Money: 55% on Ole Miss, 53% on under
The consensus seems to be artificially low on Ole Miss at the moment. Yes, they are still hurting from the Hugh Freeze scandal, but Ole Miss is going to be a top-30/40 competitive team in 2018. Jordan Ta'amu is one of the most underrated QB's in America. He'll have one of the best WR units in the country to throw to, which features future 1st-round draft pick AJ Brown. The offense projects 6th in S&P+ and will be going up against a Texas Tech defense that will be it's best in years, ranking 52nd in preseason projections. I still see Ole Miss' offense putting up 30+ points.
My concern with Texas Tech is their offense that returns the 3rd least production in the country. I'm not high on new starting QB McClane Carter with an offense that is returning four of their top five receivers. You can't doubt a Kliff Kingsbury offense too much, but a step back in 2018 is imminent.
According to S&P+, Ole Miss projects 28th and Texas Tech projects 55th. The wrong team is favored here. I'm rolling with the Rebels in these phenomenal jerseys.
Pick: Ole Miss +2 (-105) (1 unit)
Texas (-14, O/U 54) vs. Maryland, 12:00 PM, FOX
Bets: 78% on Texas, 63% on over
Money: 85% on Maryland, 59% on over
A lot of questions will be answered after kickoff.
-How will Kasim Hill look at QB?
-Does Texas DC Todd Orlando come up with a better gameplan for Maryland than he did in 2017?
-Does Sam Ehlinger play the entire game or does Shane Buechele come off the bench?
-How will Maryland look without DJ Durkin?
I can't get a read on this one. I see Texas winning, but 13 points are way too many for me to lay.
Lean: Maryland +13.5
Washington vs. Auburn (-2.5, O/U 48.5), 3:30 PM, ABC
Bets: 51% on Auburn, 56% on under
Money: 60% on Auburn, 50% on under
I am very high on Washington heading into the 2018 season. I put them in my CFP and expect them to come out on fire in this game. Don't get me wrong, Auburn is a top-10/15 team this year, but Washington is the more talented team in this matchup. Washington enters the season with the most returning production from any team that finished in the S&P+ top 10 in 2017. Chris Petersen remains to be an underrated coach.
Jarrett Stidham will struggle with a defense that projects to finish in the top 5. Washington does lose Vita Vea, but the pass defense (multiple NFL players) will make up for any step back against the run. Plus, Auburn is breaking in a new rushing attack after Kerryon Johnson left
Jake Browning is one of the best college QB's and combine him with Myles Gaskin, who will go for his 4th straight 1,000-yard season, and you have an offense that will be able to put up some serious points. The offensive line will offset an extraordinary Auburn DL. I am concerned a bit about Washington's WR core but could see Chico McClatcher having a breakout year.
Washington wins a close one here.
Pick: Washington +2.5 (-105) (1 unit)
Tennessee vs. West Virginia (-10.5, O/U 61.5), 3:30 PM, CBS
Bets: 67% on West Virginia, 54% on over
Money: 56% on West Virginia, 55% on over
I'm very excited to watch this West Virginia offense. Will this be the start of a miraculous season or will the injuries start to add up early? I love the starters on West Virginia, but if any number of them go down, the depth gives me serious concern.
Who starts for Tennessee at QB? Guarantano or Keller Chryst? How does Tennessee look in their first game in the Jeremy Pruitt era? We'll know more about the Vols tomorrow at 7:00 PM.
Lean: Tennessee Team Total Under
Michigan (-1, O/U 46.5) @ Notre Dame, 7:30 PM, NBC
Bets: 59% on Michigan, 78% on under
Money: 77% on Michigan, 68% on under
This game will be remembered in a few weeks as Shea Patterson's coming out party and the game that the "is Jim Harbaugh overrated?" question started to die. He'll finally open up the offense and use Shea Patterson similar to how Colin Kaepernick was used in San Francisco. He has great weapons on the outside in Donavon Peoples-Jones and Grant Perry plus TE Sean McKeon. RB Karan Higdon and Chris Evans may both go for a thousand yards this season.
Notre Dame's defense should be a strength, but their offense makes me anxious. I'm low on Brandon Wimbush at QB and they lose Josh Adams at RB. Two offensive line members were drafted in the top 10. Notre Dame's first defense they have to face? Don Brown's defense, which projects 2nd in S&P+.
Michigan by a touchdown in a phenomenal game.
Pick: Michigan -1 (1 unit)
Louisville vs. Alabama (-24.5, O/U 62), 8:00 PM, ABC
Bets: 64% on Alabama, 76% on over
Money: 55% on Alabama, 75% on over
Louisville has been talking A LOT about this game:
Why awaken a giant that may be sleeping? The question that is on my mind for this game will be how does Alabama use Jalen Hurts? I see Tua being the starter, but Jalen is too athletic and too strong to be on the sideline for the entire game.
Jawon Pass is about as good of a replacement you could get for Lamar Jackson. He'll be throwing to a great WR core with Jaylen Smith and Dez Fitzpatrick on Saturday. This is a good test to see where Alabama's secondary, who has to replace last year's top 6 tacklers in their secondary from 2017.
I don't see any upset happening here. Nick Saban is 4-0 against Bobby Petrino and rumor has it he takes great joy in destroying him. I lean Alabama
Lean: Alabama
Other Picks:
San Diego State @ Stanford (-14, O/U 49), FRIDAY 9:00 PM, FS1
Bets: 68% on Stanford, 69% on over
Money: 65% on Stanford, 55% on over
2 starters and 4 key backups are out for Stanford tonight. Bryce Love will still be in the backfield, but San Diego State's defense is more seasoned this year than last and could find themselves back in the top 30 defenses in America. Rocky Long has shut down Stanford's offense before. In 2017, SDSU beat Stanford 20-17 and kept the Cardinal to just 250 yards of offense.
Stanford returns the 20th least production in the country on defense. Juwuan Johnson is the next great SDSU RB and Christian Chapman returns at QB. Give me plus the points here.
Play: San Diego State +14 (1 unit)
FAU @ Oklahoma (-20, O/U 72.5), 12:00 PM, FOX
Bets: 58% on Oklahoma, 83% on over
Money: 52% on FAU, 79% on over
CHOOOO! CHOOO!! ALL ABOARD THE LANE TRAIN!
Count me in on FAU +21 in this game. S&P+ projects FAU 27th for the 2018 season, 24th on offense and 46th on defense. Returning the 8th most production from a top-50 defense in 2017 is great news for a team that will go up against an explosive Oklahoma offense.
If FAU can just contain Oklahoma to 45 or so points, I think we'll be fine. DeAndre Johnson/Chris Robinson will have great WRs to throw to after Devin Singletary (G5 Heisman candidate) brings a few more guys into the box. Oklahoma's defense returns the 24th least in the production and ranks 83rd in preseason projections. FAU will be able to put up points and stop Oklahoma on a few drives to keep their scoring below 50.
Play: FAU +20
Washington State (-2, O/U 45.5) @ Wyoming, 3:30 PM, CBSSN
Bets: 58% on Wyoming, 53% on under
Money: 57% on Wyoming, 90% on under 
What Wyoming did to New Mexico State last weekend was borderline illegal. NMSU averaged just 1.9 YPP and rushed for -9 yards! Tomorrow they go up against a Washington State team that returns the 22nd least offensive production in the country. Wyoming will be led by Safety Andrew Wingard (future top-50 NFL pick). Washington State will be 10x what NMSU was on Saturday, but this Wyoming defense will still put up a hell of a fight against them.
This will be Washington State's first game without Luke Falk at QB and Alex Grinch calling the plays on defense. Mike Leach is 1-6 in 1st games of the season while at Wazzu, including losses to Portland State and Oregon. Give me the underdog in this one.
Play: Wyoming +2 (1 unit)
Navy (-10, O/U 62) @ Hawaii, 11:00 PM, CBSSN 
Bets: 54% on Navy, 78% on over
Money: 71% on Navy, 90% on over
Ready for your first late night over of the year? I am. Hawaii's offense looked phenomenal in Colorado last week. They put up 617 yards, 8.3 YPP, and QB Cole McDonald made a case to win the August Heisman. Hawaii will be going up against a Navy defense that returns the 9th least production in the country and ranks 105th in preseason S&P+ rankings.
Navy's offense projects 57th and will be going up against a defense that still allowed 650 yards last week, along with 34 points. On top of that, they will only have a week to prepare for the triple option. Malcolm Perry will run all over this defense.
This is going to be a back and forth game. Give me the over.
Play: Navy/Hawaii Over 62
#JackieGambling
2018: 1-1, -0.1 units
San Diego State +14 (FRIDAY)
FAU +20.5
Washington +2.5
Ole Miss +2
Navy/Hawaii Over 62
Wyoming +2
Michigan -1
All 1 unit