UConn's Freshmen Are Soft Because They've Never "Had To Deal With Talking To The Father" When They Called Their Girlfriend According To Randy Edsall
Times are tough for the 0-2 UConn Huskies. The good news is that Randy Edsall is solving the issues his football team has with be uncomfortable:
About four minutes into his weekly press conference Tuesday, Randy Edsall began to get excited. He had been asked about helping UConn's young players adapt to college football, and it seemed as though he had more thoughts on the subject than he could possibly blurt out at once.

"I'm going to go off a little bit," he announced.
Nothing better than when a coach starts his weekly presser with a "I'm going to off a little bit." This is what you know it's going to be good.
Then came a passionate soliloquy about why UConn's freshmen must become "comfortable being uncomfortable," complete with a sepia-hued metaphor.

"When we had to pick up the phone and we wanted to ask that girl to go out with us and dad answered the phone, then you had to deal with talking to the father," he said. "You didn't have to just text, 'Hey honey, how are you, can I go out with you?' or maybe FaceTime with them. [Today's college kids] never had to face adversity."
Yes, Randy Edsall, your team has been outscored 118-24 in their first two games because your players never had to talk to the fathers of the girls they were trying to hook up with. That's exactly it.
"They've never had to be comfortable being uncomfortable," Edsall said. "They've never done that. And now they come here, and they're going to be uncomfortable."
Thank God Randy Edsall is figuring this thing out for his team who:
-Was outgained by Boise State 818-193 in total yards on Saturday. In the history of college football, no team has gained more than 800 yards while the other has gained less than 200. That's NEVER hapened! EVER!
-Is allowing 9.93 yards per play through their first 2 games. So, on average, everytime the ball is snapped against UConn, the other team gets a first down.
-Has allowed 1470 yards this season. That's only 40 yards less than Hawaii has allowed this season. Hawaii has played 3 games this year.
-4 teams that have played 3 games this year, one more than UConn, have allowed less total yards than UConn has.
-In their opponents first 15 drives this season, UConn has allowed them to score 13 TDs and 1 field goal.
-Has allowed a success rate of 66% through their first 2 games. No other team has allowed over a 50%.
-Look at these lol: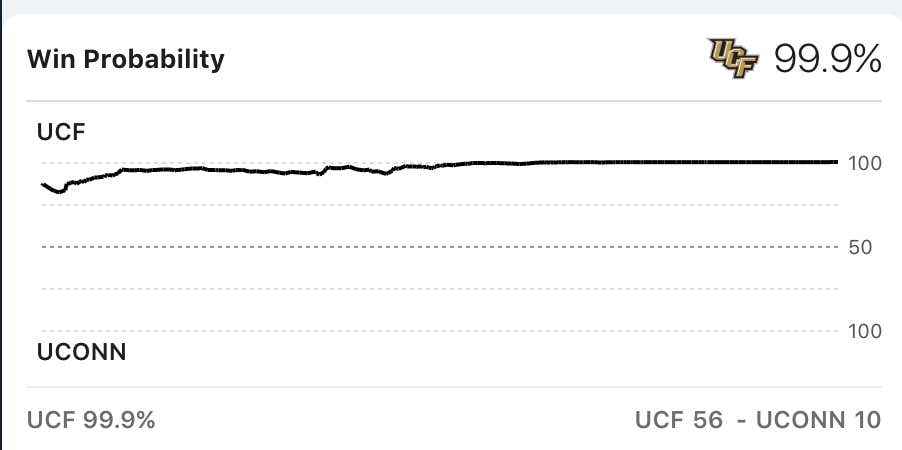 But hey, at least these guys are getting used to being uncomfortable!