College Football Gambling Primer: Week 3
Barstool Civil War:
Old Row vs. Barstool. North vs. South. 5 (or so) picks every week. Civil War is back, baby.
@OldRowJimmy (4-5): Houston -1, Boise State +3, Missouri -6, Texas A&M -27, LSU +10.5
@OldRowKoozie (0-7): Oregon -41.5, Florida -20, BYU +21.5, FSU -3
@JackMacCFB (5-5): Ole Miss/Alabama Over 69.5, Houston -1, Kent State +35, Baylor -6, SDSU/ASU Under 47
#JackieGambling:
LW: 5-2, +2.8 units (Leans: 6-4)
2018: 8-9, -1.75 units (Leans: 9-4)
LSU +16/OSU -6.5 (6-point teaser)
Army -6.5
Army/Hawaii Over 62
Memphis -28
Baylor -6
Kent State +35
Florida -14/Tennessee -25 (6-point teaser)
Houston -1.5
Alabama -21
Alabama/Ole Miss Over 69.5
Texas -3
SDSU/ASU Under 47
Top Games:
Boise State @ Oklahoma State (-2.5, O/U 64.5), 3:30 PM, The Network That Shall Not Be Named
I am very excited for this one. How does Boise State matchup against Oklahoma State? In the latest released S&P+ rankings, Boise State has jumped up to 5th in the country. What's most surprising is their offense outperforming their defense (6th vs. 28th).
Both of those Broncos units will be tested against an Oklahoma State that ranks 11th in S&P+. Mason Rudolph and James Washington are gone, but the combo of Justice Hill and Taylor Cornelius has been nothing to scoff at. How does Gundy's squad look in their last tuneup before Big 12 play?!
I think the total here is a tiny bit high, considering these are two top-15 defenses. I lean the under. For the side, I do not know which team to be on. If you told me you bet either team I'd shake my head and say "good bet."
Lean: Under 64.5
LSU @ Auburn (-10, O/U 45), 3:30 PM, CBS
I'm concerned about Auburn! I wasn't impressed with them against Washington (outside of the 1st quarter). I truly believe they should've lost that game. According to S&P+, they rank 36th on offense and 20th on defense. They are allowing the 10th most explosive plays in the country. That's bad news considering they'll be going up against an LSU team that ranks 42nd in explosiveness.
I'm not sold on the Auburn offense without Kerryon Johnson either. LSU's defense is scary and you know Dave Aranda will come in with a phenomenal gameplan. His defense ranks 29th in success rate and 5th in explosive plays allowed. The biggest edge might be rushing the passer, where LSU ranks 7th in sack rate and Auburn is 54th. Looking at the expected turnover margin, LSU ranks 1st while Auburn ranks 128th!
I still believe Auburn is going to win this game but would be shocked if they do by over 2 scores. LSU has advantages all over the field and will keep this one close. Let's put them in a teaser with the game below……
Ohio State (-12.5, O/U 58.5) vs. TCU, 8:00 PM, ABC
I've made it clear how much I love Ohio State and the numbers back me up. They rank 2nd in FPI & S&P+. Their offense ranks 2nd while the defense ranks 15th. The defense showed some serious signs of improvement last week (I know, I know it was against Rutgers). Dwayne Haskins is on a path to be a guaranteed Heisman finalist. Combine that with two of the best RB's in America (Mike Weber & JK Dobbins) and you have an offense that can carry you for the entire season.
Why we are adding them to a teaser and not taking them by themselves is the threat of Gary Patterson as a two-score underdog. TCU is a threat in the Big 12 for sure, but no better than a top-15 team in my mind. Sophomore QB Shawn Robinson is going to go up against an elite defense for the first time in his career in an environment that will have at the least 50% OSU fans. Plus, he'll have to deal with Nick Bosa attacking him from his blindside:
Ohio State wins this one by 10-14 points and will be a statement before their B1G schedule starts.
Pick: LSU +16/Ohio State -6.5 (6-point teaser)
Washington (-5, O/U 47.5) @ Utah, 10:00 PM, The Network That Shall Not Be Named
Talk about an extraordinary #Pac12AfterDark desert for us on Saturday night. Utah's defense ranks 1st in the nation according to S&P+ & FPI. How does Jake Browning handle that? If he wants to keep the Huskies (barely) alive in the playoff conversation, they'll have to win this game with a decent margin.
Washington's defense ranks 5th. This game feels like a classic 13-10 or 17-14 final. I lean under.
Lean: Under 47.5
McGuire Mortal Locks Of The Week:
Georgia State @ Memphis (-28.5, O/U 62.5), FRIDAY 7:00 PM, The Network That Shall Not Be Named
Last year, Memphis took on UConn on a Friday night. They took them down 70-31. Riley Ferguson threw about 89 touchdowns in 3 quarters. This game reminds me a lot of the one that will be happening tonight.
Memphis needs a bounceback after a tough loss on the road in the rain to Navy (they deserved to win it). Georgia State is the perfect team to do it against. Memphis rank 18th in passing efficiency and have the 9th most explosive offense in the country. Georgia State ranks 125th defending the pass, 128th in completion rate, and 102nd in allowed explosiveness through the air. NOT GOOD! Memphis will be able to drop 45 on them easy, while the Georgia State offense ranks 115th. I expect domination from the Tigers. Plus, they are on ESPN and the players will be excited to show out.
Pick: Memphis -28
Hawaii @ Army (-6.5, O/U 62), 12:00 PM, CBSSN
We talked about this game earlier in the week. Just to review:
-The flight from Hawaii to NYC is 10+ hours.
-EST is 6 hours ahead of Hawaii time. Hello0oooooooo Jet Lag!
-Saturday's game starts at 12 PM. That's 6 AM Hawaii time. YIKES!!!!!!!
The worst part about this all is they won't be going up against a soft team. The triple-option and badasses from West Point are going to be ringing Hawaii's bell all day long. Army threw the ball just 7 times last week and just 5 times per game last year. Army ranks 29th in rushing efficiency and 31st in opportunity rate, while Hawaii ranks 87th and 118th in those same categories on defense. Army is going to run it up the middle the entire game and score close to, or more than the 42 points Navy scored on Hawaii in week 1. The situation and matchup advantages are plentiful for the Black Knights.
Why I also like the over is the Hawaii passing game. They rank 14th in passing efficiency and 28th in passing explosiveness. On defense, Army ranks 116th and 86th in those two categories. Cole McDonald is going to be able to throw the ball all over this team. The two defenses in this team according to S&P+: 110th & 129th. Points…points….points!!!
Pick: Army -6.5 & Over 62
Kent State @ Penn State (-35, O/U 62), 12:00 PM, FS1
This weekend will be remembered as the Saturday of situations. Penn State is coming off of a big win against Pittsburgh and will have to get up for a game against Kent State just 5 days before their Big Ten schedule begins. Kent State has been impressive in their first season under Sean Lewis. They almost took down Illinois on the road and were 9.5 point favorites against Howard last Saturday before they took them down 52-14.
I'm not sold on Penn State yet. They rank 21st on offense according to S&P+, 24th according to FPI. On defense, they rank 35th (S&P+) and 40th (FPI). Kent State loves to run the ball, where they rank 26th overall and 20th in explosiveness. PSU in those categories? 56th and 111th. Kent State will be able to control the clock to the point where they will keep this game around 3-4 scores. 35 points is too much.
Pick: Kent State +35
Duke @ Baylor (-6.5, O/U 49.5), 3:30 PM, FS1
Situations! Situations! Situations!!!!!!!
Duke lost their two best players on offense (QB Daniel Jones) and defense (DB Mark Gilbert) in their win against Northwestern. Now they go down to Waco, Texas to take on an upstart Baylor team.
Daniel Jones has been so good for the Blue Devils. Rocking a 74.4% completion percentage, 10.8% marginal efficiency (CFB's WAR/PER), and ranks 23rd in QBR. Losing him hurts, especially heading into a game against a below average Baylor defense.
Baylor loves to run the ball, where they rank 28th in the country. Duke ranks 80th in that category on defense. Their pass defense, which ranks 32nd, will be without Mark Gilbert this week, who has a marginal efficiency of 58%!!!!! Charlie Brewer and an underrated WR core that has a top-20 passing unit will be able to take advantage of that this weekend.
Pick: Baylor -6
Colorado State @ Florida (-20, O/U 58.5) & UTEP @ Tennessee (-31, O/U 47.5)
UTEP is the worst team in the country and I'm not sure it's even close. This is a team that lost by 3 scores to FCS NAU and by 28 to UNLV. Tennessee are no world beaters this year, but their third stringers could compete against UTEP. They could easily win this game by 45.
Florida looked bad against Kentucky, but let's not forget about the talent on this team. They are getting a Colorado State team off a huge win against Arkansas and is playing their 3rd straight game against a P5 opponent. The bounce-back spot here is hitting us right in the face. Colorado State's defense is bottom 10 in the country. Florida will be able to put up points. Let's combine these two in my first It Just Means More Teaser Of The Week.
Pick: Florida -14/Tennessee -25 (6-point teaser)
Houston (-1.5, O/U 69) @ Texas Tech, 4:15 PM, FOX
You can call his legitimacy as a good human into question because of his role in the Baylor mess with his father, but goddamn how good of an offensive coach is Kendall Briles? He has transformed this Houston offense into the 25th best in America. If you want further evidence just look at how FAU's offense, which ranks 46th at the moment, is struggling without him.
The biggest advantage here is in the explosiveness battle: Houston ranks 3rd in explosiveness on offense, while TTU ranks 120th! Texas Tech's defense has been disappointing this year, ranking 83rd. The offense may be starting a true freshman at QB and although he looked good against Lamar, the last time I checked that FCS team doesn't have Ed Oliver.
This is a big game for Houston. Most players on this team feel slighted that they didn't recieve P5 offers from teams like TTU. Their motivation will be high. Take the COUGS.
Pick: Houston -1.5
Alabama (-21, O/U 69.5) @ Ole Miss, 7:00 PM, The Network That Shall Not Be Named
Could this game end with over 100 points scored? I wouldn't be shocked.
-Alabama pass offense: 7th overall, 9th in explosiveness.
-Ole Miss pass defense: 94th overall, 91st in explosiveness allowed, 129th in sack rate.
-Alabama rush offense: 4th overall
-Ole Miss rush defense: 115th overall
How are the Rebels going to stop Tua? Look at this stat: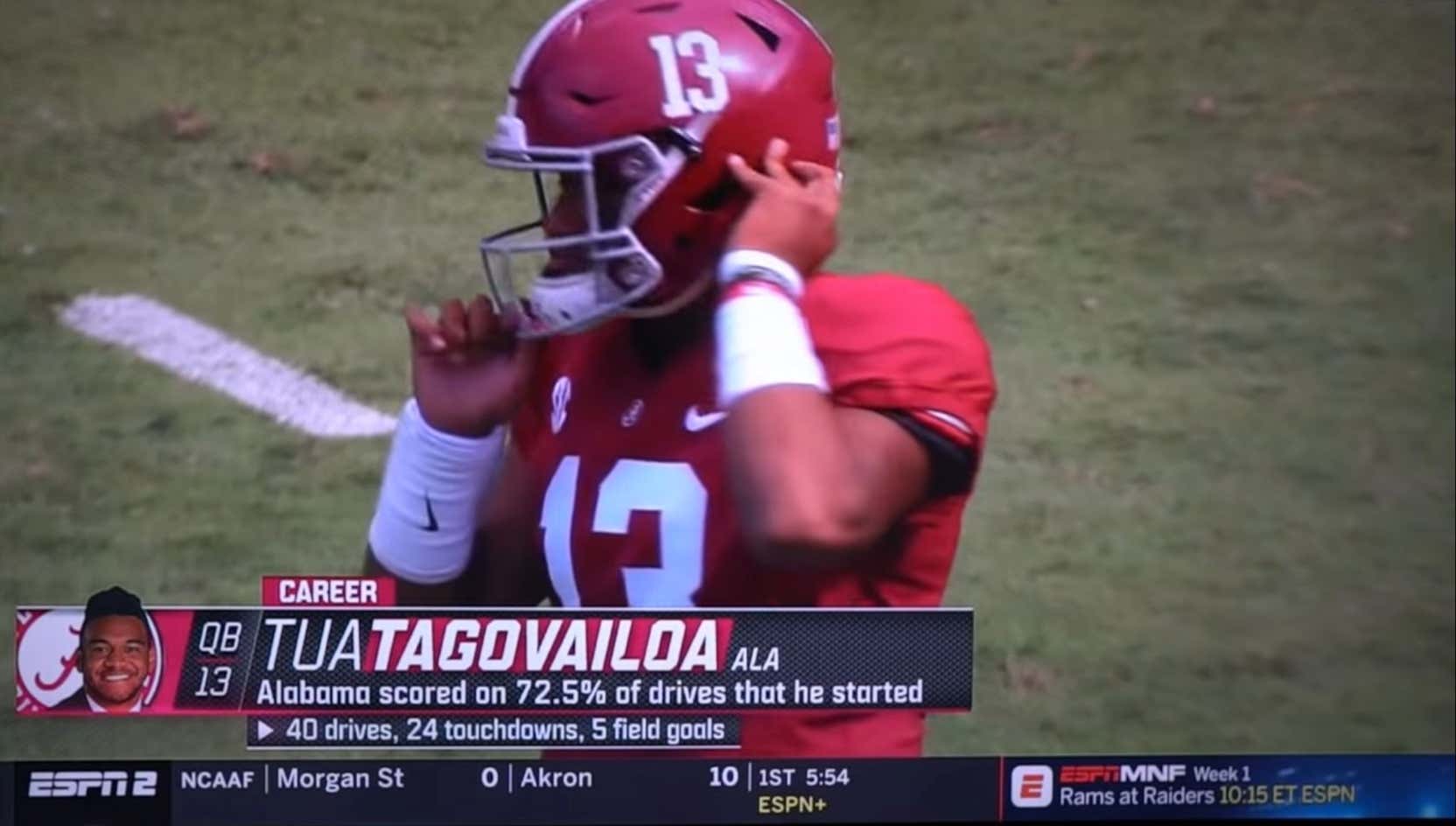 I was listening to Andy Staples this week on a podcast and he said that he's never seen Nick Saban as happy as he's been after Alabama's 55-3 victory against Ole Miss last year. Staples has covered Saban for years now. The pure joy Saban had after beating Ole Miss in 2017 doesn't compare to even the national championship wins. You know why? Saban knows people believe Ole Miss is his kryptonite:
Saban likes to run through Ole Miss. He won't take his foot off the pedal.
I like the over as well here because of Ole Miss' passing attack that ranks 1st in the nation. Alabama's biggest questions reside in their secondary, replacing their top 6 tacklers from last year. Jordan Ta'amu and AJ Brown/DK Metcalf will be able to put up 28 or so points on this defense.
Pick: Alabama -21 & Over 69.5
USC @ Texas (-3, O/U 47.5), 8:00 PM, FOX
Although I love to make fun of him, I still believe in Tom Herman. I say he rallies the troops in this one and have a big victory against a USC team that hasn't looked this bad in years.
USC ranks 84th overall on offense and will be going up against a Texas defense that ranks 43rd. This will be JT Daniels first true road game (Stanford doesn't count) and is coming in with a bruised throwing hand.
Texas likes to run the ball, where they rank 37th. USC ranks 81st defending the run. Plus, their secondary is depleted after losing 3 key contributors (Ykili Ross, Bubba Bolden, and Isaiah Palo-Mao).
Austin will be BUZZZZZZZZING on Saturday. They know the importance and history of this game.
Pick: Texas -3
Arizona State (-5, O/U 47) @ San Diego State, 10:30 PM, CBSSN
Arizona State is in a massive let down situation after their upset victory against Michigan State. On top of that, they have a big game next week against Washington. Talk about a brutal sandwich situation.
San Diego State is no joke. Their defense ranks 41st and took down ASU last year on the road. Unfortunately for them, their starting QB will not be suiting up. ASU will take advantage of that with their defense that ranks 19th. The two offenses in this game rank 71st (Arizona State) and 103rd (SDSU). This game screams 20-17 final.
Another angle that supports this is ASU DC Danny Gonzales, who was at SDSU from 1998-2017! He knows SDSU like the back of his hand. He'll have his defense ready to take advantage of a below average SDSU offense. You could look at that tidbit and say Rocky Long will know how to take advantage of the 3-3-5 defense he made famous. Counterpoint: ASU ranks 24th against explosive plays. I fully expect them to leave it all on the field.
Pick: Under 47
Leans For The Raod (9-4): BYU +21.5, Syracuse +3, Toledo +10, Georgia Southern +32.5, Pitt +3.5, WKU +23, Buffalo -3, Missouri -5, Fresno State/UCLA Over 50