CFP Title, Heisman, Super Bowl, And NFL MVP Odds After Week 3/4
College Football Playoff Title Odds:
Increases:
Alabama +185 –> -115: Of course, this isn't that big of an increase, but I couldn't finish this blog without mentioning that Alabama is now an underdog favorite to win the national championships in September.
Decreases:
Oklahoma 18/1 –> 25/1: After an OT victory over Army, Oklahoma drops to 25/1. They will still be favored in all games going forward. If you believe in Kyler Murray and Lincoln Riley, this will be the time to fire.
Notre Dame 16/1 —> 20/1: I was surprised by this, especially after Ian Book's performance on Saturday @ Wake Forest. If Notre Dame has themselves a QB, watch out, especially with a schedule that continues to look easier and easier (@ VT & USC).
LSU 25/1 –> 40/1: For a team that controls their own destiny, these are long odds. However, look at this schedule:
Increases:
Rams +650 –> 4/1: This increase has more to do with the Patriots and Vikings seemingly taking a step back.
Chiefs 12/1 —> 9/1: Do you believe in Andy Reid? You can still get 9/1 value on it.
Steelers 16/1 —> 12/1: For a team that was a circus just a week ago, they have some great odds.
Bills 500/1 —> 200/1: JOSH ALLEN IS TALLLLLLL
Decreases:
Patriots +650—> 8/1: Vegas still believes in the Pats. Another reminder they don't buy into short-term narratives. Live your life like Vegas. Don't overreact.
Vikings 9/1 —> 12/1: Even though they lost to the Bills, the Vikings are still valued as one of the top 5 teams to win the Super Bowl. Don't overreact.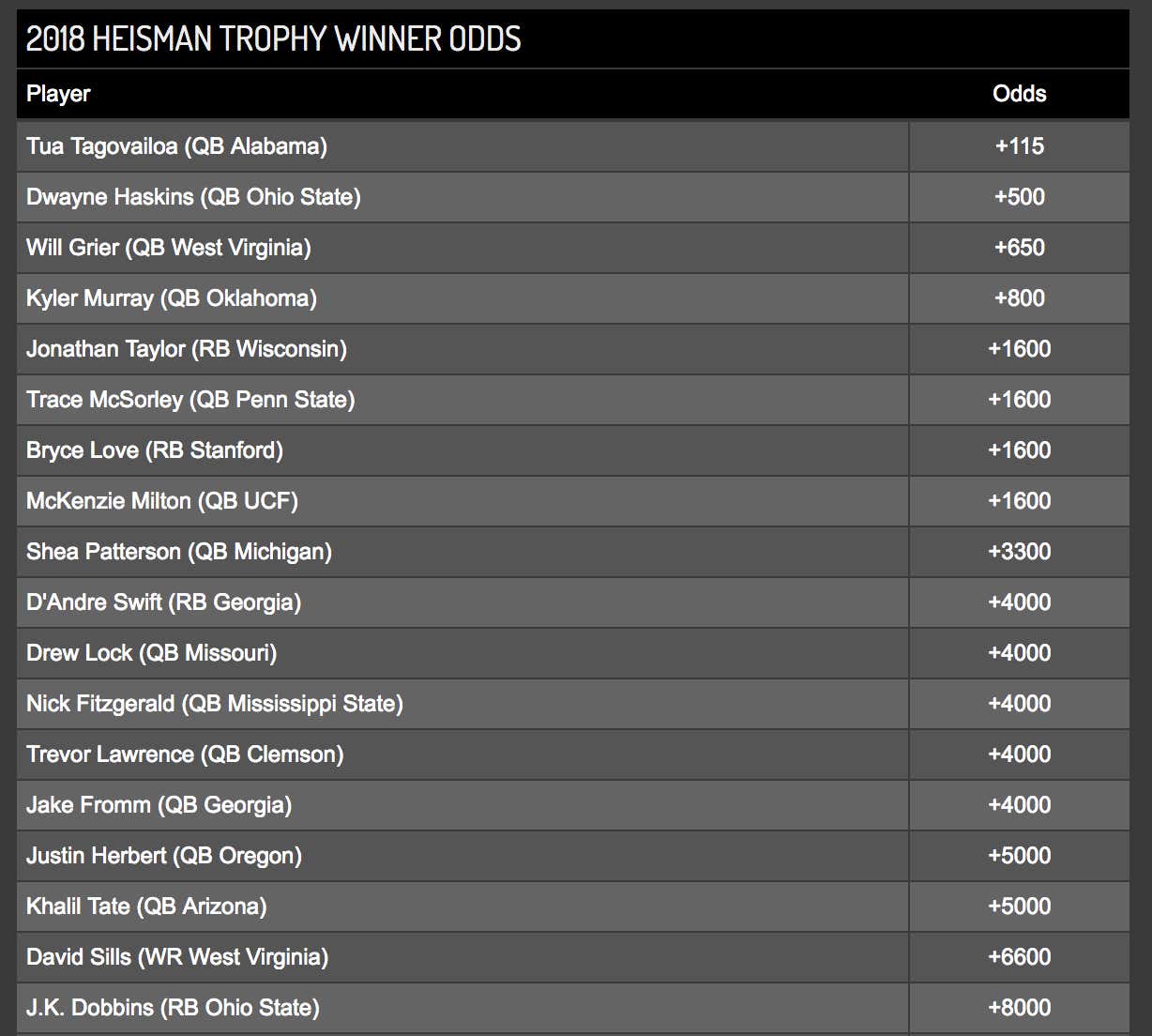 Increases:
Tua +150 —> +115: I've seen him as a -150 favorite at some books. ABSURD.
Dwayne Haskins 7/1 —> 5/1: If Tua runs out of gas (probably not going to happen), this is your guy. Look at these stats: 1194 yards, 16 TDs, 1 INT, 75.7 completion percentage, 207 QBR. If he has a big game against Penn State this weekend, look out.
Bryce Love 20/1 —> 16/1: If Stanford keeps winning and Tua/Dwayne/Will have awful October & Novembers, you could see this happening. I don't.
Decreases: 
Jonathan Taylor 10/1 —-> 16/1: This was never going to happen. The Heisman is a QB trophy unless you are on the best team in the nation.
NFL MVP:
Increases: 
Patrick Mahomes 8/1 —> 3/1: Don't really need to explain this one.
Drew Brees 14/1 —> +650: Brees has put up 8 TDs through 3 games while throwing for over 1078 yards. You could see the Saints getting hot, Mahomes having a few bad weeks, and Brees taking over the MVP race.
Decreases: