Top 10 Bad Beats From Week 5 Of NFL & Week 6 Of CFB
1. Jets/Broncos 2H Over 21:
Something absurd has to happen for an over to make the top spot on this blog. Here was the situation:
-2nd half points: 20
-Broncos have the ball on the Jets 3-yard-line.
RUNNNNNNNN! MARCUS!!! RUN!!!!!!!!!!
NOOOOO!!!
2. Wake Forest/Clemson Under 61:
To make things worse, WR Hunter Renfrow (who has been in college for 100 years) was in at QB for this play and of course, the ass hole led block: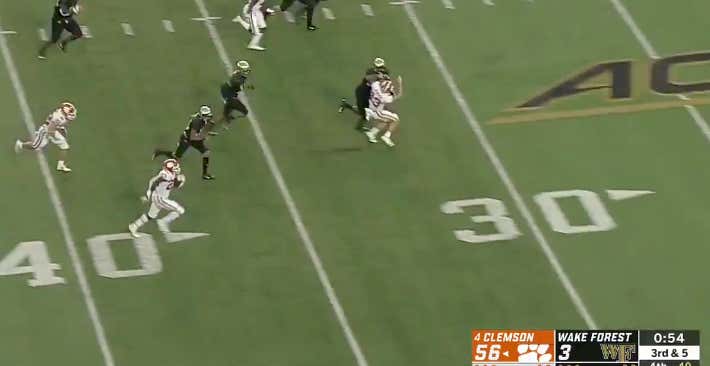 3. Dolphins +6.5:
Heading into the fourth, the Dolphins were up 17-3. Then Ryan Tannehill happened:
4. Alabama -34.5:
After a touchdown with 1:59 left, Alabama was up 65-24. Cover secured?
TACKLE HIMMMMMMMMM:
Arkansas then punched it in with 13 seconds left to secure the cover by 0.5 points.
P.s. An Alabama kicker missed an extra point in the second. 
5. Notre Dame/Virginia Tech 1H Under 27.5:
After a field goal with 3:23 left in the second, Notre Dame was up 10-9 on Virginia Tech. The first half under looked good. It was a certifiable lock with 2:30 when Notre Dame punted the ball away to Virginia Tech. As you could guess, that didn't last:
17-9…still under. Virginia Tech soon went on a 52 second drive to score before the half. 17-16. Over. MOOOOOOOOOOOOSE!
6. Cardinals/49ers Under 40.5
With 12:45 left in the fourth, the 49ers started a drive on their own 17, down 14-6. They went on an almost 6-minute drive to make the game 14-12. They soon got the ball back and oh no:
No big deal, 21-12…4 minutes left. You can sustain a touchdown (which came 1 minute and 3 seconds later). 28-12. Under still intact. The 49ers then went on a 9-play drive and scored a TD to put the game over. 26 points scored in 6 minutes. Brutal.
7. LSU/Florida Under 44:
Pick sixes and bad beats on unders go together like America and apple pie:
Doesn't this ass hole know the total? GO OUT OF BOUNDS!!!!!
8. Steelers-Falcons Under 57:
Heading into the fourth, the Steelers were up 27-10. Before you could blink it was 34-17 with 9:40 left. The play that put this one over?
JUST GO INTO THE BACK OF THE ENDZONE!!!!!
9. Kentucky +5.5:
In OT, Kentucky had the chance to make it 17-14.
DOINK!!!!
A few plays later, Texas A&M scored a TD to win 20-14.
10. UC Davis -13.5:
If you bet on UC Davis you most likely have a massive gambling problem (please get help), but this needed to be included. With 9:00 left in the 4th, UC Davis was up 49-10……39 points!!!!! And it all came crashing down: