For The 8th Time Since 2016, MSU RB LJ Scott Cited For Driving Infraction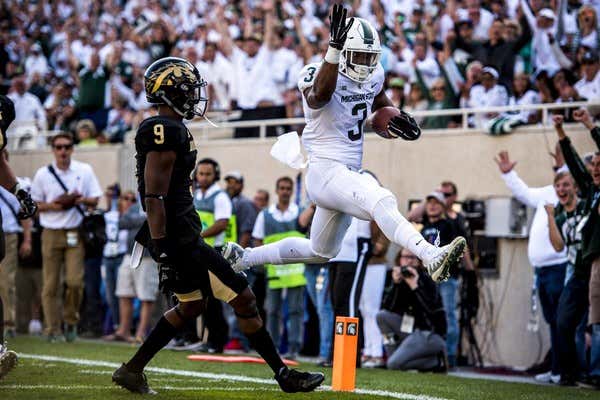 Michigan State has had a rough season. A team looking to compete for the Big Ten Title has gotten off to a 3-2 start. Good news for Michigan State is their star players are staying consistent:
SOURCE-Michigan State football running back LJ Scott encountered more problems with his driving last month.

The senior was cited by Meridian Township Police on Sept. 29 for making an improper turn, operating a vehicle without a valid plate and driving without proof of insurance, according to 55th District Court records.

Scott paid $400 in court costs on Tuesday for the three infractions, according to court records.
LJ Scott is either the worst or unluckiest driver of all time. Since 2016, LJ has had 8….EIGHT!!!!…driving infractions:
Scott has had a number of driving offenses the past three years.

According to the Lansing State Journal and online court records last year, Scott also was charged for driving without a license or on a suspended license at least six other times in Ohio and Michigan since 2016, according to court records.
There are a lot of unbelievable stats in college football. Tua Tagovaioloa hasn't thrown a pass in the 4th quarter in 2018. UConn is allowing more points per game than their women's basketball team did in 2017-18. Michigan State RB LJ Scott has been cited for 8 separate driving infractions since 2016. None of them related to drunk driving. That may be the most surprising part. All of these mistakes have come sober. At least he is making progress? It seems he had his license on him this time.
If Michigan State was any good and I was a booster I'd call up LJ and tell him you are not allowed to drive anymore. I'll pay for all of your Uber trips from this point forward. Hell, if I was a Michigan State fan I'd just start a GoFundMe for his Uber trips.