The Pac-12 And Their Football Refs Are BROKEN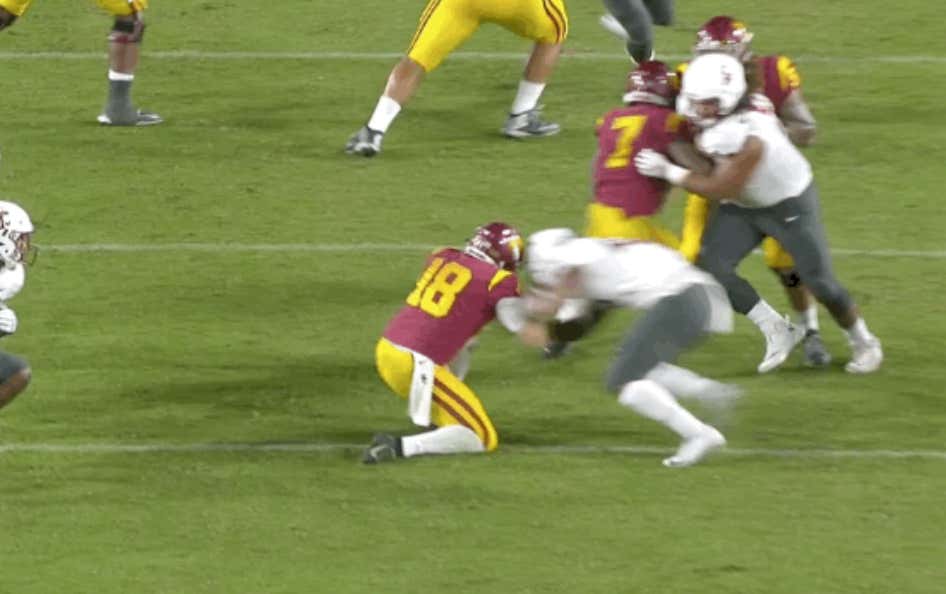 Things aren't great for the Pac-12 right now. Their playoff chances don't look great. Their commissioner Larry Scott leaves a lot to be desired and created possibly the worst conference themed network ever. It's nothing new for college football fans, but their refs have had yet another awful year:
(The Pac-12 did not suspend anybody for this gross play)
Now thanks to a capital J investigation at Yahoo the nightmare for Pac-12 has extended:
SOURCE-On the final play of the third quarter of Washington State's game at USC on Sept. 21, Trojan quarterback JT Daniels scrambled and ducked to a knee. After he'd established himself as down, Washington State linebacker Logan Tago dove at him headfirst and initiated clear helmet-to-helmet contact. The play drew both a flag for roughing the passer and a review for targeting.

It was a clear enough call that both the in-stadium replay officials and the replay officials in the Pac-12's command center in San Francisco ruled the play as a targeting penalty, according to an internal replay report obtained by Yahoo Sports. This call would have ejected Tago from the game. An independent veteran official who viewed the play also told Yahoo Sports it was "clear targeting."
What a scummy play.
The internal report was written by Gary McNanna, the replay official in the booth that night. His word choice indicates he was irked. (McNanna did not return calls from Yahoo Sports seeking comment.) The targeting call was obvious enough that ESPN analyst Greg McElroy used the word "shocked" once and some form of the word "surprise" three times when Tago didn't get ejected. According to the document: "Both the replay booth and the command center agreed this was a targeting foul, but unfortunately a third party did not agree so the targeting was removed and we went with the ruling on the field of [roughing the passer] with no targeting. This didn't play well on TV. Reversed my stoppage for [targeting] to not [targeting]."

That "third party" was Pac-12 general counsel and senior vice president of business affairs Woodie Dixon, Yahoo Sports sources have confirmed.
The vice president of business affairs…….what?!!?!?!?!?
Blow up the Pac-12 and start over. That's the only option. It's all broken. The Pac-12 may be a health violation at this point. I know that sounds a bit over the top, but we are at a breaking point with this conference.