Barstool College Football Round Up - Week 8
Ain't Come To Play School Games:
Michigan 21 – Michigan State 7:
Shea Patterson is GOOD:
Petty:
DESTROY HIM, CHASE!
The game continued, even after it was over:
Thinking about the great weekend that was and remembering all the shit you have to do during the week ahead:
Purdue 49 – Ohio State 20: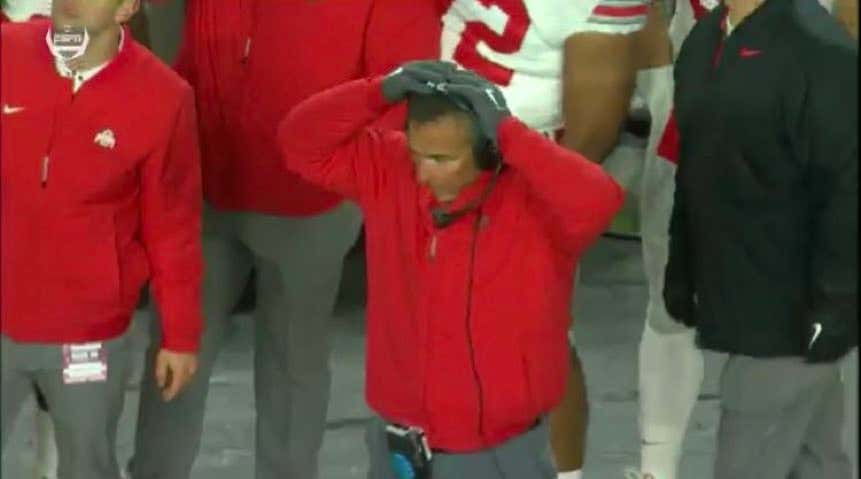 If you had under 65.5 in this game….I'm sorry:
STROBE LIGHTS!!!!
"Where's my mom?"
Awards:
#FootballGuy Of The Week:
Quote Of The Week:
Stat Of The Week: 
Tweets Of The Week:
Hardo Of The Week:
I'm Not Crying, You're Crying Of The Week:
#TylerStrong
Good Job, Good Effort: Congratulations, your girl is now dating Cole Tracy.
Freezing Cold Take Of The Week: 
Student Section Of The Week:
PULLLLLMANNNNNN!
Fan Of The Week: 
ACC:
Syracuse 40 – North Carolina 37:
Clemson 41 – NC State 7:
Mack Brown pronouncing Travis Etienne is very funny:
Hahahahahahaha:
How about this NC State player helping a Clemson fan storm the field? NOT MY SPORTSMANSHIP!!!!
Big 10:
Wisconsin 49 – Illinois 20:
SNOW!
Northwestern 18 – Rutgers 15:
Nebraska 53 – Minnesota 28:
Scott Fr0-6t is no more!!!!
Iowa 23 – Maryland 0:
What are you doing, Maryland?!
Penn State 33 – Indiana 27:
Indiana has a celebratory folding chair on their sidelines. I don't hate it.
Big 12:
Oklahoma 52 – TCU 27:
This was a 15-yard penalty. Gotta love the National Communist Athletic Association!
SEC:
Alabama 58 – Tennessee 21:
BUTCHHHHHHH!
Rocky Top, great song:
Most wanted man in Alabama:
LSU 19 – Mississippi State 3:
Louisiana's governor has responded to the controversy:
Kentucky 14 – Vanderbilt 7:
Pac 12:
Washington 27 – Colorado 13:
Washington State 34 – Oregon 20:
Is Gardner Minshew Uncle Rico?!
G5:
Temple 24 – Cincinnati 17:
UCF 37 – East Carolina 10:
This isn't from the game, but Kirby fired up the UCF fan base with this comment:
Army 31 – Miami (OH) 30:
Old Dominion 27 – WKU 24:
Nevada 40 – Hawaii 22: