Miami's List Of Decommitted Recruits Is Currently Better Than Those Actually Committed
It's Crootin SZN in college football at the moment with the first national signing day coming up on Wednesday. A lot can change between now and the final signing day, but it hasn't been a great recruiting period for Mark Richt.
Including last night's decommitment from Anthony Solomon, Miami has had 4 decommits that were 4-stars or higher. Three of them have committed to other Florida schools:
Currently, as it sits, Miami ranks 34th in the nation for their 2019 recruiting class. For a school like Kentucky or Minnesota that isn't awful. For Miami? Not great! Their current class has an average rating of 87.94: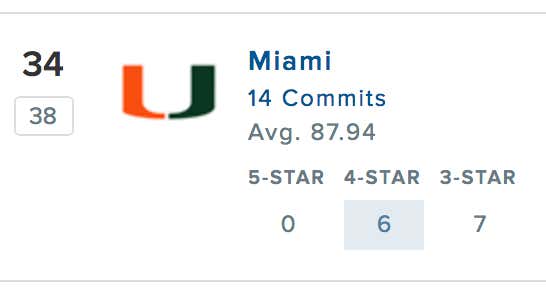 The average rating of the decommits is a 92.85.
On top of all of that, Mark Richt has lost Manny Diaz to Temple. Diaz is the mastermind behind back-to-back top 10 defenses, and of course, the turnover chain. The good news is that the turnover chain has not decommitted to Miami, as it will stay in South Beach: