Happy 45th Birthday To The World's Most Iconic Actress
Tiffani Amber Thiessen was born January 23rd, 1974 in Long Beach, California as the daughter of Robyn and Frank. Robyn was a homemaker and Frank was a landscape architect. She was the middle child in her family with an older brother Todd, and younger brother named Schuyler. Todd is credited as one of her biggest inspirations in her life.
She attended Cubberley Elementary and Marshall Junior High School. At Valley Professional High School in Los Angeles for students in entertainment business she graduated as a valedictorian, class of 1992.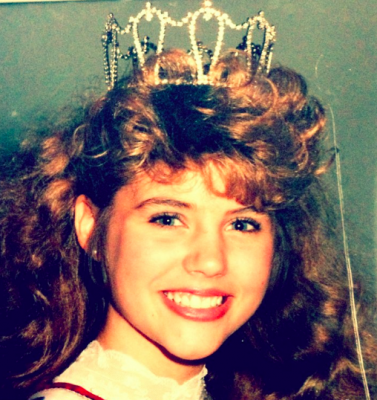 Her uncle, Roger, suggested she get into show business and landed a Peaches N' Cream Barbie Commercial in 1984 :
Thiessen spent much of her youth in beauty pageants and working as a model. She went on to win the Miss Junior America pageant in 1987, and Teen Magazine's "Great Model Search" the following year. She appeared on various covers of Teen Magazine.
Her exposure as a model helped her land her first big break on "Saved By The Bell " in 1989. Although it almost didn't happen that way, as the final decision came down to (Elizabeth Berkley, Jennie Garth and Thiessen). (Fun Fact – Thiessen was asked by Garth to be a bridesmaid at her wedding after their friendship on 90210. Bonus- They now, no longer speak. ) Executive Producer Peter Engel made the right decision, and as they say, " The rest is history."
Thiessen was no more… Kelly Kapowski was now born. Creating without question, the most iconic female character in all of television.
Kapowski has been covered in various blogs, and podcasts on this website all with the same theme of young men clamoring for how much they loved her, or how her beauty captivated them. It's actually remarkable that universally that you could put 100 men born from 1980-1990 in a room knowing full well they will likely disagree on topics of religion, politics, sports, etc etc. But chances are they will all agree "Kelly Kapowski was their first love." She defined beauty. She was gorgeous (see above), she was family oriented (had a huge amount of siblings, even taking one of them to school when she had to babysit), she was selfless (she missed her own prom to help her Dad when he lost his job), she was athletic (volleyball, and swimming), she was popular (won homecoming queen despite having red spots all over her face), she was strong willed (denied the advances and drug use of Johnny Dakota),she was patriotic (16:55 of this clip) and she was above all a good person.
I remember watching Saved By The Bell as a kid before school or before practices and even if I knew I had a test I was going to get a speed limit (45,55,65) on instead of a good grade , or if it was raining and practice was going to be bad- in those 30 minutes (21-23 not including commercials) none of it mattered. It's kind of like the speech about Pele in Vision Quest , or what Gus Sinski says to Billy Chapel on the mound in the 9th inning , "we don't stink right now." Kelly Kapowski had that effect on young men. She could transport you out of Middle America to the beautiful beachfront of California, she could take you away from your mundane school and put you right smack in the buzzing halls of Bayside, and she could make bad times good.. even if just for a half hour.
As a wise man once said, "America has rolled by like an army of steamrollers. It has been erased like a blackboard, rebuilt and erased again. It reminds of us of all that once was good and it could be again." Kelly Kapowski did just that. Some things are bigger than sports… and your first crush will always be on that list.
Happy Birthday Tiffani… Happy Birthday Kelly.
Thanks for all the good times…