College Football Gambling Primer Presented By PointsBet: Week 1
Schedule by @TrigDraws
All lines are taken from Points Bet at 2:33 PM.  
If you are in New Jersey and looking for a book to bet with this season, check out PointsBet.com.
You can sign up with the code BARSTOOL to get started, and if you deposit $50, they'll give you a $100 in Bonus Bets with no turnover requirement!
Keep an eye for PointsBet in the College Football show this weekend and for their Personal Pay Dirt promo: You place a spread line bet on four college football games that we select here at Barstool. For every touchdown your team scores, you get $6 in bonus.
AND, if you're not in New Jersey, you can play PointsBet's Pick6 game online, where they're giving away up to $25,000 a WEEK. All you have to do is pick six football teams you think will win that week. You can go to pointsbetpick6.com to play.
2019: 3-2, +0.43
2017-2018: 188-150-2 (55.6%), +23 units
Picks:
South Alabama +36
Akron +18
Mississippi State -19
Ole Miss +4.5
Duke +33
North Carolina +11 (-105)
Boston College +4.5
Wyoming +17
Miami (OH) +22
New Mexico State +32
Middle Tennessee State +33.5
I'm low on South Alabama this year. I took them under 2.5 wins and think they could end up the worst team in the Sun Belt. However, the Nebraska hype is officially out of control. I love what Scott Frost is doing there, but the hype train may have left Lincoln, Nebraska one year too early. They return the 37th least production in the country. Over 5 TD's is too much, so I'll be taking the South Alabama Jaguars to cover this game.
Pick: South Alabama +36
There is nothing I like more than going against Bettor X/Bagman:
Illinois continues to improve on the recruiting trail, but the development of those players are far from complete. I hate to start my first college football Saturday off betting both Akron and South Alabama, but that's what I'm going to do. QB Kato Nelson is the most electric QB in the MAC and I could see him putting up enough points to cover for the Zips.
Pick: Akron +18
This is a bet that comes down to the difference in talent. In the recently released team talent composite ratings by 247Sports, Ole Miss has the 25th most talented team in the country. They have SEC talent. Memphis ranks 71st in that department. Of course, recruiting doesn't always show up on the field, but it is a very good barometer for who is going to show up on a Saturday. 4.5 points is too much for Ole Miss. I like Matt Corral at QB and think he leads Ole Miss to a potential victory.
Pick: Ole Miss +4.5
Mississippi State is my most underrated team heading into the season. The talent is there (23rd in team talent composite ratings) and the coaching with Joe Moorhead is certainly there as well. The reports haven't been great about Tommy Stevens, but Moorhead has proven in the past that if he has his guy at QB, he will put up points. Moorhead was at Penn State with Tommy and returns with Mr. Stevens in New Orleans this weekend. This game has been moved to the Mercedes-Benz Superdome to house all the Bulldogs fans. This will be a home game atmosphere for them. Moorhead has blown out lower teir teams since his days at Fordham. Give me a cowbell and the Bulldogs minus the points.
Pick: Mississippi State -19
This pick scares me. We had a very similar situation last year. A decent ACC team returning without their QB who left for the NFL. What happened? Alabama destroyed them. I'm still going to be on Duke, though. It's too many points!!! Duke ranks 59th in Bill Connely's SP+ and 56th in ESPN's FPI. This still a good team, even without Daniel Jones (not that it was great with him). Give me the Blue Devils.
Pick: Duke +33
The Mack Brown 2.0 era is here. There is finally some excitement behind the UNC football program again. North Carolina returns the 35th most production in the country this year and Mack Brown will tap into it. 11 points is too many at home. Give me the Tar Heels and Mack Brown!!!
PIck: North Carolina +11 (-105)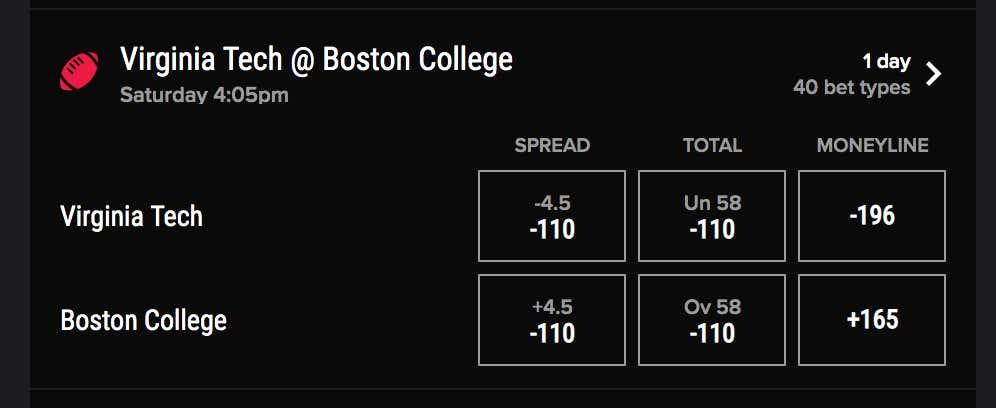 A team that returns both their QB and RB getting 4.5 points at home against a team they are very familiar with? Plus it's Steve Addazio? GIVE ME THE DUDESSSS!
Pick: Boston College +4.5
I am labeling this the altitude game. I still remember going to Wyoming in middle school and having such a hard time adjusting to the altitude. Add a new QB into the situation and a home team with nothing to lose, Wyoming +17 is the play.
Pick: Wyoming +17