BlackJack's Weekend Football Betting Extravaganza
The NFL kicked off last night with Packers-Bears, and it was…football. It wasn't the most exhilarating game of all time, but it was profitable for us who were on the Packers ML, and it was exceptional to have the NFL back. Football is like sex, even when it's bad, it's still pretty good. Now, this is our first full weekend with both college and NFL games on the calendar, and we have to take full advantage of it. We've gotten to see the college teams in Week One, and the NFL teams are making their debut. We have a lot of games we're playing, so let's not waste any more time and get the hell going.
COLLEGE FOOTBALL PLAYS
Wake Forest (-19) at Rice
Rice played well last week against Army. Their defense, in particular, was exceptional against the triple option attack of Army. However, there is a big but coming. That is they had all season to prepare for a gimmicky offense, and that's what they did. Army has no passing game whatsoever. Rice prepped well, and did their jobs. Now the task is entirely different. They are playing a Wake Forest team that was tested last week against a very good Utah State team, and they managed to get the win. Wake should absolutely be able to do what they want offensively against a weak Rice team.
THE PICK: Wake Forest -19
Army at Michigan (-23)
Speaking of Army, they are better than they looked last week. This is a team with nearly three 1,000 yard rushers. They laid an absolute egg against Rice, but I expect them to be more up to the challenge when they visit Ann Arbor this weekend. Michigan is the better team and absolutely should win this game, but laying more than three touchdowns to a team that is competitive, well coached and has talent? Feels like too many points. Michigan wins, probably easily, but Army gets the cover.
THE PICK: Army +23
Rutgers at Iowa (-19.5)
Rutgers looked rough last week, even though they managed to get the win against UMass, they struggled out of the gate. Further, they struggle enormously in Big Ten play. Now they have to go on the road to Iowa, a tough place to play, and play a better, more talented, better coached team. I don't think Rutgers can score on this Iowa defense. I don't know how much Iowa boat races them, so I'll play the total here. I don't think Rutgers can hold up their end of the bargain to push this over.
THE PICK: Under 50
Colorado at Nebraska (-4)
I was not impressed by Nebraska's home debut against South Alabama last week. They surrendered 21 points to a team they should have crushed. Colorado is not going to be a great team this year by any stretch, but they have a four year starter in Steven Montez, a very talented WR in Laviska Shenault and Boulder is a difficult place to play with a raucous crowd and the altitude. I don't hate the Colorado ML here, and will probably play it, but play it safe and take the points.
THE PICK: Colorado +4
Wyoming (-7) at Texas State
The Cowboys are flying high after upsetting Missouri in Week One. Texas State, on the other hand, got blasted by Texas A&M  41-7 in their opener. Wyoming is a team that is perpetually forgotten about in the Mountain West Conference, but they are a tough team. Head Coach Craig Bohl has done a nice job turning them into a consistent bowl team. Wyoming should win this one and I don't think it'll be all that close. Bohl will prevent against a letdown after the Missouri win.
THE PICK: Wyoming -7
UCF (-10) at FAU
Ah, the battle of middling Florida academic institutions. A tradition like no other. Listen, I love me some Lane Kiffin, but in this particular showdown, he's out gunned. Brandon Wimbush looked like he fit in seamlessly with the UCF offense in his debut and I don't think the FAU defense will provide much of a challenge for Wimbush and the UCF offense. Lay the points here.
THE PICK: UCF -10
Miami (-5.5) at UNC
The Tar Heels under old/new Head Coach Mack Brown pulled the upset win over South Carolina in their opener and look like they will at least be more competitive than they have been in recent seasons. Miami suffered a tough loss to Florida in a game that was sloppy, but the Hurricanes showed they have a defense. Both of these teams played tough defenses in Week One and still scored into the 20's. The total in this one is 46.5, and I have a feeling we will see more points than we think. Both offenses are capable of turning the ball over and creating short fields which could lead to easier points.
THE PICK: Over 46.5
LSU (-6.5) v. Texas
I think LSU wins this game. I like their new offense, I think Texas is overrated considering how many starters they lost coming into this year. Having said that, there's no chance I'm laying 6.5 points in this thing. I also don't like taking the points. So what to do? The total does speak to me here. LSU has an elite defense as always and Texas has very talented athletes, if inexperienced, on that side of the ball as well. For a LSU/Texas game to have a total set at 57 (?!), I have to play that one.
THE PICK: Under 57
NFL WEEK ONE PLAYS
Baltimore Ravens (-6.5) at Miami Dolphins
The Dolphins are a god damned train wreck. They are in full rebuild mode, yet are starting Ryan Fitzpatrick at QB, none of it makes any sense. They traded away one of their starting WR's in Kenny Stills and their best offensive lineman in Laremy Tunsil. I'm not necessarily a huge fan of Lamar Jackson and the Ravens run heavy offense, but in Week One, with everyone healthy and ready to go, the Ravens should tear the Dolphins apart. I can't tell you how much I love that this is under a touchdown.
THE PICK: Baltimore -6.5
Buffalo Bills at New York Jets (-3)
I'm high on the Jets this year, I think Sam Darnold may take a significant step forward with Adam Gase, and the defense should improve in year one with Gregg Williams as the DC. Having said that, there are issues with the Jets. They don't have major injury issues, but they have been a little banged up in the pre-season. The Jets also have not played Le'Veon Bell in the preseason and it may take him a game or two to jell with his new offensive line. On the other side of the equation, Buffalo has a stout defense and a new look offense with more playmakers in John Brown and Cole Beasley. Josh Allen should be able to do enough to win this game, but again I'll take the points to be safe.
THE PICK: Buffalo +3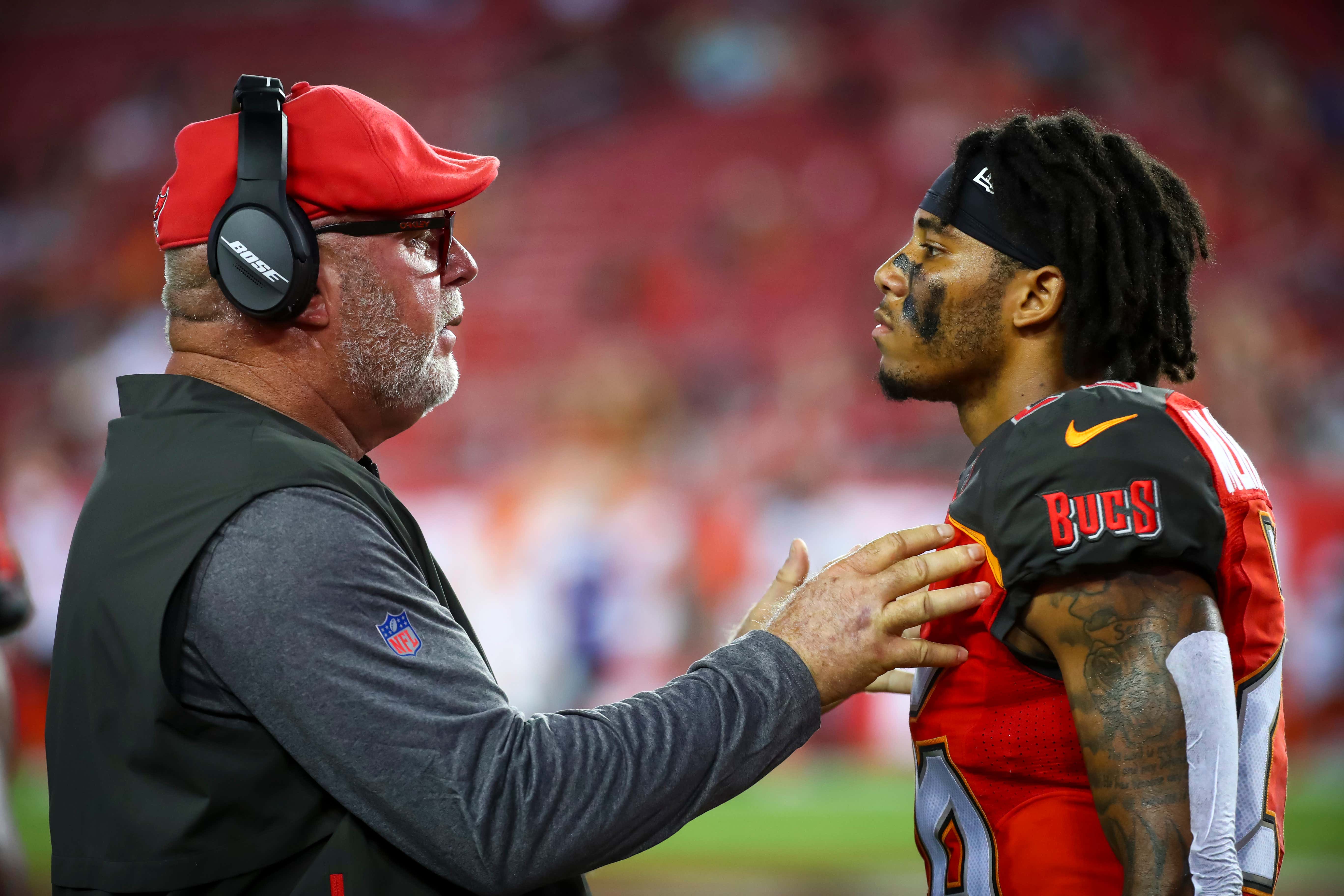 San Francisco 49'ers at Tampa Bay Buccaneers (-1)
Jimmy Garoppolo makes his return to the San Francisco lineup as they travel to Tampa to take on a Bruce Arians led Bucs team. Jimmy G looked tentative in the pre-season, which is to be expected coming back from a catastrophic knee injury. I think the Niners have a good defense, but I'm still skeptical about their playmakers on offense. Tampa on the other hand, has a shitty defense, but their offense is loaded. They have Mike Evans, an elite WR, Chris Godwin, who could develop into an excellent player in this system, and O.J. Howard, a great pass-catching tight end. Factor in that Jameis Winston is not shy about throwing the ball downfield, and he will be encouraged to do so with Bruce Arians calling the plays, I like the Bucs in the opener.
THE PICK: Tampa Bay -1
New York Giants at Dallas Cowboys (7.5)
The Cowboys have finally signed Ezekiel Elliott and we should expect to see him, if in a limited role, this Sunday against division rival New York. Dallas is a team I think has a legitimate chance to win the NFC this year, as they have playmakers on offense, a great offensive line and a young, talented defense. The Giants are not great, but there's enough talent there (largely in the form of Saquon Barkley), to keep them in games. Also this is a divisional matchup, and the hook here makes this too enticing to pass up.
THE PICK: New York +7.5
Detroit Lions (-2.5) at Arizona Cardinals
Listen, I am not a believer in Kliff Kingsbury. I think he's a idiot. I think he will have Kyler Murray running for his life with a spread system behind an historically bad offensive line. BUT, if there is a time to back the Cards, it is in Week One. They played a very vanilla offense in the pre-season and deliberately did not show what their new scheme would look like. Detroit will have a hard time preparing for a Cardinals attack that will be dangerous and diverse with Murray, David Johnson, Christian Kirk and Larry Fitzgerald. If the Cardinals are going to sneak up on anyone, it will be this week.
THE PICK: Arizona ML +125
Pittsburgh Steelers at New England Patriots (-5.5)
This will be a great game. Opening weekend at Foxborough in prime time will be excellent. Pittsburgh will be ready to go in a rivalry game, and even with the loss of Le'Veon Bell and Antonio Brown, they still have a very capable offense. The story of this game, will be the defenses on both sides. Pittsburgh is better than people think and I love the rookie Devin Bush out of Michigan. New England may have one of the top defenses in the league this year. They keep getting better and better on that side of the ball. I think this is a hard fought, close game, but the total is where I see the value.
THE PICK: Under 49
Houston Texans at New Orleans Saints (-7)
This line is bananas. The Saints should not be favored by a touchdown against this Texans team. Houston is loaded with talent on both sides of the ball. The additions of Kenny Stills and Laremy Tunsil makes them significantly stronger on the offensive side of the ball and the defense is still a quality unit. New Orleans has Drew Brees back in his age forty season, but there is cause for concern there. In the second half of last season, Brees' arm did not look the same as it has in the past. Some of the zip on the deep balls was lacking. If that trend continues, it could be a real problem. Also, historically, the Saints struggle in openers, see last year against Tampa Bay.
THE PICK: Houston +7
Alright boys and girls, that's a lot of tickets, it's a lot of action, and it's a lot of football. Thank the good lord it's back in our lives for the next five months. Let's get out there and cash some tickets, baby!