College Football Gambling Primer Presented By PointsBet: Week 4
Schedule by @TrigDraws
Barstool CFB Gambling Standings: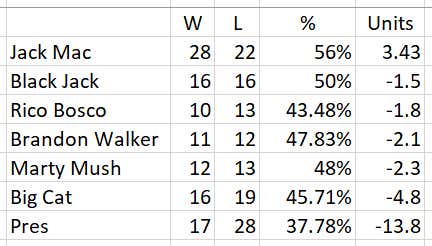 If you are in New Jersey and looking for a book to bet with this season, check out PointsBet.com.
You can sign up with the code BARSTOOL to get started, and if you deposit $50, they'll give you a $100 in Bonus Bets with no turnover requirement!
Keep an eye for PointsBet in the College Football show this weekend and for their Personal Pay Dirt promo: You place a spread line bet on four college football games that we select here at Barstool. For every touchdown your team scores, you get $6 in bonus.
AND, if you're not in New Jersey, you can play PointsBet's Pick6 game online, where they're giving away up to $25,000 a WEEK. All you have to do is pick six football teams you think will win that week. You can go to pointsbetpick6.com to play.
2019: 28-22, +3.43 units
2017-2018: 188-150-2 (55.6%), +23 units
Betting Process: For week 1-4, I create my own lines using my preseason projections which are a combination of 2018 results, 2019 returning production, recruiting rankings, and coaching staff rankings (HC, OC, and DC). I then compare them to the vegas lines and anything that is off by 5+ points, I bet. It's a new approach, that I've found success in while backtesting in the offseason. I bet throughout the week and post them on Twitter if you want to keep along.
Picks:
Michigan +3
Illinois +13
San Jose State +21
Northwestern +9
FSU -6.5
Vandy +24
Colorado State +9.5
SMU +9.5
Old Dominion +28.5
App State +2.5
Tennessee +14
Pitt +11
Miami (OH) +38.5
Mississippi State -6
Stanford +10.5
UConn +27.5
New Mexico State +4
UTEP +14.5
UMass +16.5
I'm not in the business of "game of the year" type predictions. I think they are lame and a great example of why the handicapping industry is the land of scam artists.
However, if I were in that business, I'd put serious consideration into putting a game of the year pick on Michigan this weekend. At the Golden Nugget, this game opened at Michigan -6. I'm confused about what has dictated a 9.5 point swing. Michigan struggled against Army? That's a top-40 team. Who has Wisconsin beat? Central Michigan? A bottom 25 team. South Florida? The same team that lost to Georgia Tech?
I'm still in on Michigan. I think they'll figure out the offensive issues and there is no indication this isn't yet another top 5/10 defense.
Wisconsin's greatest weapon is Jonathan Taylor. Michigan is holding teams to 3.0 yards per rush. They held Army to 3.27 yards per rush. Those are impressive numbers. Michigan is going to force Jack Coan to beat them. I don't see it happening.
Big game for Shea Patterson. Big game for Michigan's defense. The start of a big season.
Pick: Michigan +3.5 (-115)
I'll be on Northwestern in this one. Nothing I love more than getting over a TD on the Wildcats when they are playing on a fall, grey day on the Northwestern grass.
However, I will say, I saw this video last night and got a little concerned.
Pick: Northwestern +9
This game reminds me a lot of Vanderbilt – Florida last year. That game was at Noon and saw Florida go down early to an inferior Vandy team. Florida miraculously ended up covering thanks to a single-digit spread. LSU has to cover a 24-point spread here. I don't see it happening. Are they on upset alert? No, but it's going to be a battle to get excited for a noon game at Vandy. 24 points is a lot and Vandy has an offense that will be able to put up enough points to keep this one close.
Pick: Vanderbilt +24
I feel gross writing this. I will feel gross when I place the bet. I will feel even more gross when I watch the game, but Tennessee +14 may be too good to give up.
Georgia State was a fluke. They outplayed BYU. Tennessee is still a pretty good team.
Are we sure Kyle Trask is actually better than Feleipe Franks? That seems to be the narrative going around right now.
My system may weigh recruiting too much, but there won't be that big of an on-field talent difference between these two teams on Saturday. It's a rivalry game. Nobody believes in Tennessee, so I will.
Pick: Tennessee +14
I still feel Nebraska is overvalued. There's a weird trend in college football when a team has a bad loss on the road, respond with a big win at home against an inferior opponent, and their fanbase/media perception returns back to where it was before the bad loss.
In FEI, Northern Illinois (who Nebraska beat last week) ranks 93rd. In SP+, NIU ranks 90th. They just aren't a very good team. Now, Nebraska goes on the road against a Big 10 opponent and are laying close to two TDs. Give me the Illini.
Pick: Illinois +13
This is the toilet bowl and there's nothing I love more than betting on bad teams, so of course, I'll be participating in this toilet bowl.
FSU impressed me last week. Going into Virginia and taking them down to the wire is no easy feat. They are far and away the best team in this game. Current rankings:
FEI: FSU 40th, Louisville 92nd
SP+: FSU 42nd, Louisville 67th
FSU gets their first ACC win of the season on Saturday by at least a TD.
Pick: FSU -6.5 (-115)
GIVE. ME. PITT.
GIVE EM TO ME.
I looooooooove this game. Pitt continues to improve after their week 1 loss. A dominating win over Ohio was great and they fought to the end against Penn State. Their defense is improving, specifically, in an area they lacked last year: stopping explosive plays. They did that against Penn State, who has thrived off the explosive play since James Franklin got to town.
UCF is a great team, don't get me wrong. I just see this as a big letdown spot for them after destroying Stanford in what seemed like the biggest regular-season game they've played in years. Add in travel and location, you have a great spot to back the Pitt Panthers.
Pick: Pitt +11 (-115)
I loooooove me some SMU this weekend. I wouldn't be shocked if this SMU team finds a way to win the AAC this year. Shane Buechele (former Texas QB) has taken this team to a 3-0 record to start this year, with impressive wins against North Texas & Arkansas State (on the road). Xavier Jones at RB has been great for the Mustangs as well.
Crack open the Turnover Bottle Service on Saturday afternoon and watch SMU cover:
Pick: SMU +9.5 (-115)

North Carolina's season: start 2-0 with an upset victory over South Carolina & Miami. Lose 24-18 on the road to Wake Forest. Regroup before the biggest game of the season against Clemson at home. Oh, and what's the game between that? Just a little team called Appalachian State.
This is a brutal spot for UNC. All indications point to Appalachian State being the better team here. Rankings:
FEI: App St. 15th, UNC 72nd
SP+: App St. 33rd, UNC 64th
The wrong team is favored here. Take the Mountaineers.
Pick: App State +2.5
Not sure what Toledo has done to dictate themselves as a 9-point favorite on the road.
Let's not forget what happened to Toledo the last time they went west: 49-27, Fresno State in 2018. This time they are going west, plus they are playing in elevation. Give me Colorado State.
Pick: Colorado State +9
Sure, Ohio State has blown everyone out they've played.
Sure, Ohio State may have the first 85 picks in this game:
I'm still coming back to Miami covering this spread. It's what my numbers are telling me, so I'm going to be rolling with the RedHawks.
Pick: Miami (OH) +38.5 (-105)
The Huskies have been kind to us this year. They are my team. They've been my team since I walked into The Rent in 2003 for the first game in their new home. You know who they played in that game? Indiana. They blew them the fuck out. This weekend it's a rematch. I discussed on my podcast, #UConnHasAFootballTeam, but I'm putting Indiana on UPSET ALERT. The Huskies cover with ease off the bye week.
Pick: UConn +27.5
I've taken FSU, UConn, Miami (OH), and Colorado State. All those bets are gross, but they look normal next to what I'm about to take. UMass +16.5. There is no team in this country that plays in the FBS that Coastal Carolina should be a 16.5-point favorite on the ROAD against.
Pick: UMass +16.5