The NHL Is Back Tonight, Here Are The Future Bets I'm Taking
Finally, tonight we return to the ice, as the NHL drops the puck on another spectacular season. We have awesome rookies to watch, coaches and players in new locations, and of course, a banner to raise in St. Louis. I can't wait for all of it to start tonight, but in the mean time we can still get in our future bets. This way our rich selves in June of 2020 will thank us for having the vision to make these bets. Let's do it, baby!
Player Futures
Nathan MacKinnon to win Hart Trophy (+1200)
Obviously Connor McDavid is the favorite here, but there isn't a lot of value on that pick. Also the thing to consider is the lack of talent and general instability around McDavid in Edmonton. MacKinnon on the other hand, just went on a nice little playoff run and showed everyone exactly what he is capable of on hockey's biggest stage. I think that playoff run gets parlayed into an excellent season and Nathan McKinnon at 12-1 gives us an excellent chance to cash this one.
Jordan Binnington to win Vezina Trophy (+1900)
There are some concerns about Binnington, no doubt. But go down the list of goalies on this sheet and find one who doesn't have a concern. You're going to have a tough time. Binnington is coming into his first full season, sure. He had a couple games last year where he got lit up, sure. But he bounced back every time. His performance under the most intense pressure in the sports was utterly amazing. The kid has shown nothing to indicate that he will not be a finalist for this award for years to come. At 19-1, it's crazy not to take this.
Team Futures
New York Islanders to Make Playoffs (+121)
People still aren't quite buying into the New York Islanders. When you look at the roster on paper, I understand why, but the game isn't played on paper. Barry Trotz has done an amazing job of bringing this team together and getting them to be greater than the sum of their parts. That isn't going to change this year. Yes, the division got better, but that defense is suffocating, and as good as Robin Lehner and his story were, the Islanders likely upgraded with Semyon Varlamov in net. This team should still be around come playoff time.
New York Islanders Over 89.5 points (-110)
Let's stick with the Islanders for a minute. Regression from last year? Absolutely. Last year was a 103 point season for the Islanders. But dropping this far? I don't think so. I think the Islanders are somewhere in the low 90's as far as points go at the end of the season.
Toronto Maple Leafs Over 104.5 points (-110)
Last season the Leafs put up 100 points. This season should be better by most any measurement. They are used to one another. They have a season together under their belt. There aren't the same contract issues to deal with as they had last year. Everything points toward an uptick in production for Toronto this year. Further I think Tampa and Boston take slight steps backwards in their point production, which opens up the top of the division for Toronto.
Ottawa Senators Over 68.5 points (-110)
The Senators are going to be one of the worst teams in hockey this season, without a shadow of a doubt. However, there is considerable less noise and distraction surrounding them now than there was a year ago. The players that needed to be traded have been traded, the rebuild is in full swing, they can focus on player development without so much distraction. It will take time, but this team should improve from last years team, which 64 points. I like the Sens to at least hit 70.
Calgary Flames Under 97.5 points (-110)
Last year the Flames put up an ungodly 107 points and won the Pacific Division. I don't see that as sustainable this season. I was shocked by it last year, to be honest, as I think were most. This year, I think the Flames suffer a considerable slip, likely to third place in the division.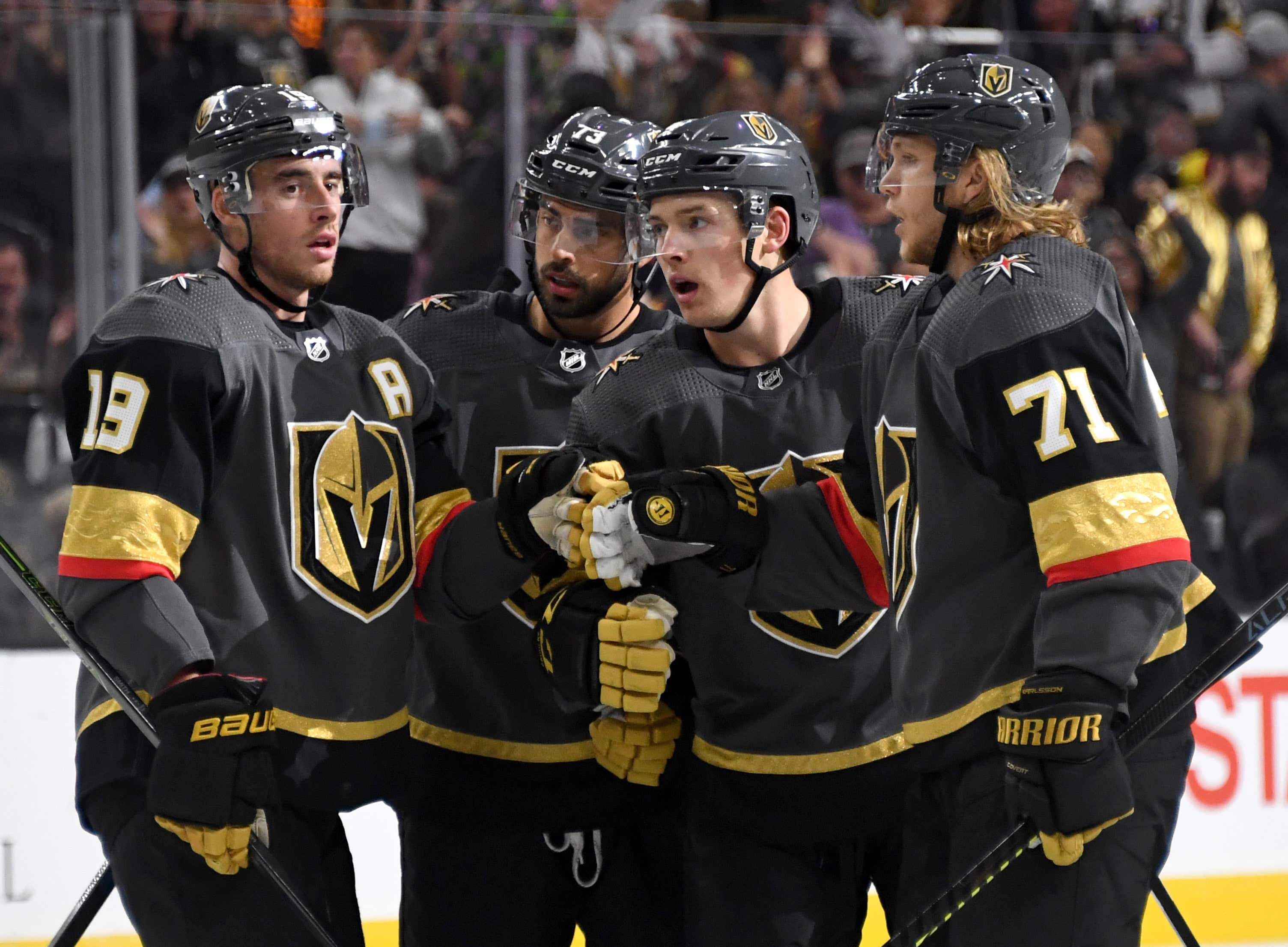 Vegas Golden Knights Over 100.5 points (-110)
If Calgary is slipping, then someone has to rise as well. This is one. Yes, I am a Golden Knights fan, but this is a legitimate pick. This team had 93 points last year, but after they added Mark Stone at the deadline, they were the best team in hockey. Stone totally changed the way the Knights played. Not to mention they missed Paul Stastny for a considerable stretch, as well as having injury issues with Max Pacioretty. Vegas should, barring massive injuries, win this division and be well over 100 points.
Anaheim Ducks Under 83.5 points (-110)
The Ducks are getting old, fast. They play slow, deliberate hockey and haven't done a ton to change that.I think the Ducks are a team that is headed for a precipitous slide, and rather quickly. They had 80 points last year, I think they would be lucky to duplicate that performance.
Alright boys and girls, let's get ready to drop the puck and cash these tickets!