Was Boise -23 The Most Bonkers Cover In History ?
Those highlights don't do the game full justice , so I am here to explain to you exactly what went down late in the night out in Vegas… affecting Vegas, and many others in one of the craziest games all year, and this century.
Let's go to 3:48 remaining in the 4th. Boise has just got the ball back on its own 8 after a 4th down stop. Now you should know that 4th down play was pretty wild.
Kenyon Oblad's pass was ruled incomplete to Mekhi Stevenson. It looked like Stevenson had it but when going to the ground was ruled to be bobbling the ball and the play was ruled incomplete. Boise backers (and Rico Ryders) dodge a bullet..the first of many.
Ok back to 3:48. You figure Boise is just going to run the ball , milk the clock, hit the showers , play some slots in the airport and get the hell home right ? WRONG.
Boise not only throws the ball on First Down , on a pass that should have been caught . It calls a timeout !!!!
The punt sucks . UNLV now has the ball in Boise territory .
Of course UNLV scores . Kenyon Oblad 's TD pass to Darren Woods Jr. for 12 yds cuts the lead to 31-13 . Kicker misses the PAT.
If you're a Boise backer you are for sure dead .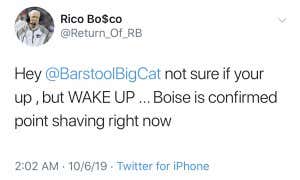 Did I say dead ? I meant never more alive in your life !!!
UNLV onside kicks … Boise doesn't just recover it , it takes it 39 yards to inside the 10 !
Boise ball on the 6 . They will for sure take a knee right ? Listen to that clip again on the highlights (https://youtu.be/-RrHkumhO-4) Go to about 2:40 on that video , you hear a disgruntled announcer say "Take a knee" .
I was obviously rooting for something different than the announcer.
So did they take a knee like the announcer said , as well as all conventional wisdom and sportsmanship ? WRONG !
Boise jams it in ! Paying back all the souls of sports purists everywhere for UNLV's years of cheating in basketball in the 90's .
UNLV has 1:07 and 3 TO's remaining , but The Broncos got the stops and held on for a cover that had plays that made absolutely zero sense. Throwing on first down , calling timeouts , onside kicks, not kneeling … insanity.
As two wise men once said :
" I love gambling"
" It's the best"
This game goes down in the hall of fame of wild spear endings , and for sure will be on part 2 of Bad Beats with SVP and personal friend Stanford Steve on Monday Night.
Thanks Boise ! And Thanks Rico Bo$co !
Get your gear :