Barstool's Weekend Soccer Preview – The "Manchester United's Super Bowl (& MLS Playoffs)" Edition
Sam's Safe Space for Soccer Stoolies
Hi Haters™,
WE BACK! I blacked out about halfway through that international break and don't recall anything. I'm sure nothing important happened though and boy oh boy am I excited to get back to real soccer… and we got some good ones this weekend, most notably an age-old rivalry in England and the first round of a spruced-up playoff format here in our own backyard.
So let's take a look at what's what…
***********************************
ENGLISH PREMIER LEAGUE
Results from way back when:
What a weird slate of results. "Upsets" galore. City lost with 99.7% possession. Tottenham shat the bed in spectacular fashion. United did a whole lot more of absolutely nothing. Everton were Everton. Villa dropped a five-spot on Team Pukki. Frank the Skank played The Babyjesus for a couple minutes. Cray.
***
POWER RANKINGS
TOP 4
1. Liverpool
2. City
3. Chelsea
4. Lester
Honorable mention: Arsenal, Palace, Burnley
BOTTOM 3
20. Watford
19. United
18. Tottenham
Dishonorable mention: Norwich, Everton, Southampton
***
The table as things stand:
***
And this weekend's schedule:
***
PICKS OF THE WEEKEND
United [+355]
Liverpool [-150]
Draw [+295]
United are [+355] underdogs at home in a regular season Premier League game. Let that sink in for a minute.
Aside from the obvious talent difference, and the form difference (Liverpool are looking to set a new record by winning 19 straight league games), the Reds are basically as healthy as they have ever been while United will likely be missing Paul Pogba and David De Gea – two of only four players (along with Harry Maguire and Aaron Wan-Bissaka) that you could even make halfway decent arguments in favor of slipping into a combined XI.
If the Red Devils could somehow pull out some sort of a result, it is going to take the best performance of the season and would probably end up being the highlight of their season. I think a bigger or at least more relevant question, and one I haven't heard thrown around at all, is what happens if Liverpool walk into Old Trafford and put a massive whooping on United. Time is a flat circle, after all, and it was a 3-1 loss at home that cost our Dearly Beloved Content Gawd his job last year.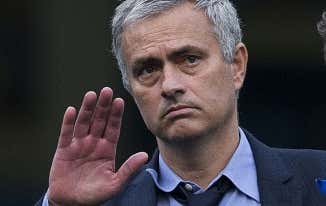 Miss you, bae
Point being, I'm all for taking a long shot on an underdog but there is no legitimate explanation anybody could come up with to pick United in this game other than "welp, sometimes crazy shit happens".
That's true, that's true. But if you go with that rationale you got bigger cojones than me. Liverpool to win 2-0.

You good, cuh?
**
Everton [-105]
West Ham [+265]
Draw [+275]
Quite possibly the most intriguing game of the weekend. Everton manager Marco Silva has been skating by based on reputation and his suave Portuguese look and accent (because he sure as shit isn't still employed because of results on the field), but things may come to a head this weekend if the Toffees – sitting squarely in the relegation zone after eight weeks – don't beat the Hammies. Not a good situation. In fact it is a very bad situation.
The good news for Everton is that while West Ham have quietly been pretty good this season… they have not necessarily been playing well lately having lost to Oxford (Make-Belieague), drawn with Bournemouth and lost to Palace in the last three games.
Everton fans must feel like Bill Murray in Groundhog Day. Every year they wake up and head off into the season bright-eyed and bushy-tailed looking pretty damn good on paper… but things fall to shit and they (at best) scrounge just to stay alive for a Europa spot. This year it has been their offense that has completely failed them. Six goals in eight games is straight up atrocious. They have way too much talent for there not to be a reversion to the mean at some point.

How? How is this group so impotent??
It is going to take some wins, after all, to get back in the Europa fight this time around… but I think they have it in them. Everton to win 3-1.
**
Some more predictions (to increase the possibility that I eventually get one right – maybe):
• BOURNEMOUTH 3-1 Norwich – The Canaries are doing that thing they do where they come out hot, score a bunch of goals and play fun soccer while putting in some impressive shifts… and yet wake up in 19th place. Their issues boil down to defense, where their aggressive – haters might even say "naïve" – approach to throwing guys forward leaves big gaps at the back that Championship opponents sometimes don't take advantage of but Premier League teams always do. Bournemouth have too many weapons for Norwich to handle, especially at home.
• Villa 0-0 Brighton – Both teams coming off HUGE wins, and both have looked like clubs that have the quality to stick around another season… seems like an appropriate time for both to lay post-dub-letdown eggs.
• CHELSEA 2-1 Newcastle – Toon's win over United felt like it was more about the latter's badness than the former's goodness, though you have to give them credit for six of their eight points this season coming against Big Six opposition (also beat Spurs). Nine out of 12? Nah. Chelsea has quietly got their life in order recently, seemingly using the "impressive loss" to Liverpool as a springboard for a full month of quality performances. It would make some sense for them to take a watery dump out of nowhere this week because that is what talented but young and inexperienced teams tend to do… but perhaps they are saving that for a more important game on the horizon (ahem, Ajax).
• LESTER 2-0 Burnley – Credit to the Clarets (h-hey I didn't call them Potters for once) for being roughly as good to start this season and they were terrible to start off 2018. The joys of not playing Europa, perhaps. That said, I am a big fan of this Lester squad. There were question marks about whether they would have to lean too heavily on an aging Jamie Vardy, not to mention what felt like a makeshift defense, but I'll be damned if the Foxes haven't been one of the most fun 3-4 teams in the league right from the jump.
• SPURS 2-1 Watford – Tottenham have been drunker than Hugo Lloris, who they coincidentally are going to be without for quite a bit after his elbow bent the wrong way when he was too busy handing goals to Brighton last time out. The only good news is that Watford have vacillated between bad and very bad for much of the season… coming up with their best game of the season to throw more gasoline on Spurs' dumpster fire would make a lot of sense, but my faith in Poch's ability to circle the wagons has only been bruised and battered not killed and mutilated. (Yet.)
• WOLVES 2-0 Southampton – Wolverhampton is BACK baby after coming up with a 2-0 win over City and face a Saints squad that rolled over and died against Chelsea last time out.
• Palace 0-3 CITY – No team has done more with less (goals) than Palace this season, and credit to them for making every single one of their goals count, but we have now reached the stage where City might as well walk down the highway and drop the PL trophy off at Liverpool if they drop anymore points. Desperate times call for desperate measures, but more important than desperation is the fact that City could play blindfolded and not finish as poorly as they did against Wolves… reversion to the mean coming right up.
• Sheffield 1-1 Arsenal – Been a long time since Arsenal shit the bed. A little too long. (And, to give a little bit of credit where a little bit of credit is due, you gotta be on your game to walk into Sheffield and take points.)
***********************************
MLS PLAYOFFS
Hooraaaaaaaaaay, they changed the format! No more drama-free home-and-homes with an international break in the middle (or however they were scheduled in years past). We have six winner-take-all first round games this weekend and I'm legitimately excited. Maybe it's a reflection of be becoming more familiar with players and teams and storylines, or perhaps it is a sign that MLS has finally put the pieces together, but either way I am pretty damn excited about this weekend and the next few weekend's as we whittle the field down from 14 to eight to four to two and finally one on Sunday, November 10.
So this is the final bracket:
I am legitimately excited to watch as many of these as I possibly can this weekend. It'll be interesting to see what, if any, impact the new format has. Upsets were the norm in previous years. But playing a one-off game with less negative tactics may – in addition to being a lot of run – hand a little bit bigger advantage to the lower seed (playing at home).
When I asked people in that IG post above who they thought would end up meeting up in MLS Cup this season, the most popular response was LAFC vs Atlanta. Tough to argue with that. LAFC are coming off an incredible season and Atlanta are defending champs who just flexed on everybody with a star-studded hype video:
However, you could make a semi-coherent argument for just about every team in the field… except for Dallas. Dallas stinks.
Anyway I would never, ever, ever, ever tail any prediction I personally ever make about MLS. In fact my recommendation is to always bet underdogs when it comes to this league because nobody ever went poor doing just that. If I were going to offer some off the cuff prognostications on how things are going to go though, I would say this:
– Prediction #1b (technically saying Dallas stinks was Prediction #1a): I don't think LAFC wins it. Incredible regular season but ran out of steam coming down stretch and injuries to Walker Zimmerman and Mark-Anthony Kaye (who limped off playing for Canada on Tuesday) could be a big losses.
– Prediction #2: I was kinda out on ATL as well but that hype video roped me right back in. Soccer killing it in 'football country' will never get old. (That said, I think the Revs are legitimately dangerous.)
– Prediction #3: I'm not saying Don Garber is going to pull strings to help LA Galaxy get through Minnesota to set up the biggest single playoff in years… but you better believe he is going to be saying prayers and crossing fingers, etc.
– Prediction #4: Not loving Toronto. Perhaps it is just a remnant of the anger I feel about Bradley handing the ball away to Canada for their first goal this week, or the fact that I have zero faith in Altidore getting and staying healthy…. but too many question marks for me.
Final FEARLESS preliminary (subject to change) interim Prediction #5: SEATTLE vs NYCFC at a field TBD for all the marbles next month.
***********************************
LAP AROUND THE WORLD
ITALY – 6th place Lazio host 3rd place Atalanta on Saturday (8am CT on espn+)
SPAIN – 4th place Atletico welcome 8th place Valencia on Saturday (9am CT)
GERMANY – 2nd place Wolfy head to 5th place RB Leipzig on Saturday (8:30am CT) followed a couple hours later by 9th place Dortmund visiting 1st place Borussia Monchenpenisgladbach
NWSL – semifinals this weekend with NC Courage vs Reign FC (12:30pm CT) followed by Chicago Red Stars hosting Portland Thorns (2:30pm CT) on Sunday… both available on espn2!
***********************************
So there we have it. Big weekend. Stay safe fam.
Holler,
Samuel Army