We're Giving Away Special MGM Offers In Hoboken Today Before Pats Vs. Jets
Big night tonight for the Pats and Jets. Actually it's not really but I guess that just something you say before football games. It's a big night for the Jets, I'll give them that. It's a Monday in October for the Patriots.
However, it is a big night for you if you're in Hoboken. We're gonna be at Wicked Wolf having some beers and giving out MGM offers to everyone who wants one. If you're smart you'll take that offer and use it on a Patriots play but how you spend your offers is none of my concern, you're allowed to be as foolish as you want.
By the way, we had a whole heck of a time trying to get these "assets" (that's what people call them in the biz, seems a little over the top if you ask me) made. First they made this….
It's certainly out of the question that we're left out of the loop at Barstool so I said "Oh are we doing a show there?" and when I was told we weren't I was like wellll guys, I think a picture of us doing a show is a little misleading then.
Then they sent over this one. I don't even know when the hell we took this picture but we look like a couple that met on eharmony telling you that it's the best connection service we've ever used.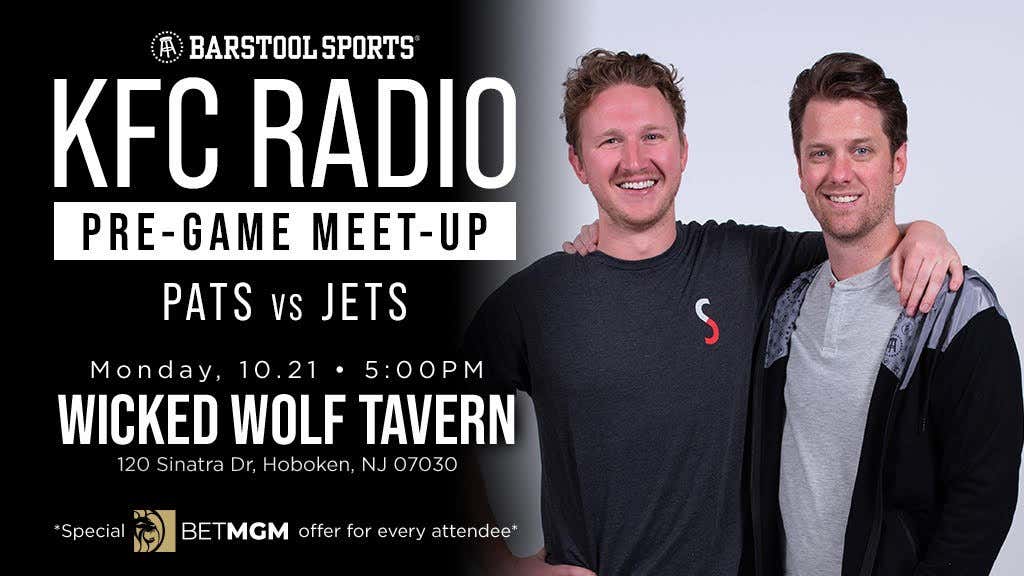 Just a wild couple selections but we finally arrived at this.
Anyway, whatever. Come to Wicked Wolf, have a few beers, and get a special MGM offer for the game tonight.