Barstool Fantasy League Week 8 Recap: Coley's Finest Hour
At the conclusion of Week 8, we're halfway through the NFL season, but the fantasy regular season is coming down the home stretch. With playoff seeding and last place very much still up in the air, let's see how your favorite Barstool personalities fared this week.
The Baseball Boys (4-4) 155.40, Hank (4-4) 85.30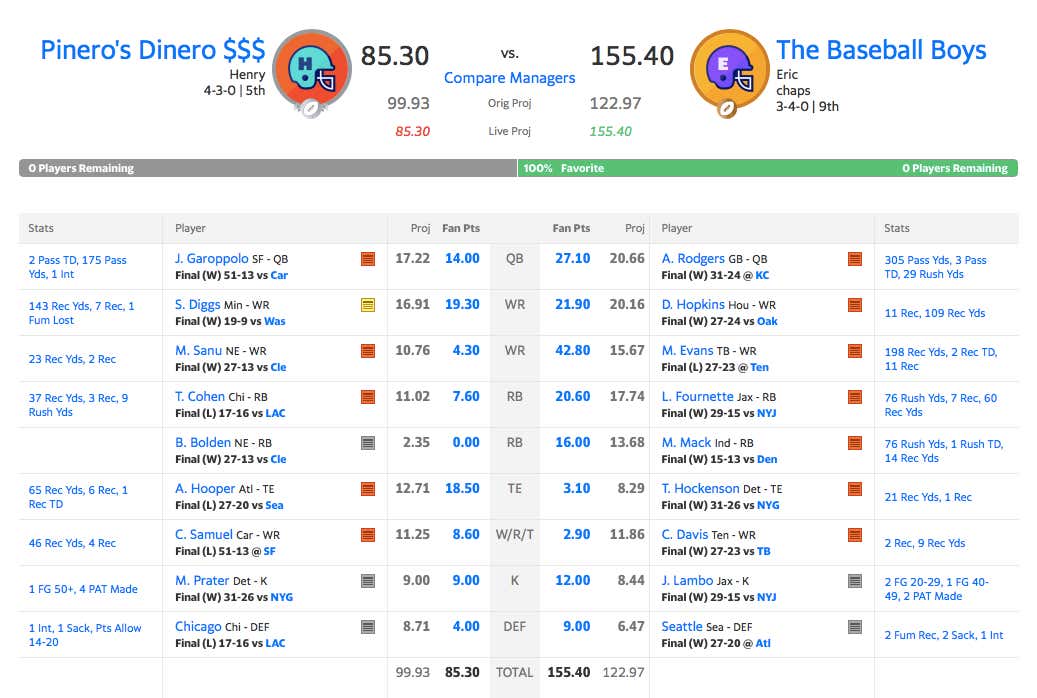 We talk on FFF nearly every week about Mike Evans and how he's the quintessential fantasy player that won't do anything for three straight weeks but you have to keep playing him for when he has a game like he did Sunday. Evans's 42.80 points and an additional 69.60 from Rodgers, Hopkins and Fournette led Hubbs and Chaps to the easy win and got them back to .500.
Breakfast Plus Balls (6-2) 123.72, Fran and Kate (2-6) 54.00
Balls is back. After a hiccup in Week 7, Glenny got Christian McCaffrey back and returned to form with a big win over Fran and Kate. Dede Westbrook and Brandin Cooks both having goose eggs didn't do the Frate Train any favors, but they probbaly wouldn't have changed the outcome of a 70-point loss.
Rone (4-4) 161.88, LCB (2-6) 120.30
Rone went into Sunday Night Football needing just a few points from Aaron Jones and Harrison Butker and got 47.60 to breeze past LCB. Derek Carr and Michael Thomas gave LCB nice production, but Jeff and KenJac didn't get mcuh out of the rest of their team as they stayed ina  tie for last place.
Pardon My Take (7-1) 127.38, Clem (3-5) 113.40
They did it again, folks. Big Cat and PFT Commenter rolled to their seventh consecutive win, this time taking down Clem on a week when he had a very solid performance. I'm starting to think the Fantasy Fuccbois schtick was a hustle this whole time to take everyone's money in this league. Playing the long con -- I respect it.
Team Portnoy (4-4) 128.96, Big Rat Walkbags (4-4) 97.68
This was a huge win for Team Portnoy to get a couple games clear of the cellar and back to the middle of the pack heading down the stretch. The Brady-Edelman connection was as reliable as it's been all season and DJ Chark and James Conner threw in 43.90 points for good measure. Larry Fitzgerald and Carlos Hyde just didn't have it this week for the Walkbags, as they drop to 4-4 as well.
Coley (3-5) 161.36, Smitty (5-3) 159.08
My guess is if you told Smitty on Sunday morning he'd score 159 points against 2-5 Coley, he'd have taken it and ran. Well, we all know fantasy football is a fickle mistress, and Smitty's 159-point performance wasn't quite enough, as Tevin Coleman's four-touchdown performance led Coley to the narrow victory. The big win gets Coley a game off the pace of having to do a 12-hour radio shift.
Team of the Week: Coley
Suckbag of the Week: Fran and Kate
Standings: