BlackJack and Lo Duca's Breeders Cup Day Two Cards
Day one at the Breeders Cup was a ton of fun. We hit some races early, put some money in the kitty and then pissed it all away late. Either way, it was a great day at a great track with unbelievable horse racing. Now, today, we face an enormous card with the best of the best in the world. I cannot wait to get started. Paulie is frothing at the mouth to get his bets in. It's going to be a scene. Let's do it.
LoDuca's Card:
Race One--(2)Don't Sell is my top choice, will also use 4,5,8 in exotics.
Race Two--(3) Roadster and (4) Flagstaff will decide this one, I lean to Roadster as Flagstaff may decline after a monster race.
Race Three–(6) Jais's Solitude is a solid long shot play here. Also use 1,3,7,8,11
Race Four–(1)Covfefe has a slight advantage over the 4 and 9. Lady Ninja (5) is not a bad long shot play.
Race Five–(9) Final Frontier is my play of the day. Love him. 1,2,4,10,11 are also plays on deeper cards.
Race Six–(5)Omaha Beach is the winner here. Also play (1) Giant Expectations and (8) Blue Chipper is a long shot play.
Race Seven–(2) Sistercharlie is the horse to beat. I'll take her with 4,7,9,10. (7)Vasilika is the main danger here.
Race Eight–Unfortunate scratch of the (9) Imperial Hint this morning. Top selection is (6) Shancelot, will also use 1,4,7.
Race Nine--Tough race to predict here. 3,6,9,10,11 are all playable on longer tickets, my favorites are 6,11.
Race Ten–(4)Midnight Bisou is the horse to beat, I'll try to do that with (1)Paradise Woods. Use 1,3,4,5,11.
Race Eleven–(9)Bricks and Mortar gets the single here. Using 1,3,5,8,10 underneath.
Race Twelve–(3)Owendale is my top choice here. Playing him over 5,8,9,10,11.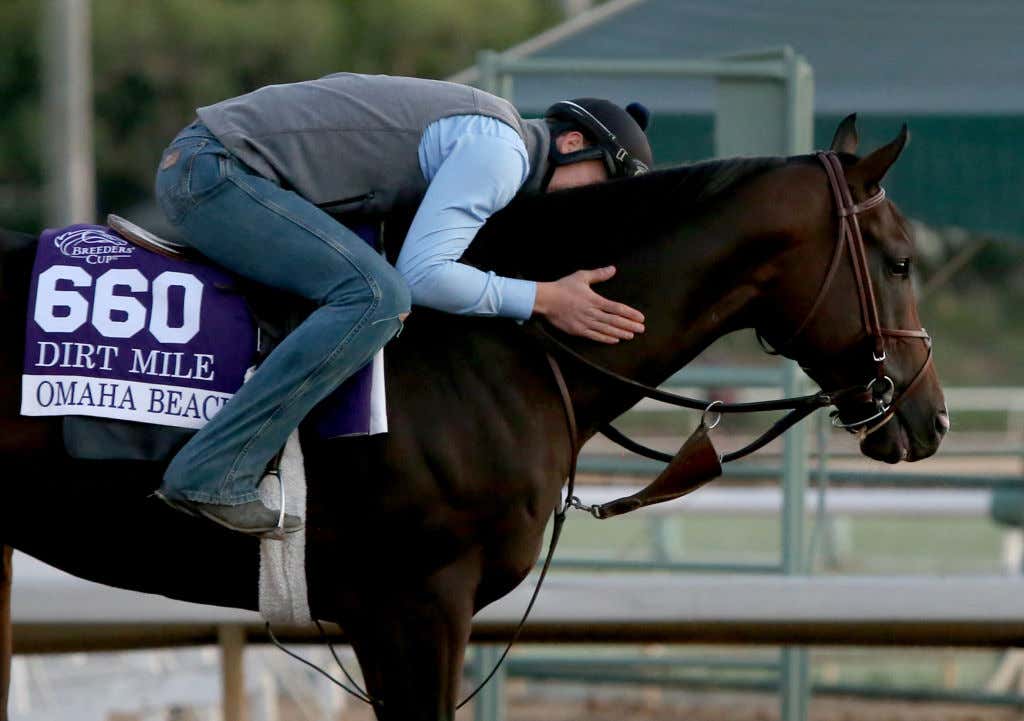 BlackJack's Card:
Race One: (8) Girls Know Best is my choice here. There are a couple of decent options, but she has performed well at Keeneland, Churchill and Gulfstream.
Race Two: (3) Roadster has been inconsistent in his young career, but this short field looks tailor made for him to waltz home.
Race Three: (10) Gray Magician has faced lesser competition than some others, but has performed well and has a nose for the wire. I'll take a shot here at 8-1.
Race Four (Breeders Cup Fillies and Mare Sprint): Covfefe is a deserving favorite, but if we are trying to beat the favorite, I kinda like the (8) Dawn The Destroyer. She's run well at Keeneland and Saratoga and has a good outside draw here.
Race Five (Breeders Cup Turf Sprint): (10) Eddie Haskell looks to be the top choice here and has the benefit of Joel Rosario on the mount.
Race Six (Breeders Cup Dirt Mile): Don't overthink this one. (5) Omaha Beach is the class of this field.
Race Seven (Breeders Cup Filly and Mare Turf): Tough to go against Chad Brown and John Velazquez, so I won't do it here, give me (2) Sistercharlie for the win.
Race Eight (Breeders Cup Sprint): I could make arguments for a lot of these horses and I will include many in my exotics, but if you're looking for one to cross the wire first, it is (4) Mitole.
Race Nine (Breeders Cup Mile): (6) Got Stormy has several quality European challengers here but seems to be peaking at the right time.
Race Ten (Breeders Cup Distaff): Again, don't overthink it. If (4) Midnight Bisou is at 75% she wins here.
Race Eleven (Breeders Cup Turf): A competitive race to be sure, but (9) Bricks and Mortar might be the Horse of the Year.
Race Twelve (Breeders Cup Classic): The Main Event of the evening is wide open. I like a lot of these horses and it wouldn't shock me to see Elate beat the boys here, but ultimately I like the way the race sets up for closer (5) Yoshida with Mike Smith aboard.
BlackJack's Early Pick Five: 2,3,4,5,8,9/2,3,4/3,8,9,10/1,6,8,9/10
BlackJack's Late Pick Five: 1,2,3,4,6/6,9,11,13/4,5/9/3-11
Let's cash these tickets baby!