Barstool's Champions League Preview – Matchday 4a aka Big Yuge Day for Teams America
Sam's Soccer Safe Space For Stoolies
Hi haters,
Hoooooooooooooo-WEE there is some great soccer coming up today and tomorrow, including the latest greatest Champions League battle between our beautifulest baby boy…
…and our newest beautiful baby boy
But first a little babymaking music to get you in the mood:
***********************
CHAMPIONS LEAGUE
Reminder of what happened on matchday 3:
Group tables as things stand right now:
This week's games will mean we are past halfway mark of the group stage, meaning clubs that find themselves in 3rd or especially 4th place have very little wiggle room left.
As for the games on deck, this is what we are looking at this week: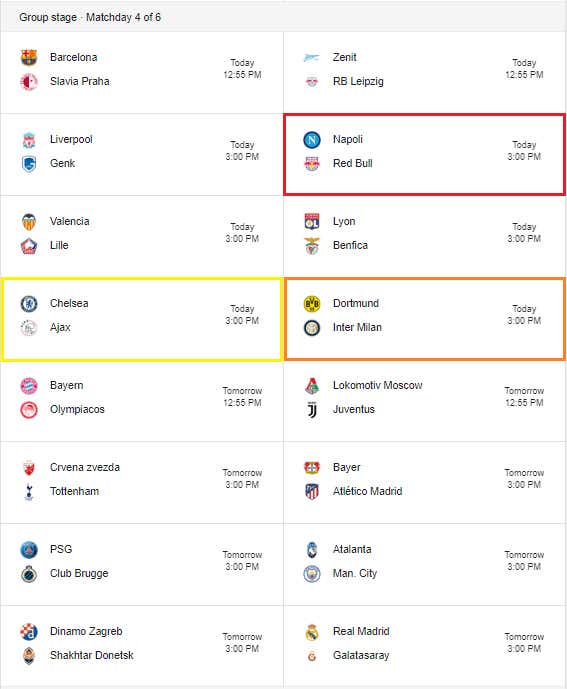 ***
TUESDAY'S PICKS
Napoli [-130]
RB Salzburg [+290]
Draw [+320]
The "fun" thing about matchday 4 is it is all the same matchups as matchday 3 but at the other club's stadium (aka what eurosnobs would call the "reverse fixture"). Napoli walked into Salzburg's home a couple weeks ago and pulled out a massive 3-2 road win. The game was highly entertaining and highly competitive. I predicted before the group stage that Salzburg would find a way to advance out of the group and they pretty much have to win today to make that happen… so I'm sticking with my guns and going with Jesse Marsch and the deadliest large-mouth bass this side of Marek Hamsik

Actually probably deadlier tbqh
Salzburg to win (another) 3-2 thriller.
**
Dortmund [+105]
Inter Milan [+250]
Draw [+240]
MASSIVE game for deciding who is in the driver seat for getting out of the group behind Barcelona. Both clubs have looked good in league play so far and in fact – don't tell either of them but – they each have a decent shot at knocking off their dominant domestic bugbears (Juve for Inter and Bayern for BVB) this season… and crashing out of the Champions League might actually help. Suffice to say neither club is thinking about that at this point though.
Dortmund and Inter both have tons of attacking talent, which for a change is mostly healthy this week, but Ze Other Germans have put together a recent track record of close, low-scoring games at the Westfalenstadion. Inter won the last matchup but they were in no way dominant so I'd expect another tight one. I'll say 1-1 draw leaving it all to play for in the two last group stage games.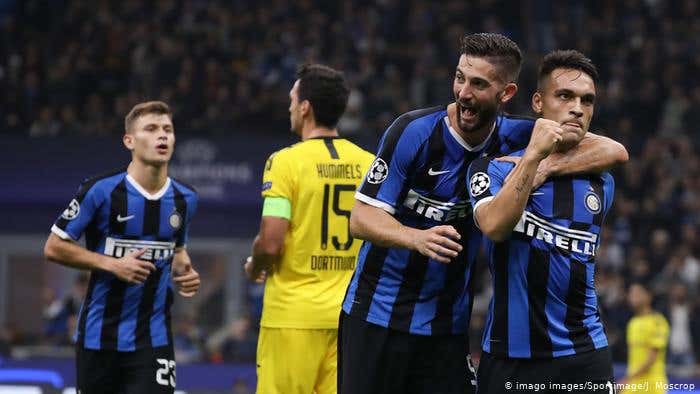 Note: a draw would be a small win for Inter since they have Barcelona at home in the last matchday when Messi & Co. may have already qualified for the knockouts
**
Chelsea [-125]
Ajax [+300]
Draw [+265]
MERICA (Pulisic) vs MERICA (Dest). Chelsea have been killing it lately and a lot of people look pretty dumb for saying they would struggle this season (*cough*)… however, the funny thing about this game is that two losses in a row and suddenly the club is in turmoil, the dressing room is in disarray and the sky is falling so let's hold off on sucking anybody's D just yet.
The thing about Ajax is they are about as consistent as any club in the world. They may not have that 5th gear that clubs like Liverpool and Man City have but they are perpetually in 4th gear, which is plenty good enough to beat just about anybody they play – especially if they have an off day – and, importantly, that holds true whether they are at home or on the road. Which is a relevant segue for what I have been saying about Chelsea from day one: they are young and talented, which [usually] means some great performances and other unexpectedly bad games. They have been riding high for… well… what feels like forever at this point since the 0-1 home loss to Valencia on matchday 1 of Champions League. They have to lay an egg sometime, they just have to. I'm going with Ajax to win 2-1, which suddenly becomes a STONE COLD LAY YOUR 401K LOCK if Lampard is a dummy and sits The Babyjesus.
**
Some additional picks to increase the statistical chances that I eventually get one right maybe:
• Liverpool 2-1 Genk – Liverpool looked lethargic af against Villa this past weekend and if they were playing on the road I would say Genk may just shock the world… but at Anfield? Meh, perhaps Genk will simply surprise the world and keep it close.
• Valencia 1-2 Lille – Ballllllllllllenthia got a little lucky to win the reverse matchup and are without a handful of starters due to injury. Lille for (+325)? Yes, please.
• Lyon 2-0 Benfica – I think I'm probably biased because I watched Lyon against RB Leipzig in the first matchday and was really impressed by them… I'm not sure they are really THAT good and only an idiot would bet against a Portuguese side in Champions League butttttttt, yeah, I think we both know about my mental shortcomings by now.
*****************************************
Reminder: More Champions League tomorrow.
Holler,
Samuel Army