College Football Gambling Primer (92-75, +8.55 Units) Presented By PointsBet: Week 11
Schedule by @TrigDraws: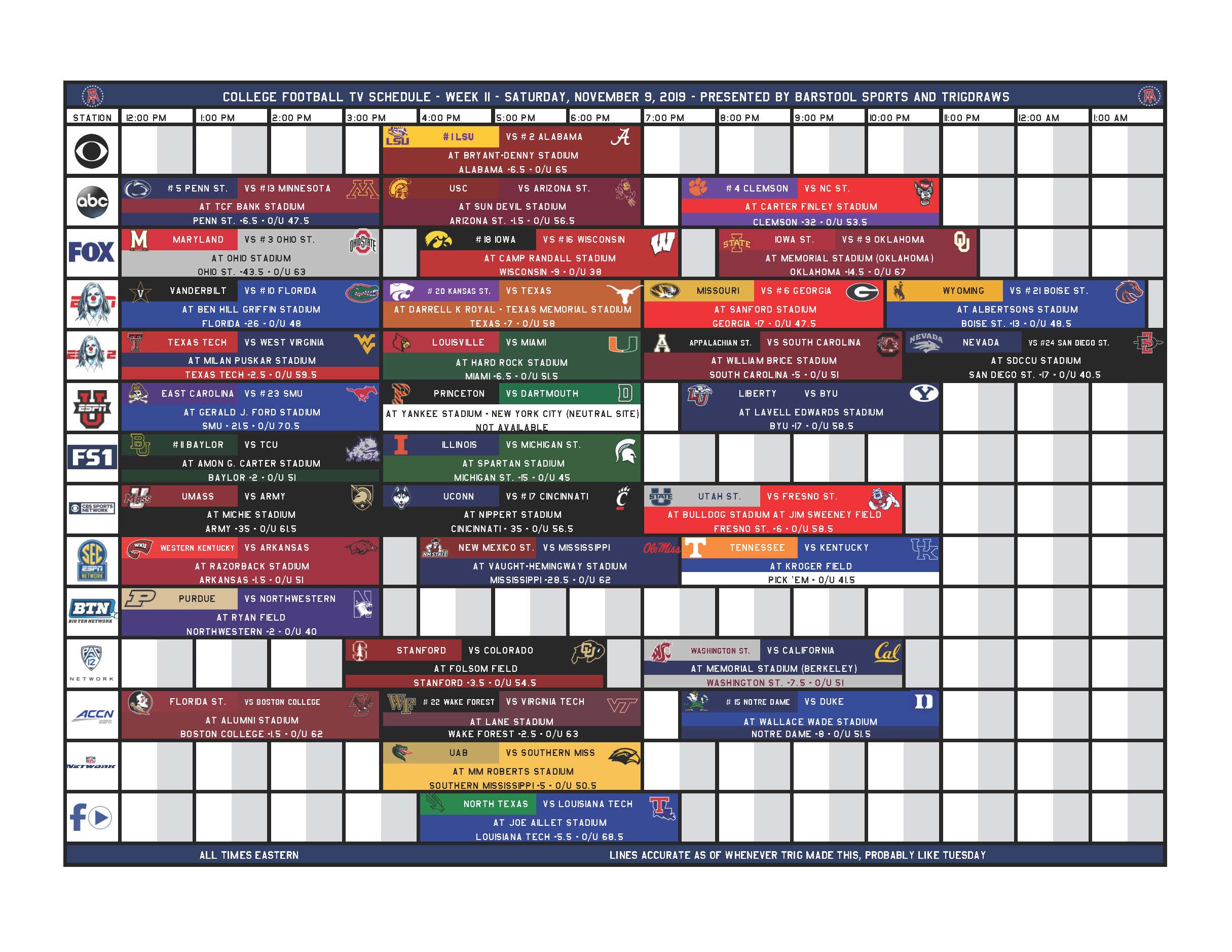 If you are in New Jersey and looking for a book to bet with this season, check out PointsBet.com.
Special offer: deposit $10 and receive $100 in bonus bets. 
PointsBet also has Barstool's First Touchdown promo for college football: Place a moneyline bet on select NCAA games, and if your team scores the first touchdown of the game, you win, even if your team goes on to lose! Three weekends ago, LSU bettors were paid out just five minutes and five seconds into their game against Florida.
AND, if you're not in New Jersey, you can play PointsBet's Pick6 game online, where they're giving away up to $25,000 a WEEK. All you have to do is pick six football teams you think will win that week. You can go to pointsbetpick6.com to play.
Picks:
Alabama -5.5 (2 units)
Oregon State +10 
Vandy +27
FSU +2.5
Maryland +43.5
Tennessee +1
Northwestern -2
UConn +35
UL-Monroe +2.5 (-105)
Georgia -16.5
NC State +33
Liberty +17
Old Dominion -3
2019: 92-75, +8.55 units
2017-2018: 188-150-2 (55.6%), +23 units
Barstool Gambling Standings:
Oregon State's offense has quietly been one of the best in the country, ranking 8th according to FEI. The Beavers are a surprising 4-4 on the season and a win against Washington on national TV would add momentum to an already phenomenal season. Washington has their worst defense in ages and after falling to 5-4 last week, it's going to be hard for them to get up for this one. 
Pick: Oregon State +10
It's simple to me. You have an overhyped team strolling into Tuscaloosa going up against the future #1 pick in the NFL Draft and Nick Saban.
5.5 points is a gift. This is one of the rare situations that arise as a college football bettor: getting BIG value on Alabama thanks to the public. 
Tua is going to be healthy. LSU is a team that allowed 37 points to Sam Ehlinger! Alabama's skill position players are about 500x better than what Texas trots out there every week. 
Is Alabama's defense as good as it has been in the past? No, but it still ranks in the top 10 in all defensive metrics. 
Give me the Tide. 
Pick: Alabama -5.5 (2 units)
Am I a bit concerned about the whole coaching situation, but in all honesty, I think this may help Florida State. They are going to come out playing with nothing to lose. 
FSU is a much better team than Boston College. They rank 47th in FEI and BC ranks 69th. In SP+? FSU ranks 51st and BC ranks 60th. 
I'm going against BC in the Red Bandana game, which hurts me to say, but I still think FSU comes out with a victory on Saturday. 
Pick: FSU +2.5
Kelly Bryant looks to be out for this one. If he plays, he'll be far from 100%. This game smells of a Georgia blowout. The offense looks to be hitting on all cylinders, while a very disappointing Missouri season continues. 
Pick: Georgia -16.5
A letdown spot for Florida? Plus, we have a Vanderbilt team that played Florida tough last year? The Commodores getting 27 is a must. 
They deserved to cover last week against South Carolina. It's been a different Vandy team since their win against Mizzou. I'm still a believer in Derek Mason. 
Pick: Vandy +27
Maryland is just not that bad of a team. They rank 63rd overall in SP+. They have every ability to keep this game within 43.5 points. I love this play even more with the controversy stirring in Columbus. 
Pick: Maryland +43.5
I'm doing it again. I'm taking Northwestern. I'm going to go down with this sinking ship. Sure, they may not have scored a TD in 44 drives. I don't give a shit. They are better than Purdue. 
Pick: Northwestern -2.5
Connecticut. UConn. Huskies. Fight. To. Victory. Fight. Fight. Connecticut. It's. Victory. Let's. Go. 
Cincinnati is a simple team. They play up to their competition and also play down to their competition. UConn finds a way to keep this within 3 scores. 
Pick: UConn +35
What Jeremy Pruitt has done with this Tennessee team has been a delight to watch. A team that seemed down and out after the loss to Georgia, Tennessee has turned it around and won 3 of 4, with their only loss to Alabama in a game that might be the Tide's biggest scare so far this season. 
This is a big game for the Vols. A win would put them in a great position to make a bowl game, which would be a huge deal for this program. The momentum is there and all they have to do is beat an overrated Kentucky team that is starting a WR at QB. 
Pick: Tennessee +1
Do I wish I was getting 35 in this spot? Yeah, of course, but I am still going to be supporting the Wolf Pack in this spot. Clemson has Wake Forest next week in their biggest game of the season. This one is pretty much NC State's Super Bowl. It's a night game. The students will be out. It will be rowdy. 
Pick: NC State +33
The wrong team is favored alert! The wrong team is favored alert!
Georgia State has had a great season, but they do not deserve to be favored on the road against close to anybody in the country. They are a bottom 30 team according to SP+. 
A win this weekend for the War Hawks leaves the door wide open for a bowl game berth. I see them winning outright. 
Pick: UL-Monroe +2.5 (-105)