College Basketball Gambling Primer Presented By PointsBet: 11/21, Tournaments Are Finally Here And We Can Gamble For 12 Hours
If you are in New Jersey and looking for a book to bet with this season, check out PointsBet.com. If you're in NJ, sign up with code BARSTOOL and when you deposit your first $10, get $100 in Bonus Bets.
YTD: 5-11-1 (Yikes, long season, but yikes)
Picks
Over 140.5 Villanova/MTSU
Ohio +14
Missouri State +8
Under 147.5 Florida/St. Joe's
UConn -3
Texas -5
Washington State -7
Tournament Time: We're entering one of the best times of the year, the first time we have a bunch of daytime hoops. So that said, these blogs will be going up in the morning and I'll update if something changes (as news will come out closer to tip time, etc). I'll also update anything on my Twitter (@barstoolreags) and be talking about hoops there. Just know how close we are to Bill Walton high as hell in Maui. I'll talk a little bit about the major tournaments going on and some picks.
Myrtle Beach Invitational 
Bracket: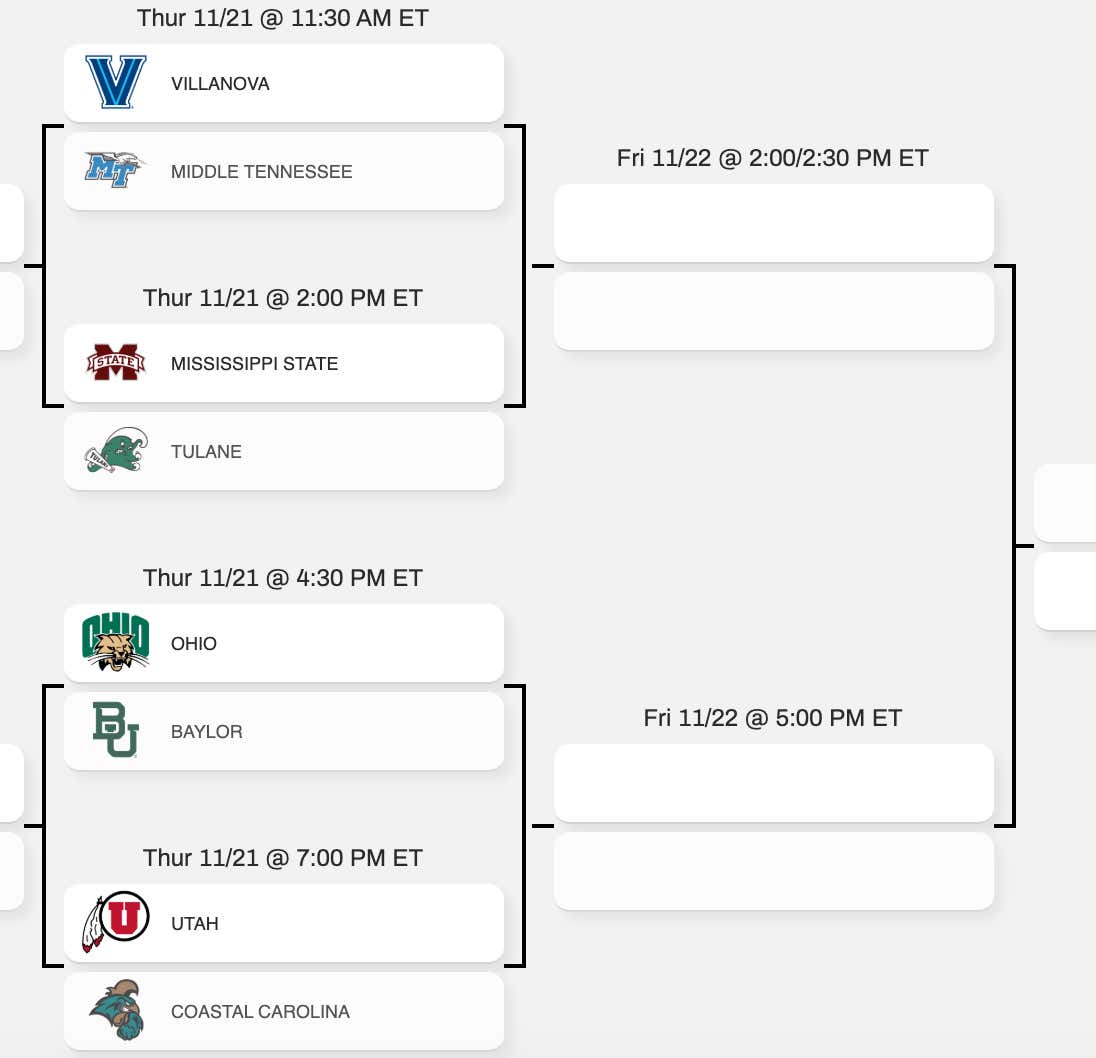 Thoughts: Kind of a gross tournament if it doesn't come down to Baylor vs Nova in the title game. The biggest intrigue here is just what we see out of Bryan Antoine - the star freshman for Nova who was just cleared to play. I don't expect much, but with Jay Wright you never really know. Mississippi State probably has the most to gain here with a good showing. The SEC really needs it, they have a NBA type guy in Reggie Perry. 
This goes against almost everything that I love with early games which is bet the under, bet the under, bet the under. You know why? Both teams give up a ton of look from three and defend it average while both teams shoot a ton of threes above average. Both teams rank in the top-36 in the country in 3pt percentage and there should be a ton of looks there. With that number being 141.5, it's a bit nervous with the 11:30 start, but the fact that you're looking at similar teams here. We'll take it. 
Pick: Over 140.5
I do like this Baylor team. I think they win this game. However, Ohio is a unique team in the sense of they want to take a ton of time off the clock offensively and then defensively they pack the paint and make you shoot threes. That's Jeff Boals at Stony Brook and really the Stony Brook way. They defend inside the arc at an above average rate while giving up a ton of looks from three. Baylor is a much better shooting team this year than most Baylor teams, but if you're giving me 14 with a team that wants to shorten the game I'll take the points. Plus, I don't know how healthy Tristan Clark is yet. 
Pick: Ohio +14
Charleston Classic Picks
Bracket:
Thoughts: I'm actually wildly intrigued by this tournament. Florida, a consensus top-5 team before the season started now has 2 weird losses and looks lost. Most of it is the fact that Mike White has them playing way too slow and they aren't making shots. That's the difference. Xavier meanwhile is a consensus top-20 team and still are shooting the ball like shit. The other weird thing here? There are going to be a ton of chances for rematches. UConn has played Florida and St. Joe's already. Florida has also played Towson. Xavier has already played Missouri State. Not sure how this scheduling worked out, but here we are. 
I mentioned that Missouri State already played Xavier and honestly they probably should have won that game before losing on essentially a flopping technical foul call. Miami has looked better since the opening night loss to Louisville. Here's what I'm looking at here. Turnovers are going to decide this game. Miami takes care of the ball as well as anyone in the country (5th in TO%), Missouri State wants to turn you over and run that way (69th in TO% defensively). MO State is also terrible at taking care of the ball, a real concern in the halfcourt. Tulio de Sousa hasn't had the best start to the year for Missouri State, but he's someone that can break out during this tournament. Again, Missouri State wants to slow the game down when they are in the halfcourt so let's take the points. 
Pick: Missouri State +8
We're going to call this a prove it game. Until Florida can prove it can make shots we're going to take the under here. You know why? The Gators can still defend their ass off. They'll run man and they also run a 1-3-1 zone with Scottie Lewis up top that can be disruptive. If that's the case, as much as St. Joe's really wants to push the game and tempo, it can slow teams down and run clock. If Mike White adjusts and lets this team run we'll be on the wrong side. But, again, show me it happens first. 
Pick: Under 147.5
Yes, I'm a bit terrified of UConn playing after the Florida game and a letdown spot. However, this UConn team does have talent and it's getting better with the addition of James Bouknight. I actually think that win vs Florida is a huge mental thing for this team and something that Danny Hurley has been trying to preach. This program has been too used to losing and needed to see something like that. Both of these teams want to play incredibly fast and I trust UConn taking care of the ball a bit more.
Pick: UConn -3
2k Classic Picks
Thoughts: Duke gets to play Cal. That doesn't need to be talked about. I was super high on this Texas team coming into the year (giving out an over on their team total) because this feels like a true Shaka Smart team finally. They have a hell of a backcourt with Andrew Jones, Matt Coleman and Courtney Ramey. Between them, Duke potentially blowing out two opponents or Georgetown getting right these two games could be real good. 
So I mentioned just previously about how this feels like a Shaka Smart team. The one thing I didn't mention yet is the fact they added Luke Yaklich, who might be the best defensive-minded assistant coach in the country. It's already paying off as Texas has the 13th best defense in the country. Well guess what they have here? A Georgetown team who has been running its offense through Omer Yurtseven because James Akinjo has gotten off to a slow start and Mac McClung is still erratic - he can give us a monster dunk highlight or dribble the ball off his foot and take a kid out in the front row. Give me the team that can create havoc defensively. 
Pick: Texas -5
Other Games
Washington State is a bit undervalued to me, but I also might just be that big of a Kyle Smith fan. Here's the other thing. Omaha is coming off a weird swing of road games. They were at Colorado State, then traveled to Dayton and now head back out to Pullman. This is all within an 8 day stretch and that just has to lead to a weird feeling. I also don't know how Omaha can slow down CJ Elleby, he does a little bit of everything for Wazzu and with Kyle Smith there he's only going to get better.  Pick: Washington State -7