Barstool's Weekend Soccer Preview – The "Not Yo Daddy's Tot'num (f/t City vs Chelsea)" Edition
Sam's Safe Space for Soccer Stoolies
Hi Haters™,
What. The. Fook. Just. Happened?
It has been three days since the sudden and unexpected regime change at Tottenham Hotspur Football Club and suffice to say I have yet to fully come to grips with everything. I don't know what stage of grief I am in at the moment. I don't even know how many there are. But instead of rehashing it all you can go back and follow the breaking of my brain in real-time by reading through my twitter timeline.
I also spent about 10 minutes sorting through the rubble of my emotions on this week's podcast so check that out if you want to follow the quick and dirty path from rage to drunk on the Jozay kool-aid.
But the show much go on and there is a lot more going on – involving far more in-form teams – this weekend now that soccer (unlike daddy) is coming back. So let's take a peek under the hood at what to look for and who to wager your 401(k) on…
***********************************
ENGLISH PREMIER LEAGUE
Results from last weekend:
***
POWER RANKINGS
TOP 4
1. Liverpool
2. City
3. Lester
4. Chelsea
Honorable mention: Sheffield United, Arsenal, Other United
BOTTOM 3
20. Norwich
19. Southampton
18. Watford
Dishonorable mention: Burnley, West Ham, Everton
***
The table as things stand:
***
And this weekend's schedule: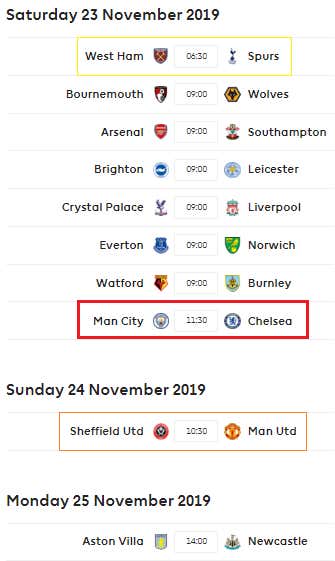 ***
PICKS OF THE WEEKEND
City [-250]
Chelsea [+540]
Draw [+400]
What Chelsea has done so far this season is legit impressive, and is making the preseason haters (*cough*) look like big dumb idiots… having said that, I'm not yet fully sold on them just yet. However, whatever lingering doubts I have would officially be removed if they walk into the Etihad and pull out a win on Saturday. In fact if we are in the trust tree I kinds love the Blues at these odds – big time value play – especially if the N'Golo Kante and The Babyjesus are back in the XI. Also, I probably haven't talked enough about it but Tammy Abraham has been an absolute beast this season. Given all that and City's second-choice CB duo… I think I just talked myself into picking the upset. Wait, nope, can't do it. Pep's Peeps are coming off the kind of loss at Liverpool that will have them fully fired up and looking for blood. These are the games that often come down to experience, which only one team has at this point. City to win 2-1.

Wait, is it too late to change my pick?
**
UPSET OF THE WEEK
Sheffield United [+255]
Other United [+115]
Draw [+210]
Sheffield Utd are small but mighty. The wee buggers have fully bought in on manager Chris Wilder's system, which involves defending as a cohesive unit (I know that sounds cliché but it's interesting to watch from a tactical cam as every outfield player is always switched on and constantly in motion) and the kind of work ethic that was once a calling card of Pochettino's Tottenham (ripip). The Blades have conceded only nine goals in 12 games, which is better than Liverpool and just one more than Lester. Add to that their aesthetically pleasing pass-and-move style on offense with overlapping wing backs being a real force (a little like a Liverpool Jr.) and the end product is a team that can and will give anybody problems.
Yeah, I get it. Other United are technically "favorites" but I don't really care what the bookies say. Picking the Red Devils to win on the road against a top five opponent is an upset any way you slice it these days. I'm doing it because I think they are a different team with Anthony Martial back in the squad. Neither team scores a ton and one of them has been lockdown on defense so it sounds like a low scoring affair on paper… but I'm rolling the dice and going with a (relative) offensive explosion from the visitors. Other United to win 3-1.
**
WTF OF THE WEEK
West Ham [+320]
Tottenham [-140]
Draw [+305]
Big fax: I wouldn't fuck with this game using your dick. I have no idea what to expect from Spurs. Dead cat / new manager bounce? I don't know. I'm too confused by the whirlwind of events, and unsure about whether my guarded optimism is based on actual analysis or simply gulping down the Kool-Aid. So if you got any sense in your head you should pretend you're a hot girl and this game is me and ignore the hell out of it… that is from a gambling perspective though. From a soccer perspective this game (and probably most games for Spurs) will be absolute must-watch. Will it be time to dust off the wheel? TBD. I say no. As bad as Tottenham have been, West Ham have somehow been worse. Jozay's Spurs to win 2-1.
**
Some more predictions (to increase the possibility that I eventually get one right – maybe):
• Bournemouth 1-1 Wolves – tale of the tape saysssssssss…
*Spiderman pointing meme*
• ARSENAL 2-0 Southampton – sneaky big game for Arsenal. Spurs just made bold moves to try and pull out of their tailspin, so a good performance by them and another egg from the Gunners will only intensify the pressure on the team and especially Unai Emery. Good thing Southampton might as well have slumpbuster tattooed on their forehead.
• Brighton 1-1 Lester – Just going with my gut on this one (fade me harrrrrrrd). Lester are some sneaky little Foxes but Brighton are actually quite good at home.
• Palace 0-2 LIVERPOOL – The Reds have shown some slight wobbles lately, but they are only visible if you are going out of your way to look for them. Fact is they are good. Really good. Steal yo girl good.
• EVERTON 2-1 Norwich – Team Pukki has been more absent than my father lately but showed up in a big way to help Finland qualify for the Euros over the international break… maybe that will be a reset of sorts for the Canaries? Not counting on it. And still married to my (increasingly far-fetched) hypothesis that Everton really aren't THAT bad.
• WATFORD 2-0 Burnley – Yet another MUST-WIN for the Hornets if they want to crawl out of the hole they have dug by winning precisely zero of their first 11 games. They broke that streak last gameday and get Troy Deeney back in the XI this weekend, plus our guy Jay DeMerit will be in attendance. PRAY FOR BURNLEY!
• VILLA 2-1 Norwich – nice little SURPRISE Monday afternoon game to ensure there is something to hinder our productivity at work. Villa are on a three-game losing streak while Newcastle have only lost one of their last five. That said, Steve Bruce is probably going to continue to misuse Miggy Almiron despite suddenly reverting to a top class winger for Paraguay in the international break. What a buffoon. Villa are desperate for points so I'm going with them, but if Jack Grealish is still hurt and not available then a draw might make some sense.
***********************************
MLS
Thots on Chicago Fire's new logo:
***********************************
LAP AROUND THE WORLD
ITALY: 7th place Napoli visit 14th place Milan on Saturday (11am CT) in a big time pillow fight with both clubs in turmoil… but in terms of quality you can't do much better in Serie A than perennial 1st place Juventus heading to 5th place Atalanta (8am CT) just before it.
SPAIN – 2nd place Real Madrid hosting 5th place Real Sociedad on Saturday (2pm CT) is best of the bunch.
GERMANY – Boooooooooooooring weekend… but it got started off with a big bang as LAST PLACE Paderborn ran out to a 3-0 halftime lead at Dortmund. Rest of the weekend is a bit of a yawner on paper but if you are gonna watch something you could do worse than 8th place Bayer hosting 4th place Freiburg on Saturday (8:30am CT).
***********************************
So there we have it. Interesting weekend. Champions League is back next week. Stay safe, kids!
Holler,
Samuel Army