Every Last Fucking Thing You Need To Know About Tonight's Boxing Card In MSG (NSFW, my picks and unnecessary sex-tape joke included)
ESPN is hosting a triple-header tonight at Madison Square Garden... AND IT'S FREE!!!
The 3 main events are set to start at 9 PM ET, immediately following the Heisman Trophy presentation.
First up, it will be the most interesting storyline of the night as Mick Conlan from Belfast is set to square off against Vladimir Nikitin.
Mick is a young (28 yo) Featherweight who is widely considered the greatest amateur boxer to ever come out of Ireland.  The biggest controversy of Mick's career is that he got FUUUUUCKED in the 2016 Summer Olympics in Rio by some corrupt judges, leading Mick to flip them off...
...and then go on an expletive-ridden tirade immediately after the match.  
I won't give you the whole rant, but I think that little expletive-free 15 seconds shows you how an adorable Irish accent makes even the worst scenarios maybe 25% better.
After that crushing loss, Conlan abandoned the amateur ranks altogether in disgust and has since built himself a 12-0 professional record with 7 KOs AND the WBO Intercontinental Featherweight belt (IC belts mean nothing over here, but it's probably nice for him to have).
The opponent in that tainted Olympic bout was a young Russian that Mick hurt so bad, he was unable to continue in the games.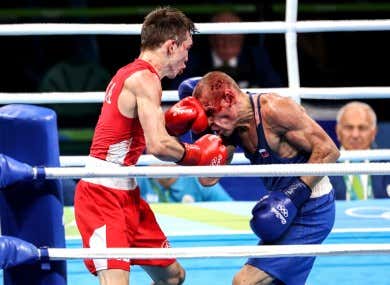 That same young Russian that Mick "lost" to in the match was named Vladimir Nikitin.
Vladimir Nikitin is Mick's opponent tonight... BOOOM!
We had Conlan in the studio for Barstool Breakfast this week (looking like he stepped out of the background of an emotional U2 video), and he legitimately feels like Nikitin is directly involved with crushing his dreams for Olympic gold.  So Mick is hyper-focused on crushing Vladimir's dream of walking out of the Garden tonight with a win.
This one will be ugly, but I am not sure it'll be over early because Nikitin strikes me as one of those Russian anvils you could just pound away at like some random broad in a grainy Nantucket sex tape... 
Conlan will get the eventual KO against a much less professionally experienced Nikitin (3-0), but I would take the over on 6 rounds.
The second fight up tonight will feature IBF Lightweight World Champion Richard Commey (29-2, 26 KOs) defending his title against human highlight film, Brooklyn native, and another friend of Barstool Breakfast - Teofimo Lopez (14-0, 11 KOs).
This would be Teofimo's first shot at a real belt, and there is a lot of buzz around this young man and his ability to be a star in the division for a long time.
Commey however, is a more-than-competent champion who makes this fight a coin-toss in my mind.  Teo was confident when he told me he would knock the champ from Ghana out, but I could see this one going the distance.  Unfortunately, I could also see this one going in the champ's favor if it goes to the cards.  So I will take the underdog champion here... Even though both fighters are KO specialists (collectively 37 KOs over 45 fight), I will take Commey by a split.
And now the big ending...
This last preview will be quick because it looks to me to be the least competitive fight of the night.
I think the top 3 pound-for-pound fighters in the world right now are...
1. Vasiliy Lomachenko
2. Terence Crawford
3. Canelo Alvarez
And tonight Terence "Bud" Crawford (35-0, 26 KOs) and Egidijus "Mean Machine" Kavaliauskas (21-01-1, 17 KOs) collide for the WBO Welterweight Championship in the main event of this triple-header.
I have only seen limited tape on Mean Machine, including a controversial DRAW in his last fight, and I can say this scrappy Lithuanian has NO SHOT to stay competitive with Terence, once Crawford figures him out.  That'll probably take 4 or 5 rounds so I will take Crawford by KO in under 6.
If there is ANY drama surrounding this main event bout it's that Crawford is now in a position where he has to PUNISH all of these second rate competitors like Amir Khan or Kavaliauskas in order to get a shot at the real competition that lies in his stacked welterweight division... Errol Spence, Shawn Porter, Keith Thurman, Manny Pacquiao, and Danny Garcia all work with Premier Boxing Champions, and PBC has shown zero interest in making a deal for their boxers to take on Crawford, who's promoted by Top Rank and who is arguably quicker-to-the-punch than every name I just mentioned.
I will be at the Garden tonight with the Breakfast crew in VERY good seats (no biggie), so stop by for a beer if you see me.
Otherwise, enjoy the fights, and take a report.
-Large