What College Basketball Teams Are Even Good This Year? A Reags Investigation
I saw this tweet going around this morning and wanted to get into it. It's a slow week in the college hoops world right now with finals and teams playing essentially 1 game during the week. It's the biggest storyline in college hoops this year. There are no great teams. I talked about it quickly earlier this year, but want to go more into it: 
Just for comparison's sake, here's the preseason AP top-25: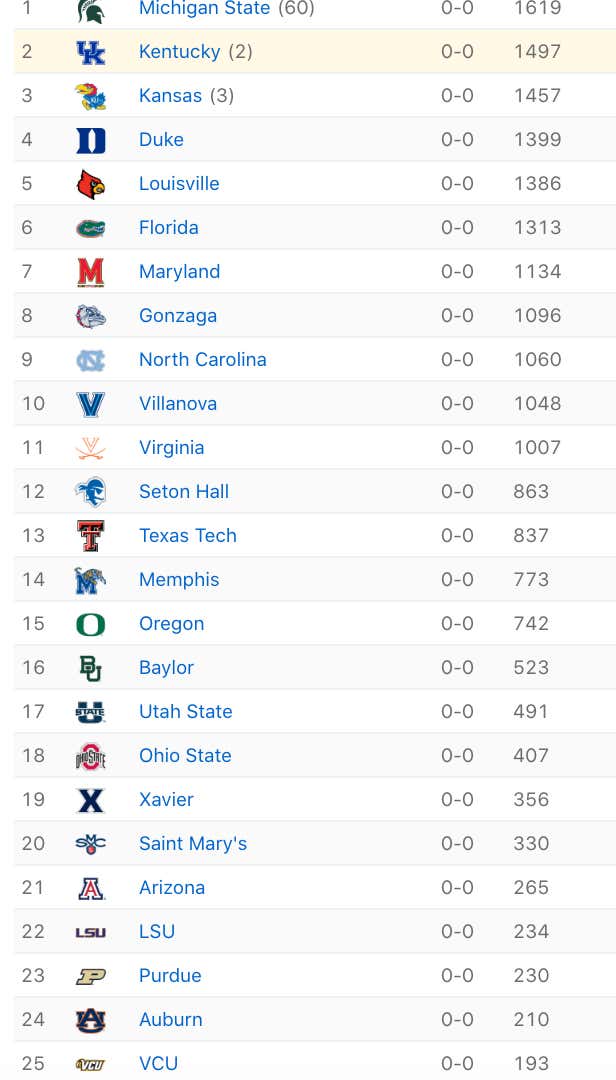 And here we are this week:
As you can see some DRASTIC movement all around the rankings. So what we're going to do is look at the current top-10, figure out who is good, who can be good and who you shouldn't trust at all. I've said it before so I'll say it again. A year like this is awesome every so often. Granted, we're watching bad basketball this year - this is what happens when a bunch of upperclassmen leave for the pros and a weaker freshman class comes in and the top talent are on teams that won't compete. The years when we have the dominant teams make you truly hate/love those programs and then this year just gives us craziness. It's why college hoops is awesome. I do agree with the statement though. No one ranked this year would be one of those Elite Eight teams last year. The teams that are ranked in the top-5 are more 10-15 teams on a 'normal year.' That's part of the reason as to why we're seeing so many upsets and why it seems so crazy. 
We'll label the top-25 programs as 'good now', 'potential to be good' and 'I have no faith in.' We'll group them and I'll talk a little bit about why they are there. Let's get into it: 
Good now 
Gonzaga, Kansas, Baylor, Louisville, Ohio State, Oregon
Potential to be good
Kentucky, Duke, Maryland, Memphis, Dayton, Arizona, Butler, Villanova, Michigan, Auburn, Washington, Texas Tech
Teams I have no faith in
Michigan State, Virginia, UNC, Tennessee, Florida State, Penn State, San Diego State, WVU
Gonzaga - To me this is the best team in the country right now and that's mostly due to the development of Josh Ayayi and Ryan Woodridge. Woodridge is a transfer from North Texas and not only is he shooting 55% from three, he hasn't looked lost defensively. Ayayi is the type of dude that Gonzaga needs - he's that athletic wing that can attack the glass, shooting 40% from three and is a playmaker - in the same sort of mold as Zach Norvell. Throw in stars like Corey Kispert and Killian Tillie and this is the best team in the country. The biggest concern I have is defense, especially in the PnR. 
Kansas - Two main reasons that I think Kansas is good now. First, Devon Dotson looks like the best point guard in the country. He came in as a 5-star last year and just needed a year to really adjust to the college game. This year? He's been damn good. The other reason? They can go small and they are embracing it. The transfer of Isaiah Moss has saved this team because they can go 4-out and let Udoka Azubuikie do what he does best - eat in the paint. I do still have concerns about Azubuike defending on the perimeter but he has gotten himself in better shape. I don't love when they play two bigs together just because it clogs the lane.
Baylor - I love this Baylor roster. They need to get Tristian Clark healthy, but their guards have been unbelievable. They can compete with Kansas in the Big 12 and should be viewed as a title contender (hint for futures). This is a team that can kill you from three and already have wins over Arizona, Butler and Villanova. Plus, throw in that zone that Scott Drew runs and Baylor will always be strong defensively.
Louisville -  There are two glaring problems here. They don't have a point guard that can play right now. Darius Perry isn't the answer, Ryan McMahon is better suited playing off the ball and Fresh Kimble is a transfer that is turning the ball over way too much. The other is they don't have a playmaker that can beat people off the dribble. That's not Nwora's game as he's getting buckets through cuts and passes out of the post. They do have arguably the best player in the country though in Jordan Nwora and Chris Mack is a top-10 coach.
Ohio State - Yes, they just lost to Minnesota but remember this was without Duane Washington, who is so damn important to what they want to do offensively. Kaleb Wesson has looked like an All-American and the biggest thing will be the continued development of DJ Carton. I do worry they don't have true top end talent as that tends to win in March, but Carton can get there. They have a bunch of wings that can switch everything and get after you defensively and this is one of the best shooting teams in the country.  
Duke - The reason they are in 'potential to be good' is they still have that glaring loss to Stephen F. Austin and the win over Michigan State doesn't look as impressive now. Tre Jones is what we all thought. The biggest thing has been the play of Vernon Carey this early. The dude is a stud and figured it out a month before most people thought he would. They still need to figure out wing play. Cassius Stanley/Wendell Moore should get there and if they do they can then hide Matthew Hurt defensively. 
Kentucky - Same sort of thing here with Kentucky and Duke. They have the glaring loss to Evansville and the win over Michigan State doesn't look as strong. But, this is a John Calipari team. They just get better as the year goes on. One thing to remember is this is the most injured team in the country. Immanuel Quickley, Nate Sestina and EJ Montgomery have all missed games and Ashton Hagans has been hurt earlier in the year. If Tyrese Maxey can become more consistent, this is going to be a favorite for the title.
Maryland - I've talked about it before, but their biggest weakness is Mark Turgeon. How many times have we seen a Turg coached team with talent just be a 4 seed and lose in the Sweet 16? He needs to remember to keep starting his best five - something he did against Marquette and they looked the part. They shoot a ton of threes but don't shoot them well - however, this is the best defensive team that Turg has had. 
Virginia - This is the Virginia team that the casual fan thought of the last 5 years. They are one of the worst offenses I've ever seen. They keep running the ball screen continuity offense which they implemented last year because it fits the bigs better. However, instead of Ty Jerome and De'Andre Hunter running it, it's Kihei Clark and Mamdi Diakite. Defensively they are ridiculously great though. I just don't love a team that literally can't score. 
Oregon - What's not to love about this team? The defense they run is so unique since it's essentially a man-to-man with a zone mix considering they switch everything based on where you're located. Offensively they have a guy in Payton Pritchard that we saw can take over a game. They have rim protection. They have great shooting. Oh, they also are getting N'Faly Dante on the roster and playing soon. This is a 'sleeper' for a future bet. 
Futures
As always I gave out my preseason picks. 
So far we're looking pretty good with Ohio State 50/1, Louisville 14/1 and even Kentucky 7.5/1 look fine. Here are some current odds from our friends at PointsBet
It's worth taking a shot (or adding on to where we are) on the following: 
Kansas 12/1
Ohio State 12/1 (if you didn't take them early)
Gonzaga 14/1
Oregon 18/1
Baylor 25/1