Barstool's Weekend Soccer Preview – The "Manchester Dærby Day" Edition
Sam's Safe Space for Soccer Stoolies
Hi Haters™,
Big weekend. The Premiership's top five battle is shaping up, La Liga's traditional two-team race is heading for the home stretch, Bayern seems poised to take control of the Bundesliga per usual, and the coronavirus is kicking Serie A's ass but the show much go on. So let's take a look at what's on deck...
***********************************
ENGLISH PREMIER LEAGUE
Scores from last weekend: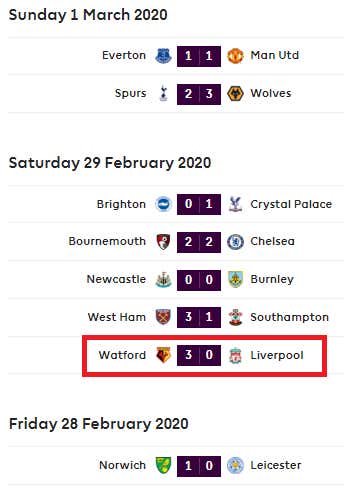 Brief thoughts/takeaways…
- Huge win for Norwich who look rejuvenated after taking the last five months off… Lester, on the other hand, looked useless without the quick-strike capacity of Jamie Vardy.
- Watford. Wtf. I mean. Just wtf. Good on them 'Orns… as for Liverpool, they should be thankful they have built an unsurmountable lead because they are looking increasingly lethargic.
- Prayers up for anyone who sat through Newcastle/Burnley. That game was uglier than the inside of a B-hole.
- The consistency with which Chelsea has been inconsistent this season is downright impressive. Kudos to Lampard for standing up for what's right though.
- Spurs are just plain terrible and the only silver lining is they have amassed the 40 points needed to stay up this season.
- Everton got hosed. You may disagree but my opinion is DDG was absolutely positively NEVER going to save that deflected shot in injury time and the goal should have stood. If you disagree that's fine. No sweat off my back if you insist on being wrong and dumb.
(Note: I do not subscribe to the belief that VAR officials are biased in favor of United… but they have some serious negative karma coming their way given all the borderline [at best] calls that have gone their way later.)
POWER RANKINGS
TOP 4
1. Liverpool
2. City
3. Wolves
4. United
Honorable mention: Arsenal, Everton, Chelsea, Sheffield Utd
BOTTOM 3
20. Tottenham
19. Aston Villa
18. Norwich
Dishonorable mention: Bournemouth, Brighton, Watford
Annotated table as things stand:
Enjoy/hate them danglies while you still can, B's & G's, because they are not long for this world.
And finally the (abbreviated) weekend schedule:
PICKS OF THE WEEKEND
United [+385] 
City [-165]
Draw [+310]
City's primary focus is on Champions League and they are dealing with all sorts of hesitancy injuries, including some key pieces on defense (Aymeric Laporte-out) and in the midfield (Kevin De Bruyne-doubtful). United have been sneaky good – perhaps not quite as good as their nine-game unbeaten streak would suggest but good nevertheless – since Ed Woodward grew a pair and coughed up the cash to bring in Bruno Fernandes. He hasn't singlehandedly fixed a fundamentally flawed team but he has been doing a pretty dang good job of masking some of the blemishes. I was loving the upset for a few minutes…. then Harry Maguire went and got injured in practice. Betting on a team with Victor Lindelof and god-knows-who-else (either an injured Maguire or healthy Eric Bailly) trying to contain the likes of Sergio Aguero and/or Gabby Jesus sounds like a solid recipe for losing money. Chris Smalling 2.0 ain't walking through that door!
Prediction: Both backlines are all sorts of beat up so gotta like the OVER… and given City's possible lack of focus and the fact United always seem to raise their play against better opposition (especially their city rivals), I'll go with a 2-2 draw.
Chelsea [-130] 
Everton [+300]
Draw [+260]
Chelsea are mentally unstable. They have spanked Spurs and Liverpool in recent weeks, but the good has been interspersed with plenty of bad performances, including getting trucked by Bayern (not necessarily an embarrassment) and settling for a draw against Bournemouth (yikes). On the other side, Everton's form has been a lot better than their results and they have some built up karma points coming from the soccer gods after the last gasp goal was chalked off last weekend.
Prediction: Hoooooooooo-WE it is downright scary how much I like the upset in this one considering that Chelsea have been bad at home all season AND will be missing half their midfield (Jorginho, Kovacic, Kante, Pulisic and possibly Willian). I am almost tempted to go with the Blues precisely because I am so convinced they are going to lose… but NOPE. Daddy needs a new pair of snowtires. Let's get it! Everton to win 2-1.
Liverpool [-440] 
Bournemouth [+1100]
Draw [+475]
This is not the third most compelling game of the weekend but I felt the need to highlight it simply because it is worth pointing out that Liverpool has kinda sucked lately (relative to the extremely high standard they set for themselves earlier in the season anyway). After winning roughly a billion in a row while conceding approximately 0.002 goals per game, they have now lost three of their last four games (Atletico, Watford – 0-3!!!! – and Chelsea in FA Cup) in which they have given up eight goals. Add in the injuries to Jordan Henderson and Alisson and, welp, the champs-elect have finally hit a little bit of adversity.
The truth is Liverpool's offense has not looked like a well-oiled machine in a while, which combined with a couple uncharacteristically poor games from their otherwise steady defense has led to the mini-slump. The good news is they got a few important things going for them this weekend: 1) they rested a lot of guys against Chelsea who will be back in the squad on Saturday, 2) they are back at Anfield where they have been dominant and 3) Bournemouth have SUCKED on the road.
Prediction: pain… for the Cherries. Liverpool to win 4-1.
Couple more predictions (to increase the possibility that I eventually get one right – maybe):
• ARSENAL 2-0 West Ham
• Palace 1-2 WATFORD
• SHEFFIELD UTD 2-1 Norwich
• SOUTHAMPTON 1-1 Newcastle
• WOLVES 2-0 Brighton
• Burnley 1-1 Tottenham
• LESTER 2-1 Aston VIlla
REST OF WORLD
MLS – Lotta good games but the games I'll be watching out for are Chicago at New England (Sat, 12:30pm CT), Toronto hosting NYCFC (Sat, 4pm CT) and Columbus visiting Seattle (Sun, 9pm CT)
SPAIN – Atletico/Sevilla (9am CT) then Barcelona/Real Sociedad (11:30am CT)
GERMANY – Schalke/Hoffenheim (Sat, 8:30am CT) followed by Gladbach/Dortmund (11:30am CT)
ITALY – the battle against coronavirus is raging and at the moment humankind does not appear to be winning… so behind closed doors Juventus will host Inter (Sun, 2:45pm CT)
****
So there we have it. Very solid weekend of games to fluff your soccer boners for the next round of Champions League games… this time they (really) matter!
Holler,
Samuel Army