Barstool's Champions League Preview – The "This Liverpool or That Liverpool?" Edition
Sam's Soccer Safe Space For Stoolies
Hi haters,
The odds have shifted pretty dramatically since last we discussed this, with the big movers being Bayern and Atalanta (in a good way) along with Real Madrid and Chelsea (no bueno).
So let's take a look at what's on deck this week… after, of course, your weekly dose of a little babymaking music to get you in the mood:
***********************
CHAMPIONS LEAGUE
Scores from the first round of games:
And schedule for the next couple weeks: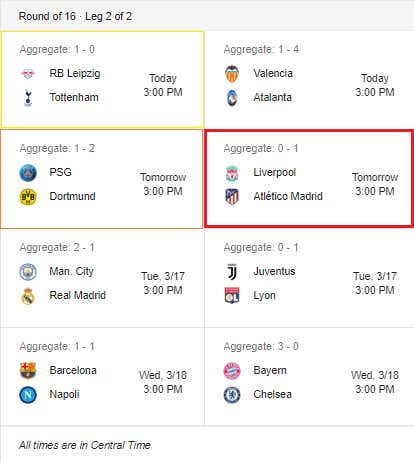 ***********************
TUESDAY'S PICKS
RB Leipzig [-185]
Tottenham [+450]
Draw [+340]
Recent form
RBL: Plenty of meh (against good competition) with some bright shiny performances
Spurs: Yikes, yikes and more yikes
Breakdown
No Kane.
No Son.
No Bergwijn.
No Ndombele (got thrown under a bus).
Instead of waiting until season #3, Jozay started poisoning the locker room in month #3.
Other than that Spurs are looking fanfuckingtastic.
Lezbe honest. There is simply no reason why RBL shouldn't pound Tottenham today other than if the moment gets too big and they play the worst game of their season. Could it happen? Meh, probably not.
PREDICTION: RBL to win 2-0.
They can never take that away
Valencia [+160]
Atalanta [+145]
Draw [+280]
Recent form
Valencia: they just drew with Alaves soooooooooooooo
Atalanta: can't stop winning… or scoring
Breakdown
Atalanta beat that ass like a rental donkey a couple weeks ago and there is no reason to think that Valencia is going to do any better this time with Gabriel Paulista suspended and half a dozen other players injured – especially since the game will be played behind closed doors meaning the Spanish side don't even have the advantage of a home crowd to get them pumped up. I have seen a lot of people suggesting that Atalanta will play a lot tighter this time around and simply look to take the air out of the game. Um, no. I don't think they have that in them. Gimme goals, goals and more goals!
Wait, is that… could it be… Sam's lock of the week???
PREDICTION: Atalanta to win 3-1.
WEDNESDAY'S PICKS
Liverpool [-190]
Atletico Madrid [+575]
Draw [+275]
Recent form
Liverpool: not all that impressive tbqh
Atleti: more good than bad
Breakdown
Atletico are a hot upset pick given their solid form and impressive showing in the first leg, and I'll be honest they make a lot of sense given how Liverpool have been trending. Kinda funny how different the Reds' "dream season" will feel – at least for a little while – if they get knocked out of the Champions League this early. And it seems like they have a legit shot given Liverpool's continued meh-ness… not to mention the continued presence of Mr Butterfinger himself Adrian between the sticks.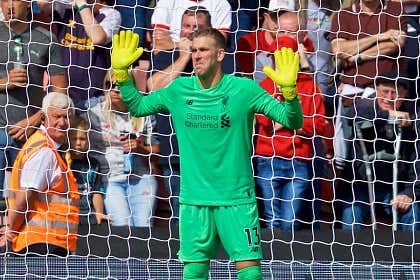 PREDICTION: Liverpool has lost their mojo but things aren't quite as bad as they seem. They probably should have won or at least drawn with Atletico last time around and – newsflash – this game is at Anfield. Place is going to be rocking. Plus I kinda got accidentally inebriated and already got pot committed:
the really scary result for me is Liverpool going up 2-0 and looking in control but Atletico finagling a late road goal to take the tiebreaker… especially with how uncharacteristically lackluster the home side's defense has been lately. I'll say Atleti have a look but miss it. Liverpool to win 2-0.
PSG [-135]
Dortmund [+310]
Draw [+325]
Recent form
PSG: solid (against everybody but BVB)
Dortmund: they had been running hot and cold like you read about but seem to have found a little consistency thanks to a much better defensive record
Breakdown
What a game. Liverpool/Atleti will attract more of the headlines but this will probably be the most fun fixture of the week. I would argue PSG were the slightly better side in the first leg but Dortmund have Haaland. Dude is a legitimate beast. 
PREDICTION: I have been leaning hard towards the Frenchies but I'll be damned if Haaland alone (and of course The Babyjesus Jr) hasn't stayed my hand a little bit. I really think PSG are the better team but this is traditionally when they roll over and play dead, and anybody who thinks that is not out of the realm of possibility is lying to themselves – especially with Marco Veratti and Thomas Meunier suspended due to yellow card accumulation. BVB is great value, no doubt, and Mbappe is listed as doubtful at the moment so if he is out that may be the straw that breaks my pick… but as it is I assume he's good to go and I'll say PSG to win 3-1.
****
So there we have it. Great games plus some Concacaf Champions League and Europa League sprinkled in for variety. What a week. I'll be back on Friday with a weekend blog. 
Holler,
Samuel Army