Barstool's Weekend Soccer Preview – The "EL GRINGO NO GUAPO'S GUIDE to LIGA MX" Edition
Sam's Safe Space for Soccer Stoolies
Hola Haters™!
What a week. What a got damn week. One minute we are luxuriating in high quality Champions League action (plus Tottenham) and the next minute the entire sports world has come to a screeching halt.
The coronavirus won the battle but at least soccer went out kicking and screaming… literally.
So where do we go from here? Hell if I know. I'm not a doctor or a virologist, or an epidemiologist. I'm a dumbass soccer blogger. My hope is this mess starts clearing up in a few weeks. Whether that is likely or even possible, who knows?
These are strange times. Ideally we would at least have our usual sports to distract us. Alas, that ain't happening with every sports league in the US now being suspended (or cancelled), and most soccer leagues around the world meeting a similar fate. Among those currently on the shelf are England, Italy, Spain, Germany, Netherlands, France, Scotland, Portugal, Denmark, Japan and probably a lot of other countries.
But what do you do when life hands you a virus-encursted lemon? You politely ask your roommate to peel the sumbitch so if anybody gets infected it is them, and then you make……. LIMONADA!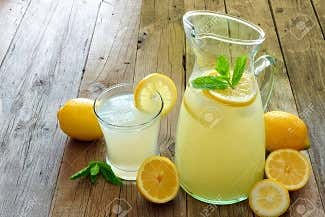 How/why is that possible? Well, through the grace of soccer god (and possibly terrible domestic public health planning), there are some outlying nations that decided to say "SMD Coronavirus" and are playing on. Among these are Russia, Serbia, Turkey, The Ukraine, Belarus, Hungary and some other Bond villain countries… including our beloved neighbors to the south: MEXICO!
Am I an expert on LigaMX? Helllllllllll no. In my mind Liga MX is a lot like that hot PSYCHO who you would date at bar time about once every couple months in college. Absolutely nuts and a lot of fun here and there but there were too many other non-psychotic fish in the sea.
But guess what: all those other fish are dead (for the moment anyway) and we are getting hungry… there is only so much Netflix & chilling human beings can do over the next month and I'll be damned if Mexican soccer isn't about as fast-paced and entertaining as 95% of the world's leagues. Plus we have no choice but to watch it from the comfort of our couch so we don't even have to worry about getting bags of piss thrown on our head – win-win!
Thus, it is time to bite the bullet and learn a little more about Liga MX because (1) knowing a little bit about the league increases the enjoyment of watching games and (2) for anybody with degendencies looking to wager some samolians the Mexican is about as good an outlet as you are going to find… bonus: the games are played at relatively convenient times for watching and don't force you to wake up at the buttcrack of dawn here in America – hooray!
THE PLAN
So how are we going to do this? I honestly don't know. I am writing off the cuff. I don't have "a Mexican team" that I support so I am open to suggestions on twitter or Instagram or even in the comments. My plan, I guess, is to give a little overview of the different teams in LigaMX – FROM A DUMBASS GRINGO'S PERSPECTIVE (reminder: I am NOT an expert) – and then offer some terrible gambling predictions. At some point I may settle on a team to make my very own but I am going to take my own advice (which I offer every year in the Guide to Picking an EPL Club - https://www.barstoolsports.com/blog/1384262/wanna-get-into-soccer-but-need-a-team-no-problem-barstools-guide-to-picking-an-epl-club-2) and let an allegiance develop organically rather than trying to force myself to like one right off the bat.
With that as the extended intro, and after having a quick listen to the league's official anthem to get us in the mood:
Thrilling stuff, truly. 
Now it's time to get balls deep in Barstool's first ever crash course on Liga MX….
LIGA MX – THE BASICS
Anybody wanting to know the ins/outs of the league should go check it out on Wikipedia and should not take what I am about to say as gospel because honestly Liga MX's structure and format seem unnecessarily complicated for somebody (me) used to the simplicity of the Premier League's 38-game balanced scheduled season and MLS's (pretty) straightforward playoff system.
Basically, there are 18 teams and they play two half-seasons, including the Torneo Apertura starting in the summer and Torneo Clausura kicking off in the winter. Why two instead of one? I have no idea. I assume because it means more "big games" and more "trophies". Now stick with me on this because it gets a little complicated but at the end of both half-seasons the top eight teams advance to a mini-playoff ("liguilla") while the bottom club is relegated to the second division (Ascenso MX). There has recently been talk of getting rid of promotion/relegation but worrying about all that is a bridge too far for our purposes so let's forget I even mentioned that.
So that's the quick and dirty explanation of how Liga MX works. In case you are confused at this point, yeah I am a little bit too, but soccer is soccer and watching soccer is better than not watching soccer so let's just roll with it for the time being. Again, if you want to know all the gory details check the google.
The table for the first half-season (Apertura) finished like this:
But remember that is only to determine the eight teams that qualify for the Apertura playoffs, which played out like this:
So, wait, the lowest ranked team heading into the playoffs ended up winning?
YEP, as I said, Liga MX can be a freaky little minx when she wants to be.
As for where things stand right now, the league is part of the way through the Clausura and the table looks like this:
LIGA MX – THE TEAMS
Don't have a team to root for? No problem, neither do I. And as I said I'm not going to force myself to fall head over heels in love with a team right now… I'm gonna talk to some people, watch some games and let my heartstrings attach organically (though I must say for various reasons I am tentatively leaning towards a certain team that may or may not be located in the nation's capital), and I encourage you to join me in taking a journey to find a dearly beloved Liga MX team, to have and to hold til death do you part – or at the VERY least until the rest of the world starts playing soccer again.
So what I will do now is provide an EXTREMELY brief overview of the various clubs that are on offer… starting with the geographical location, who have historically been the big swinging dicks of the league and then some quick facts and figures about each of them. (Safe harbor statement: I do not claim to know what I am talking about here… just trying to get the lay of the land myself while simultaneously helping others to do the same.)
LOCATION
Here is a map of the 18 teams and their location throughout the country:
BIG SWINGING PIJAS
And for the trophy sluts in our midst this is who has won the most:
TERMINOLOGY
• Los Cuatros Grandes (aka The Big Four): America, Chivas, Cruz Azul and Pumas have the biggest fanbases… though that clearly doesn't necessarily mean they win the most since if that were the case Cruz Azul would probably have been kicked to the curb in favor of a club like Tigres or Toluca (see above)
• Biggest rivalries: Chivas vs America (two traditional giants), Atlas vs Chivas (Guadalajara clubs), America vs Cruz Azul (local nemeses) and Tigres vs Monterrey (up-and-coming regional rivals)
• Fun fact that probably only interests me: 17 of the 18 clubs in Liga MX are situated in landlocked cities, with the only exception being Tijuana in the far northwest. I don't know what this says other than Mexicans who live on the coast must be IDIOTS for lounging on the beach and sipping margs instead of playing the beautiful game.
FACTS & FIGURES
Finally, a smattering of relevant – and irrelevant – facts and figures about each of the teams including a grade on how cool their jersey is and a know-nothing explanation of what the club is all about from the largely vacant mind of El Gringo No Guapo (aka Samuel Army – listed in order of the world's most accurate barometer for popularity: followers on twitter…
(Quick post-reminder reminder: I barely know wtf I am going to be talking about directly below)
CLUB AMÉRICA (4 million twitter followers)
Jersey (grade): D+ – longtime Liga MX fans probably describe them as iconic and I like the color scheme but the pattern is a little to Charlie Brownish for me
An amalgamation of LA Galaxy, Bayern Munich and the New York Yankees. They have the biggest bank account, the most history, the most historic stadium, and often a lot of the league's best (or at least highest paid) players. They will probably win a lot but the cost of admission for being a fan is selling most of your soul. The team has a ton of recognizable names and faces but the two that standout most to me are coach and content machine Miguel Herrera along with goalkeeper and walking pube puff Guillermo Ochoa.
CHIVAS (3.9 million)
Jersey: A – iconic, classy, all the sex
Chivas are obviously good at soccer and will probably win a lot of games but they are absolutely shit at business. If they think America has forgotten how they totally shit the bed with the ill-fated and short-lived Chivas USA, well, they are actually probably correct… but some of us 'member is all I'm saying! Other than I could see some fans of Chicago and/or Birmingham (UK) teams connecting with Chivas since Guadalajara is generally thought of as Mexico's "second city".
PUMAS (2.2 million)
Jersey: A+ – it may not be for everybody, and perhaps like a new song that I love I'll grow tired of this after a while, but for now I love the big, bold design
Badass jerseys. Good enough reason to pick them right there imho. On the other hand they were born out of one of the more celebrated university's in Mexico, so I have to assume a large segment of the fanbase is made up of nerds, dorks and Star Trek fans. Still a badass jersey though.
CRUZ AZUL (1.7 million)
Jersey: B – plain yet clean
Huge club with tons of rich history that doesn't win a damn thing these days and therefore definitely has the inside track to winning my heart. In fact now – March 14, 2010 – is actually the absolute perfect time to hop on board the bandwagon because the club has won five straight games and is sitting in first place in the table, so the only direction to go is down. Perfect for fans of teams like Tottenham, Everton and especially West Ham who are allergic to success!
TIGRES (1.7 million)
Jersey: so much potential yet so little execution… everything that Pumas is not (in a bad way)
While their jersey sucks balls the team has been pretty damn good lately and boasts one of the more potent offenses in the Americas thanks to Andre-Pierre Gignac, a French dude who has been smacking his frog-eating testicles upside the rest of Liga MX since coming over from Marseille in 2015.
MONTERREY (1.4 million)
Jersey: B+ – solid, no nonsense design with old school Newcastle/Juventus feel to it
I gotta admit my impression of the club is colored by two things: 1) Rayados is a stellar nickname and 2) this team was a WAGON both in last year's Concacaf Champions League and in the Apertura playoffs… so as far as I can tell them might just win every trophy being contested from now until forever. Having said that, Monterrey has been TRASH so far in the Clausura and sit in dead last. How that's possible, I have no idea. They are a little like 2015-16 Lester – but kinda the opposite.
LEÓN (896K)
Jersey: D – I am actually a big fan of the color scheme but the advertising logos taking up every last square inch strongly suggests the club is on the verge of bankruptcy and would make me feel like a poor person just wearing it
The first thing that comes to mind about this club is Curb Your Enthusiasm. Sorry but it is what it is. If my name was Leon I'd probably love them with all my heart. Team has been killing it in recent seasons but haven't quite been able to win the league (despite having two chances to do it every season because Mexican razones). In that sense they are a little like Liverpool, who also has come very close to winning the Premier League on a number of occasions but has always found – and perhaps will always find (DAMN YOU RONA!) – a way to slip up. Oh, right, two notable inclusions on the roster are William Yarbrough (American GK) and Joel Campbell, the former Arsenal (and Costa Rican) attacker who never quite panned out in London. Perhaps he will turn it around in Mexico but 22 games and one goal this season kinda suggests otherwise.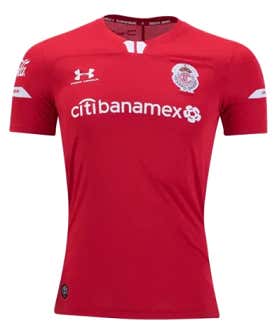 TOLUCA (873K)
Jersey: B- – Boring as hell but my eyeballs are a little scarred from the ocular marketing diarrhea dominating Leon's jersey and Toluca is the big beneficiary because sometimes simplicity can be beautiful… or at least not disgusting(leon)y ugly
If Eli Manning and Joe Flacco has a Mexican lovechild it would be Toluca. The club has won a ton of trophies but has never gotten – and probably never will get – the respect (they think) they deserve.
SANTOS LAGUNA (866K)
Jersey: B+ – I spent a semester in Glasgow and am a big Celtic fan so I'm a little biased but I love the classic green and white pattern
Smart move naming the club after Laguna Beach because I can't help associating them with Kristin Cavalari, Lauren Conrad and other beautiful people having fun in the sun and talking a BUNCH of shit about everybody behind their back. To Santos' credit they were one of the early adopters of outreach to English speakers on social media, so they get some brownie points for that. MLS and USMNT fans might recognize Jorge Villafaña and Ventura Alvarado.
PACHUCA (833K)
Jersey: C- – I don't hate the color scheme if we are being honest but the cement mixer dude logo front a center – and having to share it with poor person jersey Leon – is a tough look
The two players I most closely associate with Pachuca are both gone – Chookee Lozano (went to Napoli) and Omar Gonzalez (headed to Toronto) – but for some reason I have always held fond feelings for the club based solely on how much I enjoy saying their name. "Pachuca"… it sounds so sudden and violent. Tough not to respect that.
TIJUANA (800K)
Jersey: B – modern twist on the traditional stripes not overly cluttered with logos
Xolos (short for Xoloitzcuintles, an ancient Aztec dog) is the best nickname in the game, so they have that going for them. They don't do much winning but if you live in southern California and/or medical tourism (and more specifically cheap pharmaceuticals) is among your hobbies then Tijuana is definitely your most convenient bet. In fact, perhaps given the proximity to the border, they have had a ton of American talent swing through at various times, including Paul Arriola (DC), Joe Corona (Galaxy) and Alejandro Guido (LAFC).
ATLAS (750K)
Jersey: B- – Simple, good colors but lose half a grade because in my professional opinion the price tag on the L in the logo throws off the feng shui a bit
Team has been around forever and I am a big fan of the name, which is cool yet somehow rather unique. Atlas is the "other club" in Guadalajara so unloved second siblings and "other" teams like the White Sox, Mets, Everton and Manchester United may instinctively feel a strong connection.
QUERETARO (743K)
Jersey: A- – strong Inter Milan vibes and I dig it
Any team nicknames The White Roosters immediately gets my curiosity, but I have yet to decide if Queretaro has done enough to earn my attention. Four previous iterations of the club have decided to up and leave the city so anyone with separation anxiety or who is still in therapy "because daddy left" might want to steer clear. Once bought their way out of relegation, which strikes me as both resourceful and extremely questionable – like if MacGuyver but after his wife left him due to alcoholism, gambling debts and a mysterious rash on his genitals from a trip to the Dominican Republic. Club was also the home, for several years anyway, of ex-USMNTer and current Chicago Fire defender Jonathan Bornstein and soccer-player-turned-international-criminal Ronaldinho (for one season).
PUEBLA (728K)
Jersey: A – call me a sucker if you must but I love the traditional single sash look. Peru does it best, of course, but Puebla looks pretty damn clean as well.
The team has been around since the 1950s but is rarely a threat and is forever fighting off relegation. Fresh ass jerseys though. The name reminds me of one of the many quaint roadside bungalows where you can stop off at while visiting Mexican and eat incredible foot and catch Montezuma's revenge… which honestly sounds like child's play in this brave new Rona-infested world we now live in.
MORELIA (626K)
Jersey: B+ – the colors remind me of drinking a strawberry marg on the beach and if you hate that then FU cuh, plus the invention of horizontal stripes only recently made it to Mexico (apparently) so it's a nice little change-up from the focus on vertical patterns by most of the rest of the league
Monarchs – their nickname – are very regal, and yet also so delicate. Probably would not have been my pick but I'm sure they had their reasons. The club fell on hard times and barely staved off relegation several times but enjoyed a bit of a turnaround in part thanks to Rual Ruidiaz, who put a lot of biscuits in the basket for them before leaving for Seattle Sounders in 2018. More recently Morelia have been solidly mid-table, perhaps making them a comfortable fit for fans of teams like Burnley, Crystal Palace, Newcastle and AC Milan.
NECAXA (250K)
Jersey: B+ – solid color scheme with understated pattern. Not usually a big fan of the crest in the middle but it actually kinda works here.
The lightning bolts play in a city called Aguascalientes, which just sounds like a big ass hassle for many reasons. Their biggest rival – Atlente (said by some to be the oldest in Mexico) – is playing their trade in the second division so it may only be a matter of time until Necaxa head back down to renew the dærby.
ATLETICO SAN LUIS (146K)
Jersey: F – if you're going to copy of Chivas' homework at least change a few of the answers, my god 
We could talk about the club but (a) the club is kinda sorta only a couple of years old after a new owner bought and moved it to San Luis in 2013 so it doesn't have much of a history and (b) my brain is still hung up on how unimaginative their damn jersey is. I mean, I will give them the benefit of the doubt (instead of doing some research) and assume they have a relationship with Atletico Madrid, and that is the explanation for the red and white stripes. HOWEVER, the reality is that anyone seeing the jersey for the first time is going to think they either copied off Chivas' homework or they were around longer and Chivas completely cucked them. Either of these is a bad look and at some point you just gotta admit that that bigger, better bitch stole your look and find a new slant – maybe add some little green pinstripes? I don't know if that would work either, but at least I'm trying over here! Long story short: the shirt just doesn't do it for me at first glance. The team did recently earn promotion to the play with the big boys though so that's pretty cool I guess.
JUAREZ (55K)
Jersey: B – unique color scheme, solid design, not overwhelming advertising, probably a little too new age-y for classicalists but overall it works for me… not something you would go out of your way to buy but when graded on a curve not bad either
Hard to disassociate the club from Juarez the city, which in the minds of most Americans is synonymous with cartels and drug violence. Gotta respect the way the club (literally) bought its way up into the Liga MX. I know that probably caught the attention of some of the Man City and PSG fans in the house. Also, could be a hugely convenient team to jump in bed with if you are a Seattle Sounders and/or Seahawks fan.
*
WEEKEND SCHEDULE
These are the games this weekend.
All very manageable times in the afternoon and evening, which is nice, and I assure you that the style of play in Mexico rarely disappoints. Let's just say defense doesn't win championships south of the border.
As far as picks go, your guess is as good as mine at this point but I'm going with these pulled from directly between my buttcheeks:
San Luis 2-1 Puebla
Tigres 3-0 Juarez
Leon 1-1 Pumas 
Chivas 2-3 Monterrey
Toluca 2-0 Atlas
Santos 2-2 Necaxa
Also, I'd like to highlight the BIG ASS LOCAL DÆRBY on Sunday evening and note that I love almost everything I have read about Cruz Azul so I'm going hard for them in (even though I have not *officially* declared my allegiance for them… yet) and in my entirely unbiased opinion they beat America 2-1.
I'll be back with predictions to help lighten your wallet next week – that is my solemn pledge to you! (Unless the Mexican authorities come to their senses and cancel the games… in which case I wrote this all for nothing. Damit.)
**
Holler,
Samuel Army