Barstool's LIVE SOCCER Preview – The "Sam's Semi-Coherent Guide to Good Korea's K-League" Edition
Sam's Safe Space for Soccer Stoolies
Hello beloved Haters™,
Long time no see! Hopefully you have been more successful than me at finding the right combination of uppers, downers, Netflix and exercise to maintain a grasp on your sanity. The truth is that I am on the verge of losing my mind without sports, which is why I am beyond ecstatic to report: LIVE SOCCER IS RIGHT AROUND THE CORNER!
God only knows if/when leagues like the Premier League, Serie A and La Liga – not to mention MLS – will be back. They are, after all, at the mercy of how well their respective governments' handle the pandemic. [Shockingly, the French gave up at the first sign of danger… sacre bleu!]
Hopefully they get their houses in order soon, but for the time being let's turn our attention and affection to the leagues that have somehow managed to get a handle on the Rona and are about to give us what we desperately need: LIVE SOCCER to watch, enjoy, cherish, revel in and bet on.
Two leagues are on the verge of getting underway, the first being Good Korea's K-League this week and Germany's Bundesliga next week. Thus, it is my mission as Barstool's official sissy sport spirit guide to help get your mind right by providing some quick and dirty tips on what the leagues are all about, how to watch, who to root for, and that sort of thing.
Am I an expert? Fer sher NOT. I could name maybe three K-League teams when I woke up this morning and can't recall ever watching a game live, and while I do watch a lot of Bundesliga games I would never claim to be an all-knowing guru.
Point being, some of you may be better-versed in the nuances of these leagues (Bundesliga in particular) so feel free to add any blatant omissions in the comments, or hit me up on twitter/instagram. However, the leagues are doing us a big solid by playing games to help distract us from this mess of a world, so giving people a little better understanding of what they are all about seems like the least I can do in return.
[[Note: some of you may remember I did something similar with Liga MX just before it got spanked into submission by Rona… Barstool's Weekend Soccer Preview – The "EL GRINGO NO GUAPO'S GUIDE to LIGA MX" Edition]]
This is the (tentative) plan for upcoming programming:
This week:

Guide to the K-League

Next week:

Guide to the Bundesliga

(plus a podcast f/t special guest)
So let's get to it starting with our Good Korean brethren where we, of course, have to start by first listening to their league's official 2020 season hype video:
Titillating stuff, truly. 
Now it's time to get balls deep in Barstool's first ever crash course on K-League….
---
K-LEAGUE – THE BASICS
The K-League has a two-tier structure that is similar to what many fans would like to see MLS eventually move towards. Specifically, there are 22 teams split into a (12-club) first division and (10-club) second division, with promotion and relegation between them each season. Unlike the big European leagues where three teams move up and down, only two (at most) switch places in Good Korea. (Last place is automatically relegated and trades places with the second division winner while – similar to the Bundesliga – 11th place in the first division plays a home-and-home with the winner of a second division promotion playoff.)
So that is set up. The quality is about as high as you are going to find in Asia with Good Korean teams having won the AFC Champions League more often than any of its regional rival leagues. There are strict restrictions on the number of foreign players each team can field so a majority of the league is made up of Good Koreans but there is a notable influence from regional heavyweights like Australia and Japan, as well as (of course) Brazil. For example, here was last season's "best XI" as determined by the media:
Also, while Joenbuk Hyundai Motors is the league's 800-pound gorilla, there is a lot of parity below them meaning a lot of fluctuating among the rest of the teams. For example, in 2016 FC Seoul became the only club not named Jeonbuk to win a recent title but just two seasons later they finished 11th and needed to win the relegation playoff just to stay in the top division. Similarly, Gyeongnam were locked in a tight battle for second place with Ulsan Hyundai all throughout 2018 but then finished 11th last season, lost the relegation playoff and got bounced to the second division. Yikes. On the plus side, that kind of uncertainty adds a fair amount of drama and intrigue.
Now before we look at this season and the various clubs that will be playing, here is how the table shook out in 2019:
As mentioned, Gyeongnam lost in the promotion playoff to Busan IPark last fall so those two clubs switched places, meaning the table to start the 2020 season looks like this:
---
K-LEAGUE – THE TEAMS
Don't have a team to root for? No problem, neither do I. But here are some facts about each of the 12 first division clubs to get you started on the path to developing a rooting (and/or betting) interest…
LOCATION
Not that it will make a lot of sense to people who don't know much about Good Korea, but here is a map of each of the clubs are geographically located:
BIG SWINGING JOTS (aka DONGS)
For the trophy sluts in our midst this is who has won the most: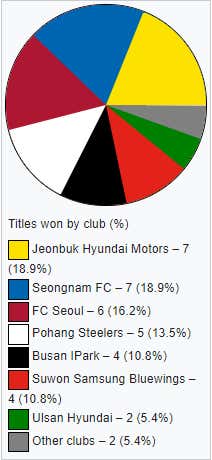 And here are the odds for winning the league this season:
THE CLUBS
Finally, some relevant – and irrelevant – facts, thoughts and random bloviations about each of the teams, including a grade on how cool their jersey is, some notable players, and a know-nothing explanation of what the club is all about from someone who BARELY knows what the hell he is talking about (listed in the order that they finished last season)…
(Post-reminder reminder: I barely know wtf I am going to be talking about directly below so take everything with a grain of salt)
---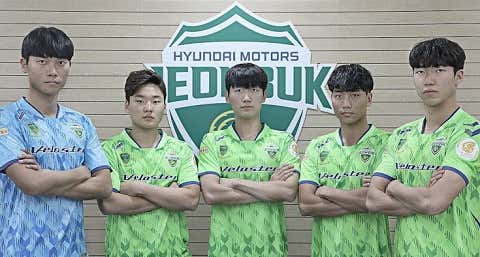 JEONBUK HYUNDAI MOTORS (returning [back-to-back-to-back] champ)
JERSEY (grade): B – not a ton of light green squads in the world so a bonus point or two for uniqueness though the pattern reminds me of the 1990s Umbro shorts my dad's balls are always hanging out of, so gotta dock them a bit for that
NOTABLE: they got a relatively big name coach in Jose Morais, a former assistant of Dear leader Jozay Mourinho
THE CHAMP IS HERE! Rooting for Jeonbuk would be like throwing your support behind Bayern Munich, Juventus or PSG. They have won the title three seasons in a row and before that went back to back in 2014 and 2015. Their only recent slip-up was in 2016 when they were on top of the table for the entire season but somehow got jumped on the final matchday by FC Seoul. Tough scenes. Anyway, suffice to say they win – A LOT. They are, perhaps, unsurprisingly, the overwhelming favorite to make it four championships in a row. So if you like celebrating and/or hate losing and/or are rooting for the Rona then this is definitely the squad for you.
---
ULSAN HYUNDAI (runner-up)
JERSEY: A – classy, kinda Inter Milan-like but with a cool white away strip
NOTABLE: golden boot contender (Brazilian striker) Junior Negrao and Good Korean national GK Jo Hyeon-woo
We need to have a discussion about K-League club names. Unlike in Germany, where Red Bull had to skirt the rules by naming their club RasenBallsport Leipzig, the good people of Good Korea clearly have no qualms with injecting a little commercialism into their club names. My guess – speaking as someone who knows just enough about the culture to be dangerous – is the reason for this is the country's traditional domination by "the chaebol" (a small group of HUGE conglomerate companies). Hyundai is among the biggest and most powerful of these. I don't know what the relationship between the two "Hyundai" teams but I am just going to assume that Jeonbuk is like the favorite son who mommy and daddy spend a lot of money on while Ulsan is always overshadowed by its bigger, richer, better looking sibling, but is better than most other clubs while still deeply resenting Jeonbuk. Is there any truth to that? Who knows. But let's just roll with it.
Anyway, Ulsan came damn close to pipping their more beloved sibling last season, finishing the season equal on points at 79 but losing out to Jeonbuk on the first tiebreaker of goals scored. Tough way to lose but perhaps they will be all the more motivated this time around.
---
SEOUL (3rd place)
JERSEY: B – classy, like AC Milan but without the financial irregularities
Last team not named Jeonbuk to win the title but they have been all over the table in the years since. They finished a very respectable third last season but seem like a high-risk, high-reward team to root for. If you like danger – i.e. the possibility of being in a title race or relegation battle come the end of the season (think Arsenal) – then perhaps Seoul are the squad for you. They used to be called the "cheetahs" but for some reason dropped that, which is too bad because cheetahs are badass.
---
POHANG STEELERS (4th place)
JERSEY: D+ – not a big fan of random color schemes and nonmatching patterns
Club has been around a long time – relatively speaking anyway since the league itself has only been around since 1983 – and has a big following. Some people may not like the name but I gotta admit I don't hate that they borrowed the "Steelers" name (and for the season reason as they were founded by an iron and steel company). Strangely, they momentarily changed their name to Pohang Steelworks Dolphins in 1984 and then to Pohang Steelworks Atoms in 1985 before eventually settling on the classier name they stuck with since. They used to be a major force and have won more AFC Champions Leagues (3) than any club in the league, and they pop up every now and again to win something (e.g. league titles in 2007 and 2013) but have not been anywhere near as consistent.
---
DAEGU (5th place)
JERSEY: B- – about as boring as they come but I am a bit of a sucker for baby blue
They have not been a force at all but are on a major upswing having qualified for the AFC Champions League (by winning the domestic cup) a couple seasons ago, then finishing in the top half last season. They recently moved into a new stadium and appear to be cementing themselves as a solid mid-table muddler that can compete with a continental spot here and there – perhaps a little like Everton or Wolves.
---
GANGWON (6th place)
JERSEY: F – wtf is this happy horseshit? 
I assume whoever made their jerseys was blind so they are starting off on the wrong foot in my book. They have only been around for about a decade so not a long history or huge fanbase to fall back on, and have been a yo-yo club bouncing up and down fairly often. One thing I noticed about them is that the entire roster is made up of Good Koreans except for a single Japanese midfielder… so I guess that makes them the Burnley of the K-League. They did have one of the best seasons ever last season, so they have that going for them, which is nice.
---
SANGJU SANGMU (7th place)
JERSEY: B+ – understated but robust like a high quality merlot
NOTABLE: Army/Navy/Air Force/Coast Guard connection
This is a very strange club. Long story short they are officially associated with the Good Korean military and the roster is made up entirely of dudes serving their compulsory two-year military service, and they are not allowed to sign any foreign players. So perhaps you might feel a connection to them if you served (tyfys) and/or are a fan of any of the military academy teams in the US. Also, it gets even weirder because the club announced they are moving to a new city – Sangju apparently kicked them out – so they have to move to a new city and as a result they are being automatically relegated at the end of the season. Why? No clue! They don't respect the troops! However, if relegation is not a disqualifier (where my Sunderland fans at?!) then perhaps Sangmu is the team for you.
---
SUWON SAMSUNG BLUEWINGS (8th place)
JERSEY: A – royal blue with a touch or red and white is straight class, homey
NOTABLE: returning golden boot winner (Australian striker) Adam Taggart and MLS veteran (Canadian defender) Doneil Henry
Club had a terrible season but managed to more or less save it by winning the Good Korean version of the FA Cup, which earned them a berth in the AFC Champions League. TBD if that will be a good thing (extra revenue) or problem (distraction and added fixtures) for a club that was out of sorts last year. They brought in some new names over the winter, including Bosnian Sulejman Krpic, which could make the Bluewings a lot of fun to watch. Incidentally, they are another one of the clubs owned by a member of the big bad chaebol – Samsung – and while they make nice TVs I am a sheep who is committed to Apple so that does nothing for me. If you love your Galaxy though then perhaps Suwon is the club for you.
---
SEONGNAM (9th place)
JERSEY: C – if they were sex they would be lights off socks on missionary… "gets the job done" is about the best you can say
Some parallels here with Manchester United. They were long considered to be the blueblood of the league but have recently fallen on harder times and are getting upstaged by some newcomers. They have actually spent some time in the second division and barely survived relegation last season so not exactly trending in the right direction. They are black and white with Magpies as a nickname so if that sounds like your kinda club (minus the possibility of a massive Saudi Arabian payday) then congrats!
---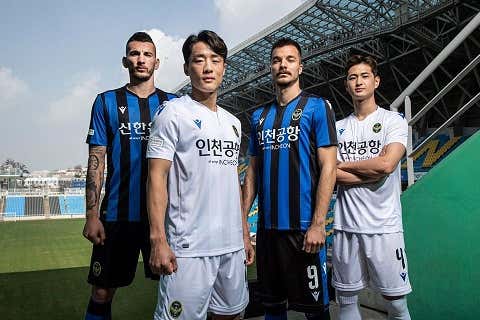 INCHEON UNITED (10th place)
JERSEY: B+ – classy, extremely Inter Milan-like home jersey but without the sweet away shirt that Ulsan sports
One of a number of community-owned clubs that could perhaps have some parallels with the Green Bay Packers… albeit Incheon has not had the same level of success. They came out of nowhere and won the title in 2005 in the second season but have not enjoyed much success since. They were not good again last season and seem set to bumble along with the goal of cobbling together just enough points to stay up. 
---
GWANGJU (2nd division winner)
JERSEY: D+ – did the Easter Bunny poop these things out? Yuck
NOTABLE: former San Jose Earthquakes and LAFC striker Marco Urena
One of the n00bs this season they won the second division thanks in large part to the strongest defense in the league so they will need to lean on that if they want to stick around. Last time they bounced up in 2017 they got their ass handed to them and finished at the bottom of the table. For some reason I am getting a distinct Derby County vibe from them, though I'm not even sure why.
---
BUSAN IPARK (winner of promotion playoff)
Jersey: C- – as simple as simple gets thought a little too Bad Korean-y for my liking
Not is expected much from a club that was not even expected to earn promotion last season. Gotta love the name though. Busan IPark sounds like some sort of new-age self parking technology that lets you drive right up to wherever you need to go, get out, and the car goes and finds a spot by itself. I am 99% sure that that sort of thing already exists in Good Korea so this makes even more sense. Regardless, Busan happens to be one of the OGs of the K-League having been around since it was formed in 1983. The club was originally sponsored by – and simply known as Daewoo – and won some trophies early on but has since settled back and bounced between the two divisions. They have a bit of a history of falling just shy of promotion, often in the promotion playoffs, which along with their past history of success may have some fuzzy parallels with a club like Leeds. They are expected to play an attacking style this season that may be easy on the eyes… but carries the risk of getting overrun a la Norwich City every time they enjoy a cup of coffee in the top flight.
---
WEEKEND SCHEDULE
Games! Hallelujah, thank the good soccer lord almighty, we got some games to watch this weekend! 
Unfortunately they are played – much like Korean baseball – at rather inconvenient times for us here in 'MERICA… but desperate times call for desperate measures, damit, so you can bet your ass I'm gonna watch as many games as to scratch the live soccer itch I developed over the past couple months.
How to watch? That's a great question. Not sure about that. No TV deals have been struck yet but it appears that some games are going to be streamed on twitter and/or youtube. Plus there are always some sketchy streams you can probably track down somehow. If you are having trouble check with me on twitter and I'll try to be on top of how best to watch.
As for picks this week, I am going upset heavy under the assumption that things are going to be a little strange for a while given all the hubbub and uncertainty that the players have been dealing with lately.
PERFECTLY FADE-ABLE PICKS:
Jeonbuk 2-2 Suwon
Ulsan 2-1 Sangju
Incheon 1-1 Daegu
Gwangju 1-0 Seongnam
Pohang 3-1 Busan
Gangwon 1-2 Seoul
---
There we have it. Live soccer is back and not a moment too soon. Bundesliga previews coming next week, including a blog and podcast with a special guest. Stay tuned and stay safe. There is light at the end of the tunnel. We got this, blud fam!
Holler,
Samuel Army