Wanna get into BUNDESLIGA but need a team? No problem – Barstool's Guide to Picking a German Club
Sam's Safe Space for Soccer Stoolies
Hi Haters™, 
Soccer – both like and because of a lethargic yet deadly virus – is slowly but surely making its way back into our life, and not a single moment too soon. This past weekend the K-League got back up and running, and the pent up demand for live soccer was evident in the number of eyeballs that tuned in (keep in mind this first game kicked off at 5am here in the US).
Big thanks to Good Korea for serving up an appetizer, but this coming weekend it is time to devour the main course: Bundesliga is about to drop its big hairy soccer sack directly on our eyeballs and we are going to love every salty second of it. However, if you – like me – have enjoyed German soccer for many years without ever really committing to it… now is the time to change that.
Why? Well here are FIVE reasons that now is a perfect opportunity to get more acquainted with the Bundesliga (apart from the obvious that they, unlike most leagues in the world, are actually going to be playing live soccer):
(1) The quality of play is always high – even in years when Bayern Munich are running away with it.
(2) Bayern are NOT running away with the title this season and in fact have been locked in one of (if not) the closest races among all the big leagues in Europe. For a while there were 6-7 bunched up at the top of the table. The herd has thinned a little as the season has gone on but there are still a handful of clubs within striking (Dortmund, RBL and Gladbach) or at least shouting distance (Leverkusen) of big bad Bayern.
(3) Games are televised on FOX channels at normal waking hours, which makes them relatively easy to follow.
(4) FOX has not always done a great job making games available [especially outside of Bayern and Dortmund] but the good news is that espn/espn+ is taking over starting next season so EVERY game will be available on either TV or streaming.
(5) Finally the Bundesliga is FULL of young American talent, including Tyler Adams (RBL), The Babyjesus Jr (BVB), Weston McKennie (Schalke), John Brooks (Volfsburg), Josh Sargent (Werder Bremen), Zack Steffen (Fortuna Dusserldorf) and many more.
Without further ado let's have a quick listen to the league's official anthem… 
And now get elbow deep in Barstool's first ever crash course on the Bundesliga….
---
* * *
---
BUNDESLIGA – THE BASICS
Unlike previous guides to Liga MX and K-League, I won't go into a ton of detail about how the Bundesliga works because most people probably have a pretty good idea. There are 18 clubs, balanced (home and home) schedule with the traditional 3-club promotion and relegation (albeit with a slight twist in that the 16th place plays a playoff with the 3rd place from Bundesliga 2).
The traditional knock on German soccer is Bayern's habit of B-smacking the bejesus out of all of the rest of the league season in and season out. To hammer home this point, the Bavarian giants are currently the reigning back-to-back-to-back-to-back-to-back-to-back-to-back champions (that is seven times in a row for those counting at home) and have won the Bundesliga title 28 times in the 54 years since it was established in 1963. The clubs with the second most titles are Dortmund and Gladbach with five each.
As mentioned above, however, that has not been the case thus far in the 2019-20 campaign, meaning plenty of excitement still to come as the league is just entering the homestretch. Before we get into that, though let's do a quick and dirty run-through on each of the 18 Bundesliga clubs, what they are all about, why you should (or perhaps should not) fall in love with them, and that sort of thing.
BUNDESLIGA – THE TEAMS
Quick reminder: I follow the Bundesliga but don't claim to be an "expert" so take this with a few grains of salt. If you want to hear from some true connoisseurs then tune into this week's podcast episode where I will be joined by two legit German soccer fans who can provide some nuance that may be lacking here. For now though here is a quick and dirty backgrounder on each of the clubs…
LOCATION
In case geography matters or is of interest in some way, this is where all the clubs are located:
BIG SWINGING SCHWÄNZE
Bayern Munich is clearly the biggest force in German soccer. All told they have lifted 72 trophies. Dortmund is second with 21, followed by Schalke and Werder Bremen with 15. 
CLUBS
Finally, some relevant – and irrelevant – musings about each of the teams, including a grade on how cool their jersey is, some notable players, and a wee explanation of what the club is all about from someone who knows some but not all about what tf he is talking about (listed in the order that they stand in the table as we speak)…
BAYERN MUNICH (1st – 55 pts)
JERSEY (grade): B – hard to judge because it is so plain and yet so iconic they can get away with it
RIVALS: Dortmund (also local enmities with 1860 Munich and Nurnberg but they are both in 2. Bundesliga)
NOTABLES: Entire roster is world class but Canadian Alphonso Davies (D/MF) is an emerging stud while American Chris Richards (CB) may get a shot sometime soon
THE CHAMP IS HERE! Bayern is basically the Jeonbuk Hyundai Motors of German soccer. Oh, you didn't read my guide to the K-League blog? Well shame on you. But suffice to say Bayern is the "Big Six" (for PL fans) all wrapped into one club in the sense that they are expected to be champions every years and if they are not something went very wrong. They spend the most money. They have the best players. They have the highest expectations. They have zero qualms poaching the best talent from their bitter rivals. They always contend in Champions League. Their fan base is massive around the world. Listen, I'm likely not telling you anything you didn't already know.
REASONS TO LIKE BAYERN: You like winning. You hate losing. You lack self-esteem. You are Canadian.
---
BORUSSIA DORTMUND (2nd – 51 pts)
JERSEY: A – absolute smokeshow
RIVALS: Schalke, Gladbach and Bayern
NOTABLES: The Babyjesus Jr. as well as a ton of other huge names (eg, Erling Haaland, Jadon Sancho, Marco Reus – just to name a few)
Not gonna lie, Dortmund have a LOT going for them. Cool colors, huge fan base, awesome stadium, great team but without the stigma of being Bayern, and perhaps most attractive of all to people in our neck of the woods: a history of nurturing young American talent. Everybody knows about Christian Pulisic (The Babyjesus) and anyone who doesn't know about Gio Reyna (The Babyjesus Jr) will soon enough.
REASONS TO LIKE DORTMUND: You like winning but don't like picking chalk (aka the heavy favorite). You are a sucker for a badass yellow/black color scheme. You are American. You gravitate toward teams that are usually in the mix but rarely if ever actually win it (perhaps some nebulous parallels with Oregon Ducks, Wisconsin Badgers, Green Bay Packers, San Jose Sharks, Houston Rockets).
---
RB LEIPZIG (3rd – 50 pts)
JERSEY: B – I like it but understand how other may see it – like the club itself – as a little "inauthentic"
RIVALS: every non-RBL fan in Germany
NOTABLES: American Tyler Adams (MF) plus plenty of other huge names (Timo Werner, Marcel Sabitzer, Ibrahima Konaté, Dani Olmo, Emil Forsberg, Dayot Upamecano – just to name a few)
RBL is (arguably) the most hated club in the Bundesliga, which is incredible given how everybody usually comes together to hate a dominant club like Bayern. The short and sweet explanation for this phenomenon is that German soccer fans are far more hostile to the influx of money and commercialism that has come to dominate the sport over the last couple decades. [Note: Germany is the only country with an explicit "50+1" rule designed to block mega-rich owners from buying clubs and spending their way to the top.] This will be an oversimplification but EPL fans like to clown on City and Chelsea fans for "buying trophies", yet at the end of the day they kinda deep down are hoping that Saudi Arabia's sovereign wealth fund swoops in, buys their club and spends a shitload of oil/blood-soaked cash on winning trophies. German fans, not so much. So when Red Bull came in and bought RBL and pumped a bunch of money into the club, leading to its meteoric rise through the system and into the rarified air of Bayern and Dortmund… well, suffice to say there was a predictable backlash. So that is the criticism. On the flipside they have a TON of talent, play beautiful soccer, have a deep-pocketed corporate owner, and are still on the upswing having yet to really "win" anything.
REASONS TO LIKE RBL: You are addicted to energy drinks. You have a soft spot for teams everybody hates (eg, Houston Astros, NY Yankees, Dallas Cowboys, Duke, Notre Dame, Floyd Mayweather). You are a big Jesse Marsch fan (he seems destined to coach there sometime soon).
---
BORUSSIA MONCHENPENISGLADBACH (4th – 49 pts)
JERSEY: C- – not a fan of mismatched/random color schemes, the home jersey is a little too new-age jazzy for me and the sponsor logo is aesthetically gross
RIVALS: Dortmund
NOTABLES: American Fabian Johnson (member him!?) plus some under-the-radar talent (eg, Marcus Thuram)
Gladbach was the original big swinging dick of the Bundesliga, and won a bunch of titles in the 1970s, but haven't done squat ever since apart from cement their presence in the top division. That said they are in the midst of a mini-resurgence thanks in part to an innovative young coach with RBL ties (Marco Rose) and some shrewd transfer moves. They play a defensive style that isn't always beautiful but tough to argue with recent results. In fact, if not for a few late-game collapses earlier in the season they might be right in the middle of the title hunt instead of jussssssssst on the outside (but within striking distance).
REASONS TO LIKE GLADBACH: You like teams with ridiculously long names. You have a thing for betting unders. You like teams that are competitive but haven't won dick in decades (where my Tottenham fans at!) or perhaps that blew their load back in the day but haven't been able to recreate their glory years (eg, Montreal Canadians, Philadelphia 76ers, Cincinnati Reds, San Francisco 49ers, Pittsburgh Steelers, UCLA, Real Sociedad, Robert De Niro).
---
BAYER LEVERKUSEN (5th – 47 pts)
JERSEY: C+ – home (red) and third (white) are boring as hell but the simple elegance of the away shirt saves them from a failing grade
RIVALS: Cologne
NOTABLES: Kai Havertz (AMF)
Historically they have come close to making a breakthrough but never really have. "Their year" was 2002 when they lost in the finals of the Champions League to a ridiculously stacked Real Madrid team [note: Frankie Hejduk told some crazy stories about the club's culture on a recent podcast episode]. These days they have a good, young squad that tends to punch above its weight but does not seem to have quite enough depth to compete with the top handful of clubs. Even so they have one of the most exciting up-and-coming stars in the league in Kai Havertz, who may not be long for the Leverkusen but will bring in a boatload of money when he leaves (assuming the transfer market doesn't completely dry up). Similar to Gladbach in the sense that they play a more conservative style than some of the major run-and-gunners like Dortmund and RBL.
REASONS TO LIKE LEVERKUSEN: You like underdog upstarts perhaps along the lines of the Milwaukee Bucks, Oakland A's or even Lester – minus the miraculous season, of course. You like pharmaceuticals and/or take aspirin for heart problems. You love Frankie Hejduk – who doesn't??
---
SCHALKE (6th – 37 pts)
JERSEY: B – unpretentious but solid and while I'm sure Gazprom is probably shady af they got a slick sponsor logo
RIVALS: Dortmund
NOTABLES: American Weston McKennie (MF) and ex-Huddersfield (and kinda/sorta American) coach David Wagner… plus Nick Taitague on the youth team
The club's coal-mining roots have managed to seep into its DNA such that the fans expect workmanlike effort even if they don't end up sticking with more well-to-do competitors. They have been stuck in the shadow of hater local rival Dortmund for a while now.
REASONS TO LIKE SCHALKE: You like no-nonsense, blue collar teams. You live in West Virginia and/or have an affinity for mining. Being the "other" local team appeals to you (eg, Everton, NY Mets, Chicago White Sox, Michigan State, LA Chargers).
---
VOLFSBURG (7th – 36 pts)
JERSEY: A – love the color scheme and would give it an A+ but I am a little on the fence about how aggressive the "X" is on the 2019/20 away shirt… at first blush I preferred the more understated 2018/19 version a little more but all things considered I'd still fuq wit it
RIVALS: Hannover (2.Bundesliga)
NOTABLES: Americans John Brooks (CB) along with – on the youth team – Ulysses Llanez and Michael Edwards
I have always had a bit of a soft spot for "Volfy" even before Brooks made the move from Hertha Berlin three years ago, in part because their sweet ass jerseys but more so because of how much fun their free-wheeling style was to watch back when Kevin De Bruyne and Co. came out throwing haymakers against anyone and everyone. That was a while ago and they don't have a world class genius like KDB coordinating their attack – who does other than Man City after all? – but they still have the fresh jerseys and one of the stronger defenses in the league. The club is another one of the rare exceptions to the "50+1" rule but (I believe) they don't catch anywhere near as much grief for it because Volkswagen has been affiliated with the club for many decades.
REASONS TO LIKE VOLFSBURG: You like Volkswagens. You are a ginger and/or green really makes your eyes pop. Fck the purple gang.
---
SC FREIBURG (8th – 36 pts)
JERSEY: B – the ugly sponsor logo is unfortunate but I like their traditional stripes look
RIVALS: Stuttgart and Karlsruher (both in 2.Bundesliga)
NOTABLES: Nein
One of the smaller clubs in the league and one that boasts little name brand recognition yet are in the midst of putting together another solid mid-table season. Whether they can remain in the top half of the table remains to be seen but so far so good, and they have had some surprising seasons in the not-too-distant past, including a 7th place finish (and Europa slot) in 2016-17.
REASONS TO LIKE FREIBURG: You like no-name squads. Perhaps a less prolific version of Sheffield Utd. (with the stripes and everything). You appreciate how much easier it is to succeed if you set expectations low enough.
---
HOFFENHEIM (9th – 35 pts)
JERSEY: B+ – a slightly sexier version of Schalke
RIVALS: Bernie Sanders
NOTABLES: Andrej Kramaric (F)… also American Royal-Dominique Fennell on the reserve team
Hoffenheim are best known – apart from being the possible namesake of David Hasselhoff – for owner Dietmar Hopp, the billionaire founder of business software company SAP. It's fair to say that Hoffenheim is basically Diet RBL (meaning an earlier, less aggressive predecessor). Both clubs are criticized for having "bought" their success, but RBL took the strategy to a whole new level, which has let Hoffenheim off the hook at least a little bit. Hopp began investing in his childhood club in 1990 but scaled up his efforts starting in 2005, resulting in two straight promotions that got the club into the Bundesliga in 2008. The club's high-water mark of 3rd place did not come until 10 years later. RBL by contrast was founded as a 5th-division club in 2009 but has soared into the top flight and is now an annual fixture in the Champions League.
REASONS TO LIKE HOFFENHEIM: You are a bootlicker. You are a big Baywatch fan. Ownership issues aside they are a good team that have firmly established themselves as an upper middle class club kinda along the lines of an Everton, Lazio or Sevilla.
---
COLOGNE (10th – 32 pts)
JERSEY: B+ – cool, calm and collected with a dash of spice via the third shirt
RIVALS: Fortuna Dusseldorf, Gladbach, Leverkusen
NOTABLES: Jonas Hector (DM), Jhon Cordoba (F) and American Brady Scott (GK)
Cologne is known as "Koln" by the natives and the lack of consistency between how people refer to the club is a little annoying. I don't care which but let's just just pick and stick like how everyone just calls it "Sevilla". Anyway, they have a lot of local rivals being located in the Rhine-Ruhr region, however, several of these so-called nemeses are a fair bit bigger and in recent years the "rivalry" has been very one-sided. Nothing sadder than considering yourself a rival with someone who doesn't really know or care who you are
kinda like the dynamic between the (rest of the) AFC East and the New England Patriots for the last couple decades. Anyway, I didn't intend for this to be a roast so let's touch on some good things about Cologne: perhaps most notably their rabid fan base and a stadium experience with an atmosphere that is supposed to rival even Dortmund. The club is not going to be fighting for titles anytime soon but there is something to be said for the excitement and drama that comes with going into every season not knowing whether you will be pushing for a European spot (Cologne finished 5th in 2016-17) or fighting to avoid relegation.
REASONS TO LIKE COLOGNE: You are a big Drakkar Noir guy. You tend to collect friends (or better yet enemies) who don't really know who you are. If you are a fan of the Buffalo Bills, NY Jets or Miami Dolphins.
---
UNION BERLIN (11th – 30 pts)
JERSEY: C+ – basically an off-brand version Cologne (tip for the kids at home: if you're gonna copy off someone at least find a straight A student)
RIVALS: Hertha Berlin (and Dynamo Dresden in 2.Bundesliga)
NOTABLES: Sebastian Andersson (F) and aggressively un-American Neven Subotic (CB)… also American Malick Sanogo is on the youth team
Union Berlin are the yin to RBL's yang. No club hates the "big (and especially new) money" teams as much as Ze Uzzer Berliners, whose fans once wore black plastic ponchos and sat silently for the first 15 minutes of a game against RBL as a protest against their "business practices" (ie, willingness to spend obscene amounts of money in order to ensure success). The backstory behind Union Berlin is interesting but long. They have always been a "working class" club with an anti-establishment bent stemming back to the Cold War days when their biggest rival was (and still is) Dynamo Dresden, which had the backing of the powerful East German state security force (aka Stasi). The club carried on for many seasons in the lower tiers before almost going bankrupt in 2004, saving themselves in part thanks to fans giving blood and donating the money they received to the club. Union Berlin don't have a ton of trophies but what they lack in accolades the club seems to make up for in outspoken beliefs and fervent stands.
REASONS TO LIKE UNION BERLIN: You are a Bernie Bro. You think the world would be a better place without billionaires. You are a big believer in the "if you don't stand for something you will fall for anything" axiom. You would be literally willing to bleed for your club.
---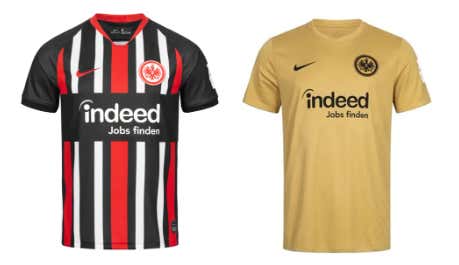 EINTRACHT FRANKFURT (12th – 28 pts)
JERSEY: B- – interesting but lacking method to their madness… juxtaposition between home and away feels a little too manic depressive for my liking
RIVALS: Mainz (as well as Darmstadt in 2B and Kaiserslautern in 3B)
NOTABLES: American Timothy Chandler (D/F)
The Eagles are an absolutely massive club with a huge fan base and a trophy case full of silverware… collecting dust from decades ago. This "huge but sleepy" giant rep has gotten a bit of a makeover lately after the club made some noise in recent seasons, beating big bad Bayern in the 2018 German Cup final (DFB-Pokal – akin to England's FA Cup) and following that up with a dramatic run to the Europe League semifinals last season. In contrast, this season has been a bit of a clownshow from the very start with the exception of a short stint coming out of the January break when Timmy Chandler pretended he was The Babyjesus Sr for a few games and scored enough goals that certain people started talking about the need to work him back into the national team picture. Long story short, big club with some things going for it (including an American presence) and probably the single most violently Germanic crest of any club in history.
REASONS TO LIKE FRANKFURT: The sleeping giant feel gives off some Newcastle vibes. You feel a strong connection to your Germanic homeland. 
---
HERTHA BERLIN (13th – 28 pts)
JERSEY: C – another random assortment of colors and patterns but at least they get some points for the vertical stripes theme (and truth be told in isolation I actually like both jerseys)
RIVALS: Union Berlin, Jurgen Klinsmann
NOTABLES: Krzysztof Piatek (F), Salomon Kalou (MF)
Not exactly the antithesis of "people power" Union Berlin, but rather Hertha simply had the good fortune to be born into a wealthier family in a nicer part of town (eg, on the western side of the Berlin Wall) and has coasted through life without a lot of big successes or failures while suckling from the teet of its hereditary privilege. It has the potential to be massive being situated in the country's capital with a huge home stadium (75,000-seat Olympiastadion) but Hertha has always seemed to suffer from a lack of motivation. There is reason to believe that may be changing a bit lately, however, as a big money investor named Lars Windhorst has come in and taken a 49.9% share in the club, and they have started to make some noise. Not all of the noise has been good, such as the unfortunate hiring and firing (to oversimplify the situation) of Jurgen Klinsmann as manager after only a couple months in charge, but there is some reason for optimism like the $80+ million spent in the January transfer window – more than any other club in the world. Unfortunately the club has been in the headlines for the wrong reasons over the last couple weeks as ex-Chelsea man Salomon Kalou got in trouble for being too nice of a guy.
REASONS TO LIKE HERTHA: Also nicknamed "The Old Lady" so perhaps a good pick for Juventus fans feeling guilty about winning everything in Italy every season. You are part of the anti-Jurgen Klinsmann crowd. You like teams from big capital cities who are nevertheless pretty useless (eg, Washington Wizards and R-Words, Ottawa Senators, West Ham). You – like Salomon Kalou – believe that the Rona is all bark no bite.
---
AUGSBURG (14th – 27 pts)
JERSEY: B+ – I can't really explain it, maybe it's the Christmas vibe, but I like what they are throwing down
RIVALS: 1860 Munich and Ingolstadt (both in 2.Bundesliga)
NOTABLES: Ruben Vargas (MF), Florian Niederlechner (F) and former West Hammie Reece Oxford (CB)… also dual German/USMNT candidate Maurice Malone (19yo F) on the youth team
Quintessential no-nonsense team that has spent most of its 103 years in existence bouncing between the second and third division before making their debut in the Bundesliga in 2011. To their credit the club has stuck around the top flight ever since, finishing as high as 5th one season (2014-15) but typically finishing somewhere between 12th and 15th reminding me of Stoke City, West Brom or any other team coached by Tony Pulis.
REASONS TO LIKE AUGSBURG: You have a Tony Pulis poster on your wall. Your parents hated you enough to name you Auggie (or perhaps even Abbie… close enough for government work).
---
MAINZ (15th – 26 pts)
JERSEY: B- – are Mainz, Cologne and Union Berlin dead serious? Show some creativity for me ONE TIME, people… all in all I like the feng shui of this one better than Union Berlin but not as much as Cologne
NOTABLES: Jean-Philippe Mateta (F) and the ghost of Jurgen Klopp
Can't help but notice a strange number of similarities with Augsburg. Mainz has also been around for more than a century but only made their Bundesliga debut in 2004, and have largely been fighting to cement their lower mid-table status ever since. In fact, the parallels go further as Mainz came in 5th place one time (2010-11) but like Augsburg (and Drake – allegedly) tend to finish in teens. One thing that really sets Mainz apart, though, is its connection to Jurgen Klopp, who was a gangly defender for the club for more than a decade before hanging up his cleats and becoming manager where he began fine-tuning the "heavy metal" and/or gegenpressing style that he later perfected at Dortmund and now Liverpool.
REASONS TO LIKE MAINZ: You are a fan of Liverpool – or perhaps BVB with polygamist tendencies. Their nickname is the Billy Goats so perhaps Chicago Cubs fans (now freed from their curse) might also feel a connection.
---
FORTUNA DUSSELDORF (16th – 22 pts)
JERSEY: B+ – yes, yes, yes
RIVALS: Cologne, Bayer Leverkusen
NOTABLES: Americans Zack Steffen (GK) and Alfredo Morales (MF)
Fortuna has some history having won the league in 30s and back-to-back DFB-Pokal Cups in the late 70s but that feels like a long time ago… because it was. Nowadays the club seems to go out of its way not to spend much money (often relying on players taken in on loan) yet often finds a way to punch above its weight. Another important feature is that they club was sponsored by a punk rock band (Die Totten Hosen) between 2001 and 2003, which is a great fun fact.
REASONS TO LIKE FORTUNA: You like teams with cool names (eg, Young Boys in Switzerland, Grasshopper in Austria or Tottenham Hotspur). Your Spotify is littered with The Clash, Sonic Youth, Green Day and/or Blink-182.
---
WERDER BREMEN (17th – 18 pts)
JERSEY: A- – clean, classy, sponsor is not overly intrusive
RIVALS: Hamburg (in 2.Bundesliga) and Bayern Munich
NOTABLES: American Josh Sargent (F) and ageless ex-Chelsea/Bayern striker Claudio Pizarro
The first thing I think of when I think Werder is Josh Sargent. The second thing I think of is also Josh Sargent. The third thing I think is that the Bundesliga already has a W-team with green jerseys (Volfsburg) – do they really need another? This of course is unfair as Werder is a traditionally big club that has achieved a fair amount of success in their own right over the years, including winners of the European Cup Winners Cup (Champions League precursor) in 1992 and the German domestic double as recently as 2004. The club has fallen down the ladder a bit over the last decade, however, and are currently staring at the very real possibility of relegation.
As an aside, their historic rivalry with Hamburg (dubbed the "Nordderby" because they are both located in the far north of the country) was on ice in 2018 when the grilled meat patty club got relegated for the first time ever. The bad news is that Werder could soon get sent down themselves … though the worse news is that Hamburger sit 3rd in 2.Bundesliga so they could end up being two ships passing in the night.
REASONS TO LIKE WERDER BREMEN: You are vegan and/or hate hamburgers. You are in your 40s and think you could still play professional soccer (like your boy Pizarro).
---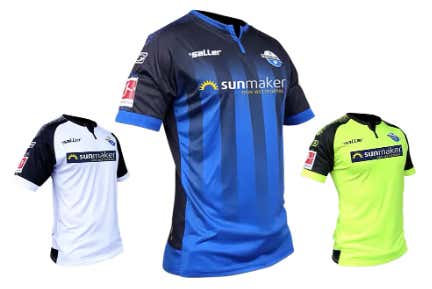 PADERBORN (18th – 16 pts)
JERSEY: B- – I definitely don't hate it but can't say I love them either… fading stripes suggest "I'm trying a little too hard while also trying a lot too hard to make it seem like I'm not"
RIVALS: consistency
NOTABLES: Sebastian Vasiliadis (MF)
They are the babies of the Bundesliga – not only because they only made their first appearance in the top flight in 2014 but because they have only been a club since 1987… which is almost a century less than a lot of their competitors. Their backstory is actually kinda funny as there were originally two clubs in the city of Paderborn who were bitter rivals but for financial reasons they were forced to meld into one unhappy – initially anyway, one would assume – combined entity. This likely resulted in a lot of awkward team building activities made all the more awkward by the fact everyone was German. Good times! More recently the club has been on a helluva roller-coaster ride, enduring three consecutive relegations before bouncing all the way back into the Bundesliga. As for this season, the club was expected to struggle this season after securing promotion due to a 2nd place finish in 2.Bundesliga last time around… and suffice to say Paderborn have thus far lived up to this lack of expectations, tallying just 16 points from 25 games.
REASONS TO LIKE PADERBORN: You are just happy to be here. You are a big fan of toxic relationships with painful arguments but stick around for the great make-up sex. You recently fell in love with Huddersfield (or perhaps Sunderland). You are a fan of another n00b like the Las Vegas Golden Knights, Seattle's unnamed NHL franchise, Houston Texans or one of the dozen or so MLS clubs (or 100s of lower level teams) that have recently come into existence. You have step-siblings who you used to hate but have grown to love (or at least tolerate).
---
OTHER NOTABLE CLUBS NOT CURRENTLY IN THE BUNDESLIGA BUT WORTHY OF CONSIDERATION BECAUSE THEY SHOULD BE AT SOME POINT SOON:
Hamburg
Stuttgart
Hannover
St Pauli
Nurnberg 
---
* * *
---
So there we have it. Hope this blog helped get you started down the path towards developing a love and respect for the Bundesliga. Per usual, it grew longer than anticipated so I'll hold off on previewing the weekend for the moment, and instead handle that in another post later this week. I know how much some of your hate words. Most importantly though: WE DID IT! SOCCER IS BACK FAM! HALLELUJAH!
Holler,
Samuel Army