Barstool's Weekend Soccer Preview – The "CHRISTMAS EVE FOR PEOPLE WITH CULTURED PALATES" Edition
Sam's Safe Space for Soccer Stoolies
Hi Haters™,
I haven't been this excited to wake up tomorrow morning since I was a little kid hoping Santa was finally going to bring me the latest and greatest video game console. That dickhead never did, which quite possibly makes tomorrow the most highly anticipated morning in the history of my life. Don't agree? Don't care. Soccer is back beechez so let's take a look at what is on deck in the German Bundesliga and Good Korean K-League.
[Editor's note: want to get into one or both of the leagues but need a jumpstart? You are in luck. Here are quick and dirty backgrounders on the BUNDESLIGA and K-LEAGUE.]
---
---
BUNDESLIGA
Just to remind everyone, I am not the world's biggest Bundesliga expert. I watch a fair amount of games and know the big storylines, and learned a fair bit from researching the aforementioned GUIDE blog (see above), but if you want some context from people who eat and sleep German soccer then mosey on over to iTunes/Spotify and listen to the latest episode of my podcast where I am schooled on some finer points by Julian Gressel and Eric Gehrig. BUT, while I am not all-knowing, I am extremely good at serving up fade-able picks for you to get rich on so buckle up kids it is time to make you rich.
First, though, let's do an extremely rapid recap to get everyone up to speed on how the Bundesliga got to where it is right now with the table looking like this:
TITLE RACE: the Bundesliga has been the most entertaining of the big European leagues (assuming you like lots of clubs with a shot at the title and get bored by runaway winners like Liverpool). The top three clubs – Bayern, BVB and RBL – are no surprise. However, only five points separating them means we may have a legit title race on our hands, especially since the likes of Monchenpenisgladbach and Leverkusen also within shouting distance. One addendum: Bayern were one of the hottest teams in the world when the virus hit. What has the last couple months done to that? No clue but I'm excited to find out.
MID-TABLE MACHINATIONS: there have been a lot of surprises so far this season. Freiburg, Cologne and Union Berlin are punching WAY above their weight whereas a number of big clubs – notably Eintracht, Hertha and Werder – have been sucking a fat one.
RELEGATION BATTLE: Paderborn and Werder are in a tough spot but with nine games and 27 points still on the table they have plenty of time to make some moves. The battle to avoid 16th place will likely come down to the end as a lot of clubs are in the danger zone. (As a reminder, the bottom two get auto-relegated while 16th place plays a home-and-home with a team from 2.Bundesliga to decide who gets the last slot.)
---
As for the games on deck this weekend, we got some good ones… including one VERY good one:
PICKS OF THE WEEKEND
SAFE HARBOR STATEMENT: I try to offer some insights and it physically/emotionally pains me when my Premier League picks are bad (the only silver lining being that I assume most people faded them and got rich). I am putting maybe 5% as much "effort" – eg, time and thought – into these Bundesliga picks and could care less if I'm wrong. I wouldn't really know what was going on even if we weren't fresh off of a once-in-a-generation (god willing) pandemic that is going to have god-knows-what kind of impact on teams form.
SAFE HARBOR STATEMENT #2: quick reminder that there will be no fans in the stands for any games going forward… so the "home field advantage" is probably going to be mitigated to a certain extent.
---
Dortmund [-205] 
Schalke [+500]
Draw [+345]
Unquestionably the biggest game of the weekend. Two long-time rivals play in a game that Dortmund need to stick with Bayern and Schalke need if they have any chance at finishing top four and grabbing a Champions League slot. Dortmund won't have the Yellow Wall to cheer them on this time around, which is unfortunate for everybody in the world except Schalke. The visitors have not scored or conceded a ton of goals this season but the eternal optimist in me is going with an "entertaining shootout" that ends in a stalemate – albeit after plenty of sportsboners have been popped.
Prediction: 2-2 draw.
---
Werder [+370] 
Leverkusen [-145]
Draw [+300]
Werder have been downright terrible all season despite having a roster that suggests they should be fighting for at least a Europe slot. If any team could have benefited from two months off to get their head straight it is them. Upset city baby!
Prediction: Werder 2-1.
---
Dusseldorf [-105] 
Paderborn [+250]
Draw [+220]
Big 6-pointer near the bottom of the table just as the season is rounding the bend and heading towards the desperation homestretch. Unlike with Werder, Paderborn seems like they are right about where they belong and no amount of soul-searching or head-straightening is going to change that.
Prediction: Fortuna to win 2-0.
---
Some more predictions (to increase the possibility that I eventually get one right – maybe):
• HOFFENHEIM 3-1 Hertha
• Augsburg 0-1 WOLFSBURG
• RBL 2-0 Freiburg
• EINTRACHT 2-1 Gladbach
• Cologne 1-1 Mainz
• Union Berlin 2-1 BAYERN
---
---
K-LEAGUE
Live soccer is live soccer, got damit, and after the last two months of wandering aimlessly in the metaphorical desert I am going to drink in every last drop of it I can get my lips on. That includes Good Korea (but not the Belaruskis where the coronavirus-denying president has strayed a little too close to the "unnecessary humanitarian disaster" line for comfort). Anyway, scores from last weekend:
Not too many upsets on opening weekend. Table is barely worth looking at after one game but this is how it looks at the moment: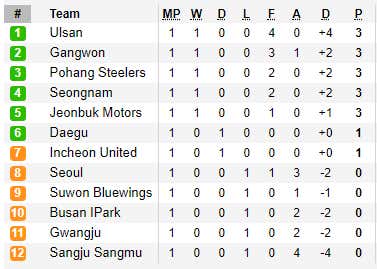 Couple of big games on the schedule, including the battle of week 1 winners as Daegu welcome Pohang Steelers late tonight/early tomorrow:
Annnnnnnnnd finally some picks because why the hell not:
• Sangju 1-2 GANGWON
• Daegu 0-1 POHANG
• Busan IPark 0-2 JEONBRUK
• Suwon 1-3 ULSAN
• SEOUL 2-1 Gwangju
• Seongnam 1-1 Incheon
So there we have it. Soccer is back and I'm prepared to cry real tears. LFG!!
Holler,
Samuel Army