Barstool's Midweek Soccer Preview – Ze "Super Du-Der Klassiker Tuesday" Edition
Sam's Safe Space for Soccer Stoolies
Hi Haters™,
Me, 10 days ago:
Me, this weekend:
Me, today:
Doesn't get any bigger than today's Der Klassiker. #2 BVB is four points back of #1 Bayern and could all but close the gap with a win… or a loss might just mean ripip Bundesliga title race. Huge game. Both teams in good form. LET'S FRICKIN GO!
---
BUNDESLIGA
Scores from the weekend: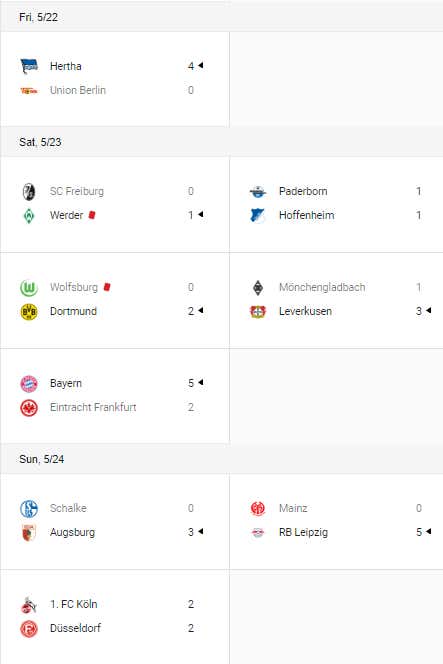 The big dogs did a lot more than bark this weekend as the top three clubs all put some spankings on lesser competition, while Leverkusen and Hertha also came away with big wins. Schalke… well mama says if you don't have anything nice to say don't say anything at all.
One further observation for the "sharps" in our midst: home teams have SUCKED so far… how bad have they been? How about three wins in 18 games. Yikes.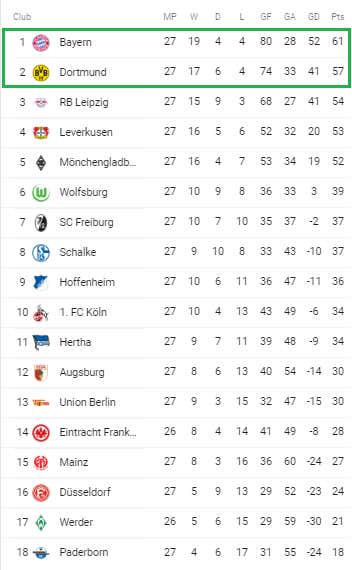 TITLE RACE: Bayern, BVB and RBL hold serve while Leverkusen cemented itself in the top four battle while hurting Gladbach's outside shot at keeping up with the big swinging dongs.
RELEGATION BATTLE: Youuuuuuuge win for Werder keeps them within shouting distance of safety while Dusseldorf will be kicking themselves after coughing up a 2-0 lead.
And now for the midweek schedule:
---
PICKS OF THE MIDWEEK
SAFE HARBOR STATEMENT: if you thought my Premier League picks were bad just wait til you get a load of my predictions for Bundesliga, which I won't even claim to be a pseudo-expert about. All the better to get rich fading though if you axe me.
Dortmund [+260] 
Bayern [-120]
Draw [+320]
I have no overt rooting interest when it comes to Bayern and Dortmund but at the same time I won't even pretend to be unbiased on this one. A win for BVB would be a win for the world as it we'd have a legitimate title race to help distract us from the rest of the world. So I'll just throw that out there ahead of time.
As for the game, the battle between Terminator 1.0 vs Terminator 2.0 will inevitably attract a lot of the attention, and rightfully so.
Chicks dig goals so they get the headlines, and chances are good that there will be plenty of points on the board at the end of this one. While it is true that both teams have been quite solid defensively for most of the season, and Dortmund has yet to concede a goal in the post-rona universe, my suspicion is that as soon as one of the teams breaks the dam it will turn into a wide open game with tons of chances at each end. Perhaps that is me just being optimistic but whevs, I'm rolling with it. Both teams have too much firepower and, as we saw this past weekend against Frankfurt, Bayern's defense is not exactly airtight. (Haters will say that was because they took their foot off the gas being up big on a couple set pieces… but don't be a hater.) 
Prediction: Dortmund to win 3-2.
---
Werder Bremen [+320] 
Monchengladbach [-130]
Draw [+300]
Gladbach have been all over the place since the Bundesliga returned, putting a beatdown on Frankfurt then getting their ass handed to them this weekend by Leverkusen. Werder – at risk of relegation for the first time in decades – got similarly spanked by Leverkusen then went on the road (in case that matters these days) and took all three points from upstarts Freiburg. So point being not a lot to be learned from their rather erratic form. The return of Davy Klaassen from suspension seemed to be a big lift for Werder (night and day versus his trash stint with Everton) and Josh Sargent could spring a hatty on us at any moment, and I was initially leaning towards a draw butttttttttttt….. in the end I'm deferring to the side that has looked far stronger all season. 
Prediction: Gladback to win 2-1.
[Note: that pick assumes that Wolfsburg does NOT mess around and start Uly Llanez… seems unlikely but if they do stick our boy in the XI then my pick is null & void, and I'm going 2-2 draw]
---
Leverkusen [-135] 
Wolfsburg [+340]
Draw [+305]
Tough stretch for Volfy coming off a loss to Dortmund and now having to face Leverkusen, who has looked as good as anyone in the league since play resumed. Kai Havertz has been a particularly bad, baddddddddddddd man the last couple games, reminding everybody why someone is going to pay a buttload of money for him this summer regardless of how up in the air the financial outlook is for the sport. Perhaps the visitors could pull a rabbit out of their hat, and my heart wants to say John Brooks puts Havertz in his back pocket, but… 
Prediction: Leverkusen to win 3-1.
---
Some more predictions (to increase the possibility that I eventually get one right – maybe):
• FRANKFURT 2-0 Freiburg
• RBL 2-1 Hertha
• AUGSBURG 1-0 Paderborn
• UNION 2-0 Mainz
• HOFFENHEIM 3-1 Koln
• Dusseldorf 1-2 SCHALKE
[Postscript: 'member when I said home teams have sucked… I'm guessing that was a statistical anomaly and things will start to even out this week]
So there we have it. Big, big, biggggggggg game today. LFG!!
Holler,
Samuel Army