Barstool's Weekend Soccer Preview – The "Last Chance to Catch Bayern" Edition
Sam's Safe Space for Soccer Stoolies
Hi Haters™,
Folks, we did it (almost). The sun is shining. Society is tentatively opening back up. And more importantly soccer is officially on the verge of being back throughout the land and – assuming the nation does not implode in on itself anytime soon – we are in for one HELL of a summer packed wall to wall with games. Here is the quick rundown on when each of the big leagues plan to get back underway and a reminder of what the top of the table looks like for each:
La Liga – June 11
Premier League – June 17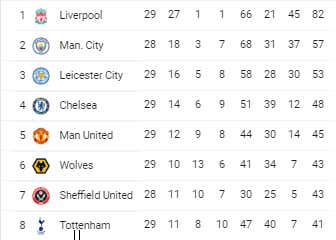 Serie A – June 19
Also, there is even talk of the Champions League starting back up in some form or another in August and playing out the remainder of the competition…
…but I'll just leave it at that for the moment because there are still a lot of hoops to jump through and second waves to avoid before that comes to pass.
For now though we got one more week of pure unadulterated Bundesliga action to get balls deep in so let's get to getting… 
---
---
BUNDESLIGA
Scores from the midweek:
That leaves the table looking like this:
TITLE RACE: As discussed previously, Dortmund had a golden opportunity to pop this baby wide open but – as is often the case – Bayern did the thing a week and a half ago then followed it up by pantsing Dusseldorf… so suffice to say they have one hand on the trophy yet again and could, for all intents and purposes, wrap things up this weekend.
RELEGATION BATTLE: Schalke is doing everything in their power to get a piece of this action but for the moment things have not changed much with Paderborn holding it down at the bottom, Werder making a big push lately but still stuck in the other auto-relegation slot, and Dusseldorf in 16th (which would result in a promotion playoff vs 3rd place from 2. Bundesliga). That said ,Mainz, Union Berlin and Augsburg are well within reach of Werder and Dusseldorf.
And now for this weekend's schedule:
---
PICKS OF THE WEEKEND
SAFE HARBOR REMINDER: I barely know what tf I am talking about. Fade me. Fade me HARD.
Leverkusen [+475]
Bayern [-225]
Draw [+265]
Bayern may already have the title wrapped up but if they win this weekend and are still up (at worst) seven points with four games remaining you might as well go ahead and hand them the trophy. Leverkusen are in 5th at the moment but even on points with 4th place Gladbach (4 goals back on differential).
As for the game: Goals. Goals! GOALS! With the exception of 1-0 win over Freiburg last weekend, Leverkusen has been involved in games with five, four and five goals scored (two big wins and one whupping from Wolfy). Bayern are Bayern. They gon get theirs. So if I'm betting anything on this game – or this weekend in fact – it's the OVER in this bad boy.
I've been following my heart and betting against Bayern every week in the hopes that a title race would materialize and needless to say I've lost my damn shirt.
A rational human being would admit defeat and start going with the seventeen hundred time defending champs. Nope! Eyes on the prize. Kai Havertz is about to force Bayern to add another zero or two to his asking price this summer.
Prediction: Leverkusen to win 3-2.
---
Werder [+260]
Wolfsburg [+100]
 Draw [+245]
Battle to be Bundesliga's official Green Team. Plenty of incentive on both sides with Wolfy is pushing for a European spot and Werder making a break to get out of the relegation zone, and both sides are playing well but face injury/suspension issues. Thankfully we have a useful mutual opponent as they both lost to Eintracht Frankfurt in the last week. Wolfy lost 1-2 while Werder fell 0-3. That's called math people.
Prediction: Wolfy to win 1-0.
---
Freiburg [+350]
Gladbach [-155]
Draw [+305]
Freiboys look like a team that has fallen into the late-season, mid-table, motivation-less trap. Gladbach are in a dogfight for Champions League. Follow the motivation, people!
Prediction: Gladbach to win 3-1.
---
Some more predictions (to increase the possibility that I eventually get one right – maybe):
• RBL 2-0 Paderborn
• Dusseldorf 1-1 Hoffenheim
• Frankfurt 1-2 MAINZ
• DORTMUND 2-1 Hertha
• Union 1-1 Schalke
• AUGSBURG 2-1 Koln
---
---
So there we have it. Let's have ourselves a dang weekend.
Holler,
 Samuel Army