Barstool's Midweek Soccer Preview + Predictions – The "United, They Fall" Edition
Sam's Safe Space for Soccer Stoolies
Hi Haters™,
Leave it to Florida to ruin everything for everybody:
Welllllllllp. As of right now the NWSL's Challenge Cup in Utah is still on (albeit with one less team) and MLS season-opening tournament *in Florida* is also going forward… fingers crossed, I guess.
In the meantime let's shift our gaze across the emerald season to Europe where all the big leagues** are officially back in action and we got some BIG and IMPORTANT games to feast our eyes and/or lose some moneys on… what follows is a very brief overview of all the matchups worth watching (and why) in the coming days:
**lol you big french dummies smh
---
---
ENGLISH PREMIER LEAGUE
Scores from the first few days of Project Restart:
POWER RANKINGS
Needless to say this is a total crapshoot as well but taking into account recent results PLUS the return of some extremely important players due to injury… 
TOP 4
1. City
2. Liverpool
3. United
4. Chelsea
Honorable mention: Wolves, Tottenham, Palace, Lester
BOTTOM 3
20. Norwich
19. Aston Villa
18. Bournemouth
Dishonorable mention: Watford, Arsenal
Table as things stand:
And finally the upcoming schedule:
---
PICKS OF THE MIDWEEK
Other United [-240]
Sheffield United [+750]
Draw [+345]
I hate to say it but Sheffield Utd's incredible season may end up being one of the silent victims of this whole Rona mess. This week's game feels kinda make or break for the Blades – not necessarily the result since a loss would still leave them within striking distance of a Europa spot. However, if they look at shite as they did against Newcastle this weekend that would essentially confirm that all the momentum they had built us prior to the layoff is officially gone and it will be a slow limp towards a mid-table finish for the rest of the season. (Note: not that mid-table and another season in the top flight is "bad" for a club most people predicted to get relegated… but it will still feel a little disappointing.)
Anyway, as for the game, United looked good enough (in the second half) against Spurs last week to suggest the partnership between Bruno Fernandes and Paul Pogba may actually work out. It will be interesting to see how this game plays out because last time the clubs played in November the Other United midfield got absolutely BOSSED as Sheffield Utd snagged a 3-3 draw. A repeat of that seems unlikely.
Prediction: Other United to win 2-0
"I believe him, yo, I don't know why but I do"
---
Chelsea [+305]
City [-125]
Draw [+300]
Hooooooo-WE, those are some mighty nice odds you got there Chelsea. At home being led by a newly risen American soccer deity:
PLUS fresh off one of the biggest moves in the transfer market in recent history:
against a team with nothing to play for who will be without the league's (arguably) best striker:
I'll be honest, it is tough – perhaps even impossible for the weak-willed amongst us – not to be tempted to throw some shekels on Chelsea. Thankfully you and I know that temptation leads to sin and sin leads to being poor and being poor leads to damnation because you can't buy your way out of it. City has looked too damn good since the break, and have too many weapons for the absence of just one world class striker to derail their attack.
Prediction: City to win 3-1
---
Liverpool [-425]
Palace [+1100]
Draw [+500]
Don't look now but Palace is one of the hottest teams in the league having won four straight in which they have conceded precisely ZERO goals!
What usually goes unsaid about their recent run of form is that it has come against the likes of Newcastle, Brighton, Watford and Bournemouth. Liverpool are fresh off a scoreless draw against Everton and in the midst of their biggest funk all season… but they are still a whole different ball of wax relative to the teams that Palace has been barely slipping by lately. Yes, VVD may have to carry Dejan Lovren around all game, and yes, there are questions about whether Salah and Robertson (both out last game) will be back, which is the only reason I'm not going "lock city" on this… but I still think the soon-to-be champs do what they have done (almost) all season and find a way to snag a dub.
Prediction: Liverpool to win 1-0
Note: Liverpool are FIVE points from wrapping up the title, meaning that if City lose and they win – there it is. If both teams win, however, that means Liverpool would be in line to be crowned champions against City at the Etihad next Thursday, which seems like a lot more fun for everybody involved (except the defending champions).
---
Some more predictions (to increase the possibility that I eventually get one right – maybe):
• LESTER 1-0 Brighton
• TOTTENHAM 2-1 West Ham
• Norwich 0-1 EVERTON
• NEWCASTLE 2-1 Villa
• WOLVES 3-1 Bournemouth
• Burnley 1-1 Watford
• Southampton 1-2 ARSENAL
---
---
LA LIGA
Lots to play for in Spain but for our purposes let's focus in on the title race where Real Madrid and Barcelona (per usual) are duking it out.
This week both clubs have very winnable matches, with Madrid welcoming a hungry but beleaguered (18th place) Mallorca and Barcelona hosting mid-table (10th place) Bilbao.
Predictions: Real Madrid to pound Mallorca 3-0 and Barcelona to slip by Bilbao 2-1
---
SERIE A
Don't look now but we got a bonafide multi-team title race on our hands as Juventus have yet to do that thing they always do and run away from their nearest competitors coming down the home stretch. As it is both Lazio and Inter are within shouting distance.
This week Juve has 18th place Lecce at home. You could argue the visitors should be hungry since they are even on points with 17th place (aka safety), however, they just got POUNDED by Milan – Milan? Milan! – 4-1… so sounds like a walkover for the Old Lady. Inter have a slightly tougher opponent in 12th place Sussuolo, but that club has almost nothing to play for.
That leads us to the GAME OF THE WEEK (excluding [and perhaps even including] the Premier League):
Atalanta [+105]
Lazio [+225]
Draw [+280]
Just between you and me, Atalanta is (for the second season running) an absolute must-watch team anytime they play these days. Everywhere you look there are goals. Some on them, some by them – but as a neutral it is brilliant. So do yourself a favor and tune into this game on Wednesday.
Prediction: love me some Nerazzurri but my biases lay with the continuance of the title race… gimme Lazio to win 3-2
Lots to play for in Spain but for our purposes let's focus in on the title race where Real
---
BUNDESLIGA – FINAL MATCHDAY
The German league is about to be gone for the season (until Bayern tries to mushroom stamp everybody in the modified Champions League in August) but their contribution to my personal sanity will not be forgotten. Thank you sweet princes of logistics and social order.
As for what is left to play for, not a ton.
Bayern has been mathematically crowned and Dortmund locked up first loser. That leaves a three-way battle for two Champions League spots involving RBL, Gladbach and Leverkusen. In truth – because the first tiebreaker is goal differential – RBL is locked in for the third UCL slot meaning the last one is up for grabs between Gladbach and Leverkusen.
At the bottom of the table Paderborn is gone and Werder is hanging on for dear life. As a reminder, 16th place is not automatically relegated and instead plays a home-and-home against a challenger from 2.Bundesliga. So basically Werder need to win and Dusseldorf would need to lose.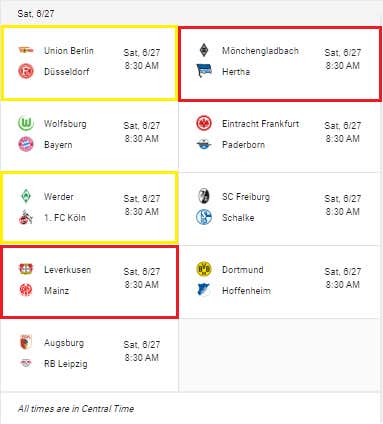 Shot in the dark predictions: I got no idea but will go with say Hertha shock the world and hold Gladbach to a 2-2 draw while Leverkusen spank Mainz 3-1 giving the Aspirins the UCL slot… and at the bottom of the table Werder beat Koln 2-1 and Dusseldorf are held to a 1-1 draw by Union… which (I believe) would mean Dusseldorf retain the playoff slot and Werder get sent packing [and hopefully decide to sell our boy Josh Sargent]
---
---
The summer of soccer is fully upon us and it is glorious. Pray for the haters. Stay safe out there kids..
Holler,
Samuel Army