Barstool's Semi-Official Guide to NWSL's 2020 Challenge Cup – Preview + Predictions
Sam's Safe Space for Soccer Stoolies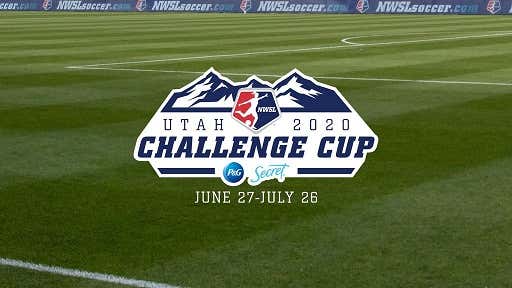 Hi Haters™,
Live soccer is back in the United States of America starting TOMORROW and you are gotdamn right I am going to be watching it. Before we take a quick and dirty look at the players, teams and games to watch, let's address the elephant in the room: the haters. This blog is going to attract them from all angles. There will be hardcore WoSo people (that's "women's soccer" for those in the know) who hate it because it is from B*rstool and they think they hate B*rstool because of all the hoity-toity wannabe journalism hit pieces they have read. Then, from the opposite direction, there will be the hardcore mouthbreathers who hate soccer – and become physically ill at the thought of women's soccer.
There is nothing I can do to change the minds of the hardcore B*rstool-hating WoSo people, so if that is you then all I have to say is perhaps you should actually practice what you preach about open-mindedness and try consuming some B*rstool content before blindly dismissing it as racist, sexist, homophobic, boot-licking copaganda (or whatever it is your personal bone-to-pick du jour is).
As for the mouthbreathing contingent, I know you are already hard at work forcing both brain cells to concoct the perfect comment to ensure the world knows how little you care about women's sports and how miniature your pecker is… but if that applies to you let me just stop you right there and save you some time by addressing some of your concerns up top: Yes, women's soccer. No, nobody is forcing you to read this or watch the games. Yes, they are better athletes than you. No, there are no other team sports being played in the US to watch or bet on. Yes, your ma is probably burning the meatloaf right now so get your lazy ass up off the couch and go deal with that so the non-incels in our midst can get back to caring way too much about sports like normal well-adjusted human beings.
(Note: yes, a weekend preview of the Premier League and the rest of Europe will be coming in short order as well.)
So there we go. Now that we are all on the same page let's dive into filling in all the blanks on the NWSL's 2020 Challenge Cup, and perhaps (definitely) winning some moneys on (fading) some shot in the dark predictions…
---
2020 CHALLENGE CUP
WHAT IS IT: a month-long tournament starting on June 27 involving eight of the nine NWSL teams (Orlando pulled out because Florida) that will take the place of the 2020 season due to complications and restrictions stemming from the Rona mess. All games are played Utah behind closed doors but will be televised and/or streamed on CBS / CBS All Access.
FORMAT: every team will play four games in the preliminary round that will determine seeds #1 through #8, after which they will play single elimination starting with the quarterfinals on July 17/18, semifinals on July 22 and ultimately the final on July 26.
REASONS TO WATCH: in case you need more motivation beyond it being real actual live soccer, the size of the league means that almost every team is packed with players you will recognize from the World Cup, and the quality just might surprise you with how technically sound the play is. Get better acclimated with the women who actually win stuff for the US (plenty still playing despite some big names deciding to opt out… or in the case of Alex Morgan taking maternity leave), and get to know the next wave who will soon take over and drop their metaphorical nuts on the world Down Under in 2023.
---
TEAM GUIDE
That is a personal question that I will leave up to you. This isn't some far-away league in South Korea or even Mexico so my personal suggestion would be to start by considering the closest team to you geographically. For instance, I am in Chicago therefore I am a Red Stars fan. Easy peasy. Unfortunately there aren't a lot of teams in flyover country…
…so if you want some more suggestions on how to welcome a team into your home and heart, here is a marginally researched, ridiculously – perhaps even ludicrously – unscientific crash course on the candidates (in order of how they finished last season):
1. North Carolina Courage
Notable players: Abby Dahlkemper, Crystal Dunn, Sam Mewis, Jessica McDonald
Tidbits: returning champs and consensus favorite to win the tournament, so if you recently became a fan of Juventus, PSG, Bayern, Liverpool/Man City, Barcelona or Real Madrid, they might be a no-brainer.
2. Chicago Red Stars
Notable players: Alyssa Naeher, Julie Ertz, Sarah Gorden, Casey Short, Yuki Nagasato, Morgan Brien, Kealia Watt
Tidbits: hungry team coming off a disappointing loss in the championship game to NCC last fall, they have lost the league's best striker (slash player) in Samantha Kerr and thus have a lot of goals to make up for but are anchored by a ton of talent midfield, defense and NT GK Naeher. Also, the Red Stars slide in jussssssssst ahead of Portland for best jerseys in the league (perhaps even in the country tbh).
3. Portland Thorns
Notable players: Becky Saurbrunn, Meghan Klingenberg, Lindsey Horan, Christine Sinclair, Tobin Heath [not playing]
Tidbits: they have BY FAR the most rabid fanbase in the league and averaged more than 20K at home games last season, which blows a lot of MLS teams out of the water. Sick jerseys plus my girl Horan bossing the midfield… but unfortunate that Heath opted out as she is one of the more exciting players in the league/world.
4. OL Reign
Notable players: Sofia Huerta, Allie Long, Megan Rapinoe [not playing]
Tidbits: founding member of the league (then located in Seattle) but has since relocated south to Tacoma and just this year became affiliated with the French club Olympique Lyon. If you like France or frog legs or French fries – there you go. Their biggest rival is, perhaps predictably, Portland (a mirror image of Timbers/Sounders).
5. Washington Spirit
Notable players: Rose Lavelle, Andi Sullivan, Kaiya McCullough
Tidbits: lost a key player in Mallory Pugh over the offseason but still have Lavelle and Sullivan driving things in midfield. Roughly half the roster appears to be new draft picks so the team will be young and a bit unpredictable… in other words the polar opposite of what you'd expect from the other swamp-dwellers in DC.
6. Utah Royals
Notable players: Kelley O'Hara, Amy Rodriguez, Christen Press [not playing]
Tidbits: Home field advantage? Maybe? Yeah not sure about that since no fans will be allowed in. The NWSL's lone representative from the Mountain Time Zone so the obvious option for any fans located in Montana down to New Mexico.
7. Houston Dash
Notable players: Rachel Daly, Kristie Mewis
Tidbits: perennial lower-half club during their six years in existence. Only representative from Texas and a great team for anyone who looks good in orange. Didn't score much last season and lost two of their better attacking players during the offseason so goals will be at a premium. Ownership group includes Oscar De La Hoya and James Harden.
8. Sky Blue FC
Notable players: Carli Lloyd [injured], Mallory Pugh [injured], Caprice Dydasco [injured], Midge Purce
Tidbits: outlook can't be great for a team that is expected to miss three of their best players coming in but Sky Blue is used to being considered the underdog as they have never finished higher than 4th in their 10+ seasons in WPS and NWSL. You wouldn't know from the name but they are located in Jersey and are thus the only team located anywhere near New England.
9. Orlando Pride (ripip)
Notable players: Alex Morgan, Ashlyn Harris, Ali Krieger, Emily Sonnett, Marta, Morgan Reid
Tidbits: TONS of star power but…… welp, never mind.
---
PREDICTIONS
This is what the schedule looks like:
And here is who the oddsmaker love/hate:
A few things to take into consideration:
• No stars = No bueno
 My hard and fast rule is that I would not count for much out of teams that are missing multiple key players –whether through injury or conscientious objection. I know all about the Ewing Theory but don't think it applies in this case. Teams are built around their stars so if suddenly they are not in the XI for an extended period, yeah, I don't trust them. Basically what I'm saying is wager your 401(k) on Portland, Reign, Utah and (ESPECIALLY) Sky Blue at your own peril.
• NCC are the team to beat
They were the best team the last two seasons and come into this tournament as the clear favorite. I spoke with the Red Stars' Sarah Gorden for the most recent podcast episode and she admitted they will be tough to beat. That said, this is a weird season with a strange schedule being played in a far off Mormon land… so my guess is that anything can and will happen.
• Schedule changes help/hurt
Orlando's last minute withdrawal left the league scrambling to change the schedule around and some teams were left with a notably more difficult road (NCC/Chicago) while other look to have benefited (Utah).
• Chicago is hungry
They came so close last season and have the same foundation in place if they can find someone/someones to pick up the slack on scoring. If defense really wins championships, though, then watch out.
• Darkhorse
I've seen some Big J's pointing to teams like Utah or even Sky Blue (u srs bro?) but I'm going with Washington. They have a solid midfield and a ton of young wildcards so who really knows what to expect from them… but tough to hate taking a flyer on those tasty odds.
So without further ado………… drumroll please……….… [SPOILER ALERT] here is the totally neutral, completely unbiased 2020 Challenge Cup answer key:
And the celebration in late July on the day after they invent a vaccine is going to be MAGICAL – hooraaaaaay!
---
So there we have it. A quick and dirty rundown on the NWSL's modified season-cum-month-long tournament. Don't want to watch? No problemo, just means more soccer for the rest of us. Back in a bit with a weekend preview. xoxo
Holler,
Samuel Army