Barstool's Midweek Soccer Preview+Picks – The "Champions League Eliminator" Edition
Sam's Safe Space for Soccer Stoolies
Hi Haters™,
Rona cases are skyrocketing in many parts of the US but at least soccer is getting back after it (for the time being anyway), with the NWSL kicking off their month-long Challenge Cup tournaseason in Utah and MLS teams crossing the threshold into "the bubble".
For better and worse, all anyone could talk about with NWSL for the first few days was political jibber jabber related to kneeling or standing for the anthem, but the league tried to pooh-pooh things by changing the rules so teams can be in the locker room while it was played. TBD whether that will prove to simply split the baby… BUT the Dash and Royals at least gave people something to talk about on the field, which was a welcome relief.
As for MLS, the league got ROASTED after players took pics of their $65 sandwiches and posted them on social media, which inevitably drew Fyre Fest comparisons.
The league pushed back saying those were just some special box lunches and the food in general will be far better – note: my (literal) inside sources [aka bubble spies] confirm this is true – but it made for fun content in the meantime. The pre/mid-season tournament kicks off on July 8… assuming Florida is still a thing.
Giphy Images.
And that, folks, is your domestic soccer update. Oh, wait, one more thing: Grant Wahl's old unemployed ass is now trying to cancel Barstool.
What a pathetic loser. Gotta feel a little sorry for the lad. Nobody's brain has broken more than this poor fella. No need to interact with him on social because he will immediately block you like the thin-skinned pansy he is. Let him cry into the void. When will these dummies understand haters make us famous? (Not me, of course, but some of us.)
ANYWAY, without further ado, now onto the real live actual bona fide games the soccer gods have seen fit to allow us to feast our eyeballs upon this this week!
---
---
ENGLISH PREMIER LEAGUE
First, scores from the extended weekend:
A really quick rundown on some of the lessons we have learned from recent results:
- United may legitimately be back… or at least on a straight and narrow path to it, which is something I have not said once over the past few years.
- Christian Pulisic is really good at soccer. A surprise to no one but the haters. (Pray for em.)
- I can't recall a "relegation battle" in which the teams involved have been in worse form across the table. Wanna take a wild guess at how many collective games the five clubs in question – Watford, Hammies, Bournemouth, Villa and Norwich – have won since the restart? Go ahead, give it a shot…. If you guessed ONE you were embarrassingly wrong. They have won a combined zero games. Not one win among five teams since the league got back underway. Remember, these are the teams scratching and clawing to save their skin. YIKES.
Giphy Images.
---
POWER RANKINGS
TOP 4
1. Liverpool
2. City
3. United
4. Chelsea
Honorable mention: Wolves, Tottenham
BOTTOM 3
20. Bournemouth
19. Norwich
18. West Ham
Dishonorable mention: Bournemouth, Watford, Lester
As for the table, this is how things stand:
And the upcoming schedule:
---
PICKS OF THE MIDWEEK
Sheffield Utd [+145]
Tottenham [+195]
Draw [+220]
CHAMPIONS LEAGUE ELIMINATOR! Prediction/factual observation: loser is officially out of contention… and draw means both are likely donezo.
Looking back months or even years from now, the Blades are going to be happy with how the 2019-20 season played out. However, in the moment they will feel understandably a little disappointed with how things are going right now. They were cheated out of a win against Villa by goal-line technology malfunction and have STUNK out loud in the three games since. Losing to Arsenal in your backyard is borderline criminal. 
Tottenham have been………. extremely meh, and the defense is permanently suspect, but they have enough healthy weapons that I gotta go with them.
Prediction: Tottenham to win 2-1
When the haters start shouting for the wheel
---
City [+110]
Liverpool [+235]
Draw [+285]
Liverpool have been partying their balls off. City has to stand and give them a guard of honor before the game. Nothing to play for but one team is less drunk/hungover and more pissed. Gimme dems.
Prediction: City to win 3-1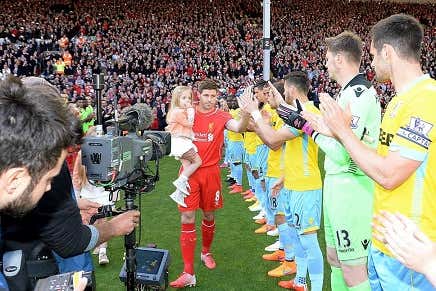 ---
A couple more predictions (to increase the possibility that I possibly get one right – maybe):
• Bournemouth 1-1 Newcastle
• Everton 1-2 LESTER
• ARSENAL 2-0 Norwich
• West Ham 2-2 Chelsea
---
REST OF WORLD
LA LIGA
Barcelona seem to be fading but title race still intact for the moment…
Game to watch: 1st place Real Madrid host 5th place Getafe on Thursday (3pm CT)
---
SERIE A
Juventus tryna run away with it while Lazio hang on for dear life…
Game to watch: 4th place Atalanta host 6th place Napoli in a game that should be a lot of fun and is a must-win for the visitors to have even a tiny itty bitty outside shot at UCL
---
NWSL
Things just getting started but here's an early look at how the table stands:
And the schedule for the next few matchdays, including a rematch of last season's championship game coming up on Sunday…
---
---
So there we have it. Nothing better than a few dozen midweek excuses not to work. Another big weekend ahead. Back with another blog before long. 
Holler,
Samuel Army