RNC/DNC Done - Betting the Election Before the Debates
It's official. The DNC and RNC are done, it's Joe-Zilla and the Libs vs. Donald Kong and the Cons. Joe-Zilla want's to "build back better" to being that shining mandatory facemask on a hill… Donald Kong wants law and order and to reclaim economic order from the China virus - powered by clean coal.
The RNC had a lot more live energy than the all digital DNC, making the DEBATES even more important for Biden than before (those start on September 29, and we'll be betting props galore on those nights once the markets are released). Not only is Biden attempting to stay home for the most part, he's got to overcome doubts about his mental acuity, and his family ties to China while Trump tries to paint his entire campaign as "Made in China."
If there's a Police Bill done before the election, it could give Trump more momentum than the conventions already have, but he's still the betting underdog with Biden still heavily favored in states where polls are getting tighter (mid-west especially)...
MOST IMPORTANTLY - Regardless of how you want to bet it, Register to Vote, and VOTE this November, especially in local elections that matter more to you on an everyday basis. REGISTER TO VOTE.
And… since you're following politics anyway for the next few months, use this link to bet on the election and get a free $20 matched on us when you sign up at that URL (PredictIt.org/promo/HardFactor20). PredictIt is a forecasting market, so you buy stocks of a candidate/party in each race, but the lines are always similar to what is offered at overseas bookies. No fuss - use a debit card and be playing and withdrawing winnings in minutes. Use the chart below to convert PredictIt share Prices to traditional Vegas Odds… also lobby your local congressman to make political gambling legal in the USA so we don't have to use these charts to bet with an American company…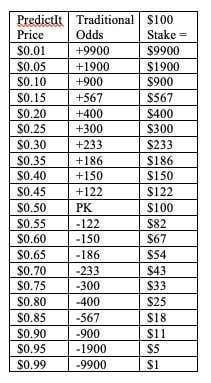 To hear more political picks, and other weird news, listen to Hard Factor. Monday-Friday. Have A Great Fucking Day (HAGFD).