Barstool's *SEVENTH* Annual Premier League Preview & Betting Guide
Sam's Safe Space For Soccer Stoolies
Hi haters,
One sleep. ONE SLEEP! Some offseasons feel short – usually because a World Cup has offered a beautiful distraction for much of the summer. But never before has an offseason felt this short. Maybe because Liverpool lifted the trophy like last week and Bayern beat PSG in the Champions League final the day before yesterday.
Regardless, the time has come: just one little sleep before Fulhamerica and Artetsenal kick off the 2020-21 edition of the Premier League bright and early on Saturday morning, and if you aren't already fluffing your sportsboner in anticipation then there is something wrong with your soccer sex drive.
So what are we in store for this season? Can Liverpool repeat? Has City with Messi done enough defensive upkeep to bounce back from a hugely disappointing season? Can The Babyjesus win the Premier League AGAIN (this time for Chelsea)? Will the sucking sound coming from all of North London die down? Is there a legit dark horse? What should we make of Leeds? Will another borderline-geriatric win the Golden Boot? First manager to be sent packing? Which clubs will lift the auxiliary trophy (FA Cup) and trinket (Make-Belieague Cup)?
All the answers you seek can be found below.
However, before we get balls deep in the good stuff there are several caveats to keep in mind:
• The transfer window has yet to close. Only a big huge IDIOT would make predictions about how a season is going to play out before it does
•Thankfully I am a big huge idiot
 [[IMPORTANTLY: a quick reminder that any n00bies wanting to get into the EPL who have yet to pick a team to love and cherish should take a gander at Barstool's (Seventh Annual) Guide to Picking an EPL Club that was published earlier today as it may be able to help you in your search for clarity]]
Now that that's out of the way let's get to it…
---
---
2019-20 RECAP
Member what happened last season? Me neither, at least it is pretty foggy. Thus, to help yog your memory, this is what the league table looked like at the end of what turned out to be an unprecedented season 11 months of soccer:
The battle for the league title turned out to be a one-horse race from November through May July as Liverpool ran away and hid… meaning that their inexplicably poor form down the stretch only allowed City to close the gap to 18 points. Sheesh.
The battle for top four – which morphed into top five for a fun few months before City's big "win" that overturned the Financial Fair Play suspension – was highly entertaining, albeit not for Lester fans as their club got overtaken by a remarkably competent United and Babyjesus-driven Chelsea.
We finally were treated to the angst, anguish and adulation of a relegation battle that came down to the last day. Unfortunately the clock struck midnight for Watford and Bournemouth – two clubs that had shown signs of cementing a place in the mid-table as recently as the season before – who were joined in being banished to the Championship with Norwich, the consummate yo-yo club. Congrats to Villa for avoiding the hangman's noose… for the time being.
As for the other silverware, City locked up a(nother) trinket and Arsenal came out of absolutely nowhere to win the auxiliary trophy.
---
STORYLINES
As always, there are a million interesting storylines that will be worth following going into the season. Here are just a few to keep your eye on:
1) Title hangover?
The Reds had the title wrapped up in early spring then proceeded to play surprisingly bad (highlighted by a shockingly leaky defense) heading into and after the rona-induced suspension. Hypothesis: perhaps they simply got drunk on success a little early and were right then in the midst of suffering the traditional post-championship hangover… so maybe they will be totally good to go now?
No poof, no party!
2) Man City = motivated
Life is all about expectations (as we will dig into further in the next storyline). If you expect to go out for a big Saturday night with friends and come home with a nine then you – assuming you are like me – are setting yourself up for a lifetime of disappointment. That is what life is for City at this point. Pep won one measly trinket (and ZERO banners) last season. For some clubs that would be achieving god-status. For City that was an abject failure. Will the extra motivation and defensive reinforcements be enough to bounce back?
3) Bigger: Chelsea's expectations or the yacht Roman sold to fund said expectations?
Chelsea defied the odds last season and somehow got better without adding anybody in the summer transfer window. Frank Lampard and the Baby Blues deserved a lot of credit for proving the doubters wrong and finishing top four. Coming into this season things are a lot different now that Roman Abramovich sold a super yacht (or two) and made big splash after big splash after big splash in the transfer market. What are the club's expectations this time around? Do they have any chance of meeting them??
4) Can Wolves/Lester/darkhose-to-be-named kill the "Big Six"?
By that I mean the concept of the "Big Six" whereby Liverpool, City, United, Chelsea, Spurs and Arsenal and Spurs finish in the top six spots. Lester and Wolves both proved they belonged in the upper echelon last season… getting there and staying there (after the big clubs come sniffing after your best players) are different beasts though.
5) Sheffield Utd – one pump chump?
Listen, I'm not throwing stones. As a no-pump chump I am living in a glass house. After all, the Blades had an incredible season that was (only slightly) marred by a late slump. Fans may care about recent history but the Premier League gives no fuqs. "What have you done for me lately" is the only thing that matters, with the all-important question being whether the wee buggers can continue to outperform expectations or if a relegation scrap – where just about everyone had them coming into 2019-20 – in their future?
6) Everton are SO back!
Stop me if you have heard this before but the Toffees splash the cash this summer and are poised to compete for a spot in Europe.
What could possibly go wrong?
7) Do any n00bs have staying power?
Leeds are spending like they wanna stick around a while. Fans will love to see it. Unfortunately fellow newboys Fulham tried the same strategy when they came up bright-eyed and bushy-tailed in 2018. Perhaps that approach will work out better this time around…
8) V-A-muhfuqqin-R
It's still here. Get used to it.
---
PREDICTIONS
At long last. What you all came here for.
First things first. Below are several proxies for how people think things will shake out this season. The first is a list of betting odds, which shows how the bookies and/or betting public thinks the clubs stack up heading into the season: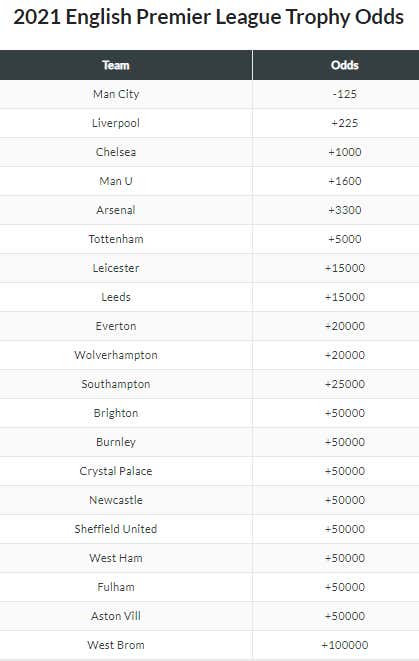 Now, without further ado, the fun stuff………….. pissing people off with my official tentative preliminary must-fade predictions (going from bottom to top):
*
BYE-BYE :(
Three clubs got to go. It brings me no joy to have to pick these but hard decisions like this are why I get paid the big bucks:
(20) WEST BROM
Last season: 2nd in Championship
Best case (this season): 16th
Worst case (this season): 20th
Slaven Bilic is scary. West Brom is not. They are sticking with the squad that earned promotion, which Sheffield Utd just showed can work, but this Baggies side is a little too old (hello again Jake Livermore and Matty Phillips!) and not multifaceted enough on offense. What I mean by that big word that I found at thesaurus.com is that they have ONE serious threat in Matheus Pereira, who killed it in the Championship last season and – now that his loan from Sporting Lisbon was made permanent – could be a problem at the next level. However, opposing teams showed in the second half of last season that stopping Pereira (often by bullying the 140 lbs playmaker) is a good recipe for stopping West Brom. Perhaps someone else like Grady Diangana (from West Ham – more on him down below) can add some pop but as it stands this could be a long season in the West Midlands.
---
(19) FULHAM
Last season: 4th in Championship
Best case: 15th
Worst case: 20th
Fulham are largely sticking with the same squad that earned promotion, which isn't necessarily a problem, but I suspect there may be a fatal flaw as it relates to making it work in the Premier League: their ability to counterattack last season vacillated between terrible and godawful. That may not have been an issue when they had plenty of possession in the Championship but could be a BIG problem when they only get a handful of good opportunities against top flight competition and have to make them count.
The Cottagers main goal is just to stay up again next season and they are gonna have a fight on their hands. In contrast to two years ago when they spent like a drunken sailor but were nonetheless atrocious, Fulham are going in the other direction and largely relying on the roster that earned promotion the hard way last season. Ballsy. Needing to grind out a lot of 1-0 wins and 1-1 draws is a recipe for a lot of heart attacks… and possibly heartache. I am rooting for them, especially with our guys Tim Ream and Antonee Robinson in the firing line on defense. Aleksandar Mitrovic staying healthy and proving he is a consistent contributor at the EPL level is a must. I am not a fan of this prediction but at the end of the day I can't argue with what my crystal ball says, which is that this could be a long season at Craven Cottage.
---
(18) CRYSTAL PALACE
Last season: 14th
Best case: 12th
Worst case: 19th
Few teams did more with less last season than Palace. They cobbled together 43 points while only scoring 31 goals.
They also somehow managed to lose seven straight games after the restart… yet still finished in 14th place. That is bananas, and suggests – despite stretches where they looked damn good – the club was heavily reliant on grit, determination, hard work and a lotttttttttttta luck.
I was very low on the Eagles coming into last season and they kinda sorta B-smacked me for it. But all the same criticisms I had about that side more or less remain true now: an already aging squad – oldest in the league last season – is now one year even older and they still somehow dealing with the massive distraction of Wilfried Zaha's "imminent" departure. Dude is incredibly talented when he wants to be, but has wanted out for years, and his production last season (4G/3A) REALLY showed it. Strangely enough, if Palace do finally sell him this month I'd actually feel better about their chances of sticking around, especially since they just acquired a player in QPR's Eberechi Eze who could grow into that same kind of one-man game-changer. That is too many if's and question marks for my liking though.
UPDATE: bringing in striker Michy Batshuayi on loan (from Chelsea) is a nice addition and adds some much needed punch up to. The less the Eagles need to rely on Christian Benteke the better.
---
SAFETY!
(17) BRIGHTON
Last season: 15th
Best case: 13th
Worst case: 20th
Graham Potter proved he belonged in his first season at the helm of Brighton, which emerged as a surprisingly entertaining team to watch (unless you are unfortunate enough to like a team from North London)… until the restart this summer when they suddenly sucked more than an instragram thot at a Phoenix Suns party.
I don't get why there aren't rumors about more teams trying to snag CB Lewis Dunk, who was Brighton's unheralded hero last season, but good for them for seemingly hanging onto him. They also did a lot of small moves that will be a litmus test on the their scouting staff, but the two that really stand out are the departure of Aaron Mooy (left for China) and arrival of Adam Lallana (from Liverpool) – who is basically a hairy version of Mooy. Some people seem to think Brighton are poised to move up a bit in the table but I'm going the other way. Neal Maupay came up with some incredibly clutch goals in 2019-20 but – anecdotally – it felt like the club benefited from a lot of good bounces at crucial moments, so a reversion to the mean on that plus the continued decline of Pascal Gross leaves me questioning whether they will find enough goals to avoid a relegation dogfight.
---
(16) ASTON VILLA
Last season: 17th
Best case: 12th
Worst case: 19th
Woooooooo-WE, the Villans are probably still a little delirious after their near-death experience last season. Some people will whine about the goal that wasn't against Sheffield Utd (thanks Hawk-Eye!) but at this point that is water under the bridge. Some calls go in your favor, some don't. Villa survived and that's all that matters… or should I say mattered, because the joy and jubilation is ALSO old news. The question now is can the club improve on that performance and avoid giving fans so many late season myocardial infarctions.
So far so good on their #1 task this offseason: hanging onto Jack Grealish. I wasn't sold when Spurs were in for him a couple seasons ago. Boy do I feel like a horse's patoot. He was as consistent as anybody in the league last season, and 24yo he still has a number of peak performance years ahead. The transfer window hasn't closed, though, so if he goes then my expectations (read: hopes) for Villa are out the window… aka down the drain.
That's the [tentative] good news. The bad news is their defense was TERRIBLE for most of last season (though bizarrely decent when it mattered this summer… so there is that) and their offense was incredibly inconsistent. Villa appears unwilling to make splashy moves this summer, perhaps feeling a bit gun-shy after their biggest buys – looking at you Wesley ($29 million) and Douglas Luiz ($19 million) – thoroughly shat the bed last season. That leaves big questions on both ends. I am not loving how Villa look right now but they still have some weeks to add some talent. Wesley is back from injury up top but they need to add another option. As it stands this smells like another relegation-threatened season waiting to happen.
UPDATE: Villa just splurged a reported £28 million on striker Ollie Watkins (from Brentford), which is a LOT to pay for a guy with zero EPL experience… but it's precisely the kind of gamble you gotta make if you wanna try to make some moves and put a little breathing space between you and a relegation scrap.
---
(15) WEST HAM
Last season: 16th
Best case: 12th
Worst case: 19th
The fans deserve a better product on the field (for their size and passion), and frankly ownership deserves a better product (for their investment), yet there the Hammies were in March potentially heading for relegation…. until fate (and some dipshit with a taste for bat soup) intervened. After the break the club looked much better with a more settled defense and Messi Antonio scoring with every other touch. The club clearly has higher aspirations than clinging to 16th place, though, so the question is whether improvement with this group is possible? Definitely maybe.
They seem to have held onto CB Declan Rice and quiet hero GK Lukasz Fabianski isn't going anywhere, so you'd think that plus David Moyes' defense-first attitude the backline – sometimes atrocious, sometimes not – will be more consistent. Antonio, Tomas Soucek and Jarrod Bowen were good down the stretch, plus they have a long list of guys that have shown a lot of "potential" here and there. So that's good, right?! The club has so far eschewed its habit of paying way too much money for sexy names, which may not strike fans as a good thing but given how poorly that has worked out recently (one top 10 finish since 2013) perhaps creating stability in the squad for once may produce better results. Another secret silver lining: there is no way Felipe Anderson could play any worse than he did last season so any sort of contribution from him – at the should-be peak of his career at age 27 – would be found money.
That said, when your club captain and face of the franchise for eons comes out and (basically) shits on management's decision to sell an exciting young player one week before the season starts that… doesn't imply a locker room full of positive vibes.
---
(14) NEWCASTLE
Last season: 13th
Best case: 12th
Worst case: 17th
A lot of people thought naming Steve Bruce to replace Rafa Benitez as manager before last season was the definition of uninspired. I may or may not have been one of them. However, the fact Bruce guided a team featuring leading scorer Jonjo Shelvey (6 goals) to 13th place means he is a godamn wizard. (Neither here nor there but the dude may understandably be feeling pretty disrespected at the moment after having to listen to months of chatter about "which big swinging phallus manager is about to take over as the Saudi's buy Toon?" last spring.)
Point being, the club overachieved last season given the lack of biscuit-basketing ability, and if they score 38 goals in 38 games again this season they have a better chance of playing in the Championship next season than they do of finishing mid-table. Newcastle should create plenty of chances thanks to guys like Miggy Almiron, Allan Saint-Maxim and n00b Ryan "Mighty Mouse" Fraser (added from Bournemouth). However, they need at least one of two things to happen to avoid being sucked into a relegation scrap: (1) Joelinton needs to turn into the standout #9 Toon thought they bought for £40 million from Hoffenheim last summer or (2) Callum Wilson (also added from Bournemouth) needs to become a consistent everyday striker. Don't get me wrong, I love watching Jonjo Shelvey. Dude is A+ entertainment. He could score a 35-yard banger or headbutt a guy (including a teammate) at any moment. But if he is leading scorer again Newcastle are in BIG trouble.
Sidenote: Mike Ashley is a cheapass. This is not a secret. However, he's now gotten a little taste for the riche in store when he finally (mercifully) sells the team from the Saudi bid that the Premier League nixed, so my base-case assumption is that even – or maybe especially – if the team is playing like poop he will actually invest some money in January IF NEED BE because the value-destruction that comes with relegation would be unthinkable to his money grubbing butt right here and right now.
---
MIDTABLE MUDDLING
(13) SHEFFIELD UTD
Last season: 9th
Best case: 10th
Worst case: 18th
9th place. Incredible. Easily the biggest overachiever of the 2019-20 campaign, and one of the bigger unexpected stories since Lester won the whole shebang (shouts to 7th place Burnley two years ago as well). But the key: is Sheffield Utd's success sustainable?
I'm gonna go out on a bit of a limb and say YES, to a certain extent at least. The Blades' "team defense" relied on all 10 athletes (and keeper) knowing precisely where each teammate would be at any given time and everyone both running their balls off and rotating as if controlled by one brain. This was a benefit of sticking with the same personnel that helped the team win promotion the year before, and should still be a tailwind this time around. On the flip side, Dean Henderson was HUGE in net – so good in fact that United snatched him back off loan – and Sheffield's high efficiency on offense last season may not be reproducible. All things considered I'd guess there will be some regression to the mean but am willing to bet manager Chris Wilder can squeeze one more season of balls-to-the-wall running out of this group. Living to cash those goodgood Premier League checks for another year would in and of itself be a big dub for the club.
---
(12) BURNLEY
Last season: 10th
Best case: 9th
Worst case: 17th
Doubt the Ginger Genius at your peril. Sean Dyche cobbles together mid-table or better finishes out of toothpicks, chewing gum and Ben Mee's year after year after year.
Defense doesn't necessarily win trophies round these parts but that and a hard-working ethos does keep you safe and in the Premier League for another season. But all good things must come to an end and his relationship with Burnley's board – likely due to the latter's consistent unwillingness to spend money – appears as fraught as it has ever been. And no wonder since the club has yet to make any notable signings and hasn't even been linked to anyone substantial in the rumor mill (where guys like Arsene Wenger prolonged their careers out of near-signings). Hard not to expect a modest step backward this season if Burnley really do make no moves. Spurs and Chelsea have both outperformed after doing so in recent seasons but comparing their depth versus Burnley's is night and day. GK Nick Pope can only steal so many points for you, after all.
---
(11) LEEDS
Last season: 1st in Championship
Best case: 10th
Worst case: 16th
I've been told that everybody in England hates Leeds with a passion but being an American I am allowed to say this: I'm glad Leeds (finally) made it back to the bigs. The world needed more Marcelo Bielsa, and now we've got it. Speaking of Bielsa though, nobody has more respect for him than the bookies, apparently:
YOWZA! Talk about lofty expectations. If you are a neutral you may wanna think about holding off on plunking down moneys on Leeds – at least until after week one when they could be in for a rude awakening by the defending champs (at Anfield no less), which might right-size those betting odds a bit.
Leeds have been active in the transfer market – not to a ridiculous extent like Villa last season or Fulham the year before – but they have thus far invested north of $75 million in upgrading a squad that was the best in the Championship last season featuring a number of guys who should have no trouble making the jump to the EPL. Their highest profile player is Kalvin Phillips, a midfielder who may attract "homegrown talismanic" comparisons to Villa's Jack Grealish. Dude got his first call-up to England for Nations League this week, which is a nice little confidence boost. The Whites' – potentially problematic in the year 2020 of our lord – biggest transfer moves have been £11.5 million for CB Robin Koch (from Freiburg) and a club record £26 million for Rodrigo (Real Madrid), who adds some much-needed quality up top where Patrick Bamford is a nice Championship striker but has yet to prove he can do it at the next level. Whether that is enough investment remains to be seen. Last season's Sheffield Utd squad (7th place finish) proved that money ain't the only thing that matters… but it sure as hell matters a lot, especially with the attractive style that Leeds and Bielsa are likely going to try to play.
---
---
<<<<<<< HALFTIME >>>>>>>
Little spankbank material for ya. Now back to the predictioning….
---
---
Aight, we back.
(10) SOUTHAMPTON
Last season: 11th
Best case: 10th
Worst case: 15th
It took a while but Ralph Hasenhuttl's change of mindset finally took hold at Southampton in the middle of last season and the Saints have looked like a different team since. They run their asses off, they press hard, and they attack with speed when they win the ball. The fact they were one of the better teams in the league after the restart – and the revelation that is Danny Ings 2.0 – should give fans a lot of reason for optimism.
The picture is not all rainbows and butterflies though. The biggest question mark is in the middle of the field where Southampton lost Pierre-Emile Hojbjerg (to Tottenham) and Mario Lemina (to Fulham). All things considered though Southampton feels like a club that recently hit rock bottom but managed to avoid relegation and is now all the stronger for having faced its demons in a 'no pressure no diamonds' kinda way.
---
EUROPEAN CONTENDERS!
(9) LESTER
Last season: 5th
Best case: 7th
Worst case: 11th
"A Tale of Two Cities" ended with a bunch of people getting their heads chopped off. "A Tale of Two Halves" ended with Lester coughing up an insurmountable top 4 lead and having to settle for a spot in Europa League. Which one is more tragic? Probably the latter but I guess it depends on your perspective.
So can Brendan Rodgers work some magic and get the Foxes back to where they were last fall? My magic 8-ball says "Outlook not so good"… in part because Father Time remains undefeated and may have an impact on some key guys (notably Jamie Vardy and Jonny Evans) and the absence of several more either through long-term injury (Ricardo Pereira) or big-money sale (Ben Chillwell). Missing those two latter players means that Rodgers – who deserves a ton of credit for Lester's lockdown defense to start 2019-20 – needs to capture lightening in a bottle once again. There is no question the club still has plenty talent to finish in the top half, which is a credit to the shrewd business in recent seasons, and I love me some James Maddison (when healthy) and Çağlar Söyüncü (when leaning into Lord Farqaad)… but pushing for top four again this season strikes me as unlikely.
Why they could win the league: N/A
Why they won't win the league: not enough quality or depth 
---
(8) TOTTENHAM
Last season: 6th
Best case: 5th
Worst case: 9th
Spurs finished last season with plenty of interesting offensive puzzle pieces that did not fit together to form any sort of cohesive puzzle and a ramshackle defense that was simply not talented enough to compete with for the top four – let alone title. The notable summer moves so far have been to bring in Joe Hart (banter potential: the limit does not exist) and lifelong Arsenal fan Matt Doherty. Don't get me wrong, £15 million for Doherty was a very shrewd deal that is an improvement over error-prone Serge Aurier on the right side of defense. However, it still leaves the club in Dier need of an upgrade at LB, CB, DM and another striker. Whether Daniel Levy is going to buy anyone else remains to be seen, but (a) as it stands this is not a top four contending squad and (b) we are talking about cheap ass Daniel Levy who now ALSO has "but the stadium debt!" as a readymade excuse anytime fans demand a signing from now until the bond matures in the year of our lord 2049.
"But wait! What's this! There is a backdoor into the Champions League AND it comes with a trinket? SIGN ME TF UP!"
-Jozay rn, definitely
Yep, calling it now: Tottenham Hotspur are your 2020-21 Europa League champions…
Why they could win the league: hahahaha stfu
Why they won't win the league: nowhere near strong enough defensively
---
(7) WOLVES
Last season: 7th
Best case: 4th
Worst case: 11th 
What is better than a lot of Portuguese players? More Portuguese players! Wolves went back to the same damn well this summer and brought in two kids from Porto in 18yo Fabio Silva (for $47 million) and 20yo Vitor Ferreira (on loan), plus 31yo Marcal from Lyon who is technically from Brazil – aka New World Portugal.
You know what you are going to get with Nuno Espirito Santo's side: zero nonsense, frustrating to play against, suffocating defense, plus jusssssssssssst enough difference makers in guys like Raul Jimenez and Adama Traore (or a worldie from Ruben Neves) to win a bunch of games. The big risk for Wolves is they have high top-end talent but relatively little depth compared to Big Six clubs, meaning that a spate of injuries could be a total backbreaker (and this assumes guys like Jimenez are not plucked away in the still-open transfer window). If they could play one game a week I might mess around and say they could contend for a Champions League slot but as it stands they are going to be playing Europa and the various domestic cups so injuries – something they have been lucky enough to avoid in their two seasons in the EPL – are a serious concern, especially given the shortened summer break.
Why they could win the league: N/A
Why they won't win the league: injuries could push them well into the mid-table 
---
(6) ARSENAL
Last season: 8th
Best case: 4th
Worst case: 9th
Is this going to be the Arsenal that struggled for consistency for most of last season or the Gunners that came up clutch against top notch opposition in the FA Cup at the tail end of the campaign? I'm not sure. It is possible that Pep's Arteta's tactics finally took hold and reshaped this team from an upper mid-table muddler into one with top four aspirations? I guess, maybe. I mean I doubt it, but maybe. At the end of the day though – and I say this as someone with years and years of experience of being frightened by playing Arsenal – the club's talent level just doesn't scare me… not enough… not yet anyway. They have a bunch of kids that could develop into the bedrock of a true contender – eg, Gabriel Martinelli, Bukayo Saka, Ainsley Maitland-Niles and William Saliba (among others tbh) – but they just ain't there heading into 2020-21. Aubameyang and Lacazette can threaten any opposition in the world but the defense – even with Tierney and Gabriel – just ain't there yet, not when your captain is more concerned with Paris runway shows and your CB pairing may have to include David Luiz, Pablo Mari, Shkordan Mustafi, Sokratis, Callum Chambers or Rob Holding. Getting another year of Dani Caballos is big but even with the addition of Willian the midfield feels like too much of a question mark given unsettled situations hanging over guys like Mesut Ozil, Matteo Guendouzi and Lucas Torreira.
Conclusion: Arsenal are gonna be a lot of fun to watch this season – but not necessarily for fans that think they are a top four side.
Why they could win the league: COVID wipes out the teams above them
Why they won't win the league: too green and question marks on defense
---
(5) EVERTON
Last season: 12th
Best case: 4th
Worst case: 9th
Looking at nothing but the top-line result – 12th place – would indicate the Toffees failed miserably after spending big last summer. Again. For the umpteenth time. Here's the thing: Carlo Ancelotti's Everton was a top half team last season, but they were weighed down by the anchor that was Marco Silva's Everton, eventually leading to the bottom half finish. So my working hypothesis is that the club was closer to relative respectability than some people might think, and a completely refreshed the midfield with James Rodriguez (Real Madrid), Abdoulaye Doucoure (Watford) and Allan (Napoli) could be just the kind of jumpstart the club needed to create more looks for the likes of Calvert-Lewin and Keane, and perhaps even move within shouting distance of the top clubs. If they also add some much-needed depth in defense like Chelsea CB Fikayo Tomori (rumored loan deal in the works) then they might really be cooking with gas. And yes, there is the little matter of Jordan Pickford sucking a fat one last season. Like the rest of us, dude wants to rewind 12 months and start over again. No question. I'm not willing to give up on the kid just yet though.
I'll be honest. This pick scares me. I liked Everton heading into last season and they burned me bad… same thing with the year before… and probably the year before that. But damit the more I think about the roster than Ancelotti has at his fingertips this season the more I like them so fool me once, shame on you! Fool me twice thrice four times – well you ain't gonna fool me again!
(Except you just might!)
Why they could win the league: Yep, nope
Why they wouldn't win the league: Yet another impressive haul of incoming talent this summer… which may be enough to give some teams above them trouble here and there but nowhere near enough to have a sniff at the title
---
CHAMPIONS LEAGUE-ERS!
(4) CHELSEA
Last season: 4th
Best case: 3rd
Worst case: 7th
"City's sovereign wealth money is nice and United/Daddy's trust fund is cool but I think y'all done forgot how big my dick wallet is"
-Roman Abramovich rn, probably
Credit to Lampard for playing the kids last season but the kids aren't ready to compete for a Premier League title so Abramovich decided to sell a super yacht or two and buy every last big name available on the transfer market (except Joe Hart) in an effort to swim with the big boys this season. Kai Havertz for $88 million (from Leverkusen), Timo Werner for $58 million (from RBL), Ben Chillwell for $55 million (from Lester) and Hakim Ziyech for $44 million (from Ajax) were the pricey moves, then add in Thiago (from PSG) and Malang Sarr (from Nice) on free – note: paying their salaries, especially Thiago's, is decidedly not free – and needless to say Chelsea's expectations have suddenly evolved from "top 4 would be p cool!" to "we are in the title race, damit!"
So does that make the Blues legit title contenders? Methinks…… no. I'm not sold on two things: (1) expecting all these new faces [and egos] to come in and immediately gel on and off the field with existing core of The Babyjesus, Mason Mount, Mateo Kovacic, NGolo Kante, Tammy Abraham, Olivier Giroud, CHO (member him?), et al. is a tough ask… and probably more importantly (2) their defense is a bit better but Silva and Azpilicueta are on the wrong side of 30 and Kurt Zouma is Kurt Zouma. Then there is Kepa. Great coach. Shit keeper. Sounds like Chelsea are in for a guy from Rennes. The French are known for stopping attacks so I'm sure that will work out great.
Long story short, Chelsea are going to be the most entertaining team in the league week in and week out. This year's Bournemouth, if you will. Absolute must-watch TV, without question, and that's not even accounting for our lord and savior TBJ. But that is because they are going to score a half billy and (probably) concede a quarter billy. Is that really the mark of a title contender? Nah, don't see it. Not this season anyway. Sarri not Sarri.
Why they could win it: Goals, goals, GOALS!!!
Why they won't win it: Defense
(3) UNITED
Last season: 3rd
Best case: 2nd
Worst case: 6th
Anyone who has been reading or listening to the podcast knows that I have been high on United for most of 2020 so this should not come as a huge surprise. Yes, Chelsea brought in a TON of (expensive) talent but I'm betting that it is going to take a while for them to get settled and on the same page. I don't LOVE the decision to bring in Donny van de Beek – a helluva player who will probably be great – only because they have more pressing needs at CB, DM and LB. However, especially if they bring in a guy or two late in the window, they have so many weapons going forward it is hard not to be impressed by the path that OGS seems to have the club on. Also, I'm still in are of the instant impact Bruno Fernandes has had on the club, so if he gets even better as his comfort level with teammates improves… sheesh.
Okay, now that I've fluffed United's balls for a while, there are also some hard truths to point out: it is hard to imagine this team competing with the top two on a week to week basis when guys like Victor Lindelof, Eric Bailly and Luke Shaw see significant minutes in defense. Even if DDG stops sucking or Dean Henderson is handed the gloves, I suspect they need some upgrades on the backline to make the jump to the "elite" level.
Why they could win the league: strength in the middle plus a dynamic attack
Why they likely won't win the league: giving up too many goals
---
(2) LIVERPOOL
Last season: 1st
Best case: 1st
Worst case: 3rd 
The Reds won by 18 points. Think about that. They could have played six less games and (likely) still won the dang thing. Incredible. What is even more incredible is that they won by that much while not playing all that well for FIVE months of the season (granted, two were basically during an unexpected hiatus). So was that just a lack of motivation? Can they simply turn it back on this season?
That is the biggest issue Liverpool are faced with right now. The starting lineup is still a well-oiled machine on paper. There are some smaller question: the second CB slot next to VVD is a bit of a bugbear and there is uncertainty about whether Gini Wijnaldum will be replaced by Thiago Silva (from Bayern) – a potential upgrade at the crucial [if unheralded] pivot position BUT a risky one given Silva's injury history. If they do go with Silva and he gets hurt, woof, that'd be worst case scenario. Then again if he stays healthy and adds an even more dynamic linkup man… they might not lose – like – ever. Gotta wait to see what happens in the transfer market on that though. For the time being the long stretch of extremely "meh" form coupled with post-title "hangover" is what would concern me most.
Could Liverpool go back-to-back? Yes, without a doubt. In fact I'd give them better odds than the bookies are at the moment, and would say it's basically a coin flip with City… but the thing about coin flips is that someone has to lose.
Why they could win it: Dangerous and deep
Why they might not win it: injuries, lack of motivation; transfer moves unsettling what has been a well-oiled machine
---
(1) CITY
Last season: 1st loser
Best case: 1st
Worst case: 3rd
Four things doomed City last season: (1) uncharacteristically dumb transfer moves that didn't shore up key positions – notably CB; (2) injuries like the one that kept Aymeric Laporte out for long stretches; (3) Pep overthinking things worse than a teenage girl texting her first crush; and (4) bad luck.
City needed to shore up their defense and started doing so by bringing in Nathan Ake right at the start of the transfer window. Dude is good and the timing is important because it should give him some time to get up to speed with Pep's system. I wouldn't be surprised if they swooped on another CB, and in fact think they probably should because the timeless aging Fernandinho as a stopgap has proven to be a recipe for winning a trinket at most (and definitely zero banners). If they can do that, and if Pep pulls his head out of his ass and lets his insanely stacked team go out and run circles around other teams (rather than hamstringing them with overcooked tactical tweaks), City may be ready to remind people just how dangerous they are. Sergio Aguero is hungry for goals. KDB is a monster. Phil Foden has been studying hard and is poised for a breakout season.
The stats suggest City should have finished a LOT closer to Liverpool as it was, so some better breaks and stronger defense means we could be in for one helluva title race.
Why they could win it: Because they are really, really, really good and now extra motivated
Why they wouldn't win it:  INJURIES, Liverpool bringing their A+ game all season, Pep overthinks it (again) 
---
RANDOM PRESEASON AWARDS
Player of the year: United's Bruno Fernandes
Golden Boot: Arsenal's Pierre-Emerick Aubameyang (deep darkhorse: United's Mason Greenwood
Golden Glove: City's Ederson (deep darkhorse: his backup Zach Steffen)
First manager fired: Palace's Roy Hodgson
FA Cup winner: United
Make-believe League Cup winner: Liverpool
---
---
So there it is. You now possess the answer key for the entire upcoming season. Thankfully we both know better than to think that I got any of it right… doesn't mean you can't get rich fading tf out of me!
Anyway, looking forward to this season. Whether this is your first time doing so or you are one of the people who have been around for the last 7+ years – thanks for reading. I appreciate you more than you know.
Holler,
Samuel Army